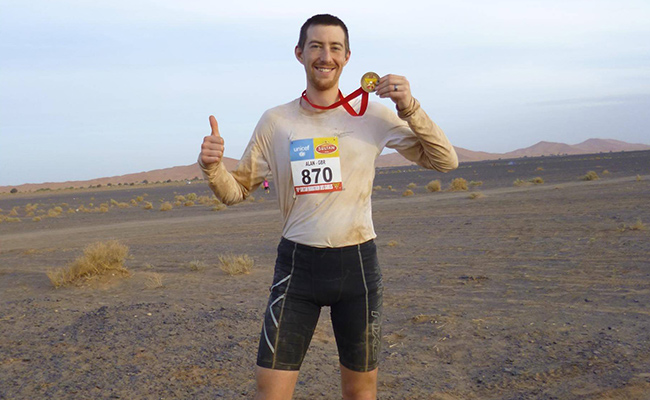 Amateur runner endured scorching heat to run the Marathon des Sables across the Sahara Desert fundraising for the DEC's Syria Crisis Appeal.
What would you do to raise money for the DEC Syria Crisis Appeal? How does a 250km run across the Sahara Desert in temperatures of over 50c sound? That's EXACTLY what runner Alan Wood decided to do!
Having chosen to take up the challenge of the Marathon des Sables, a 250km run over 7 days across scorching desert sands, Alan wanted to make a contribution to a number of charities of which the DEC was one. 
 
After a weeklong run the sheer impact of the experience - which raised over £1500 - came home to Alan as he came in 40th out of 1200 runners, something normally only professional runners manage. Speaking just after finishing the race Alan was overwhelmed by the experience saying:
 
"I can't describe how I feel right now, overjoyed, overwhelmed, the words are not there! I'm not particularly emotional normally, but this race has brought tears to my eyes twice now. Once the realisation hit me that I had finished I couldn't control it!"
 
Well done Alan! 
 
If you're inspired by his amazing feat check out our fundraising page for ideas and materials on how you can raise money for the DEC Syria Crisis Appeal.