A phenomenon called liquefaction contributed to the destruction caused by the earthquake in Indonesia in September. One family recounts their incredible escape as their village sank into the ground.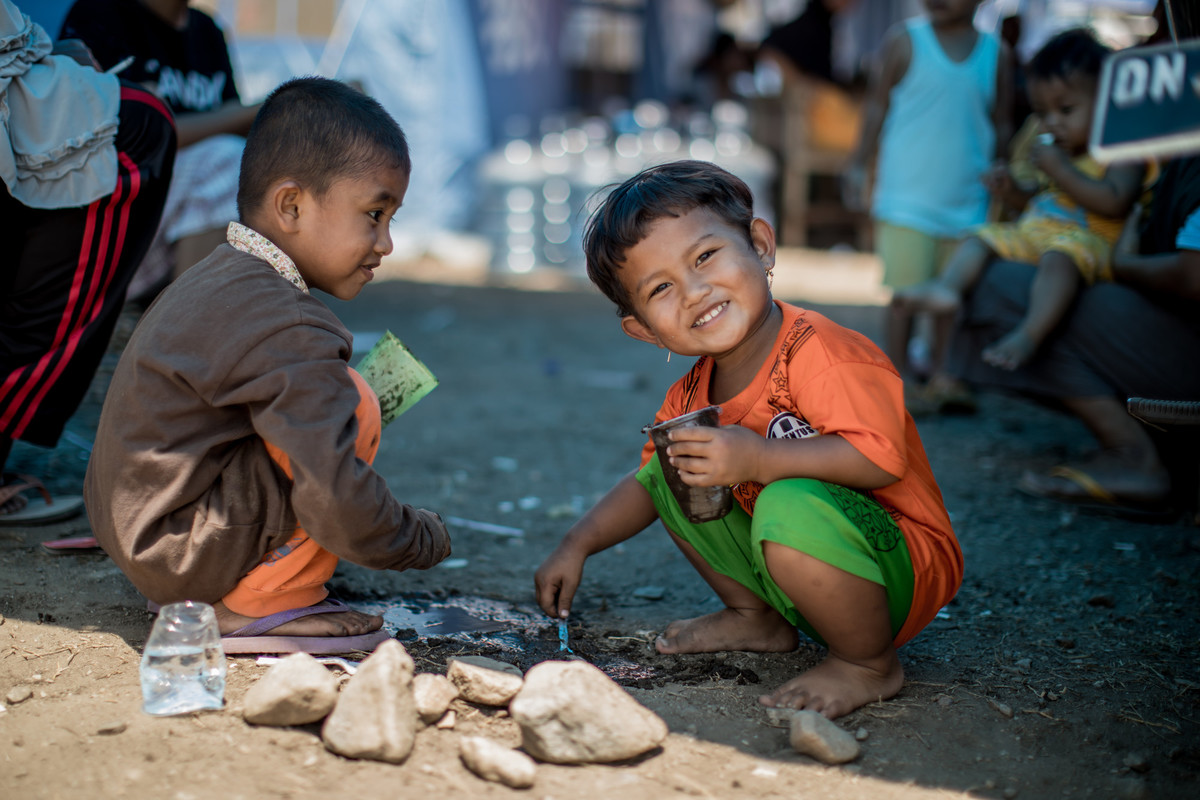 Dewi, right, was pulled out of the mud by her hair after she sank up to her neck. Image: Kathleen Prior/DEC.
The earthquake that struck the Indonesian island of Sulawesi on 28th September was devastating for many reasons, including the unexpected tsunami that struck the coast, including the regional capital of Palu.
But another reason the earthquake was so destructive was that it triggered a rare phenomenon called liquefaction where the solid ground turns to liquid mud - like quicksand. Sisters Ani and Nuri lived in Petobo, a village that was entirely destroyed by liquefaction.
"I saw ahead our neighbours' house opposite just disappeared," says Ani. "It just got sucked into the ground. And the coconut trees were moving towards us. We didn't know what was happening." The sisters fled with their Ani's daughter and her children.

A video report from the Wall Street Journal featuring footage of liquefaction near Palu.
"The ground was turning to liquid, so every time we tried to take a step our feet would disappear into the ground and we would start to sink," says Ani who can't tell the story without crying. "The mud, it was warm too. We kept sinking in and sometimes we would realise we were walking on the roofs of houses that had been sucked under."
Hundreds of missing people are feared to be buried in the mud at Petobo, which has now become a place of memorial. Flags have been planted at the site reading "rest in peace". In total, 2,100 people are known to have died in Sulawesi as a result of the earthquake, while 1,300 are still missing.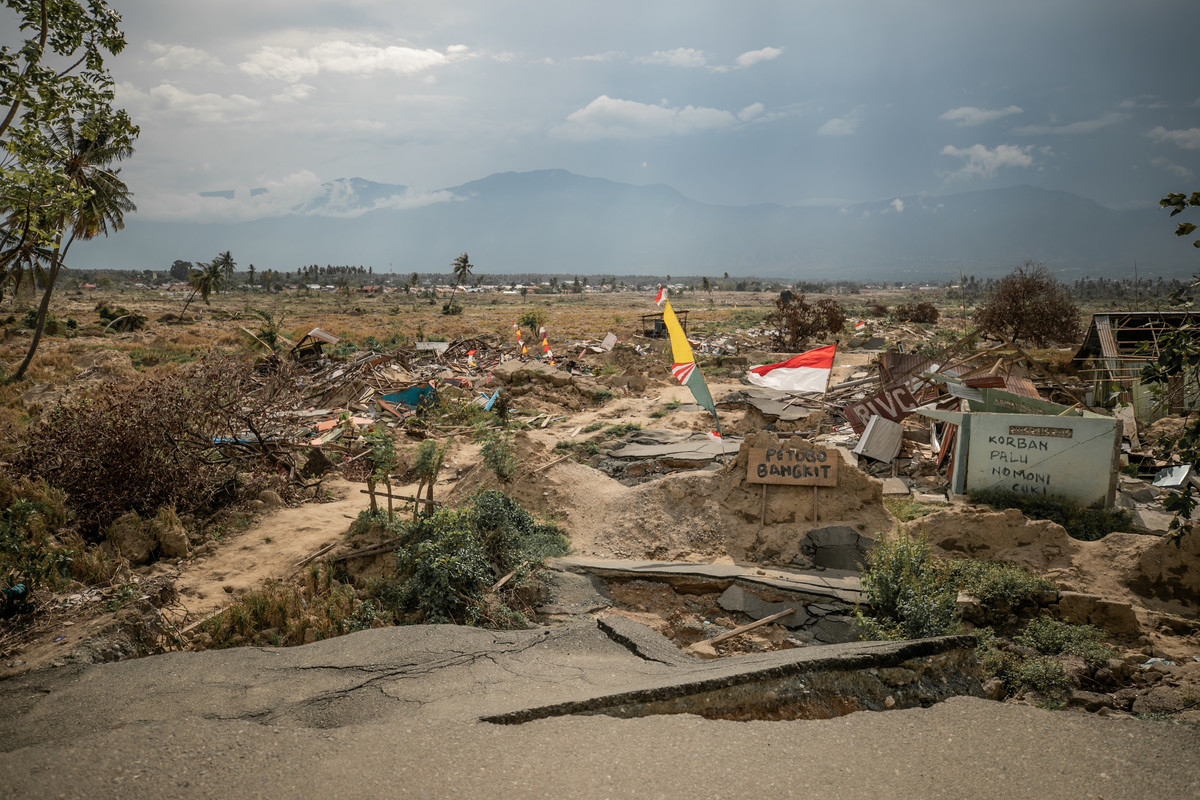 The site of the village of Petobo, which was destroyed by liquefaction. Image: Kathleen Prior/DEC.
As the family fled, their granddaughter, Dewi*, aged just two and a half, was sucked into the mud up to her neck and in desperation, Nuri pulled her out by her hair. "I grabbed her hair and yanked, until I could grasp her round the chin to get her out as the mud sucked her down," says Nuri. At one point Ani also sank to her chest but was rescued by other people fleeing.
Liquefaction can occur when an earthquake strikes a place that rests on sediment, rather than rock, that is saturated with water. Thankfully it is quite rare, but it was observed in the Christchurch earthquakes in 2010 and 2011 in New Zealand, caused much destruction in the Tangshan earthquake in 1976 in China, and contributed to the damage caused by the 1906 San Francisco earthquake.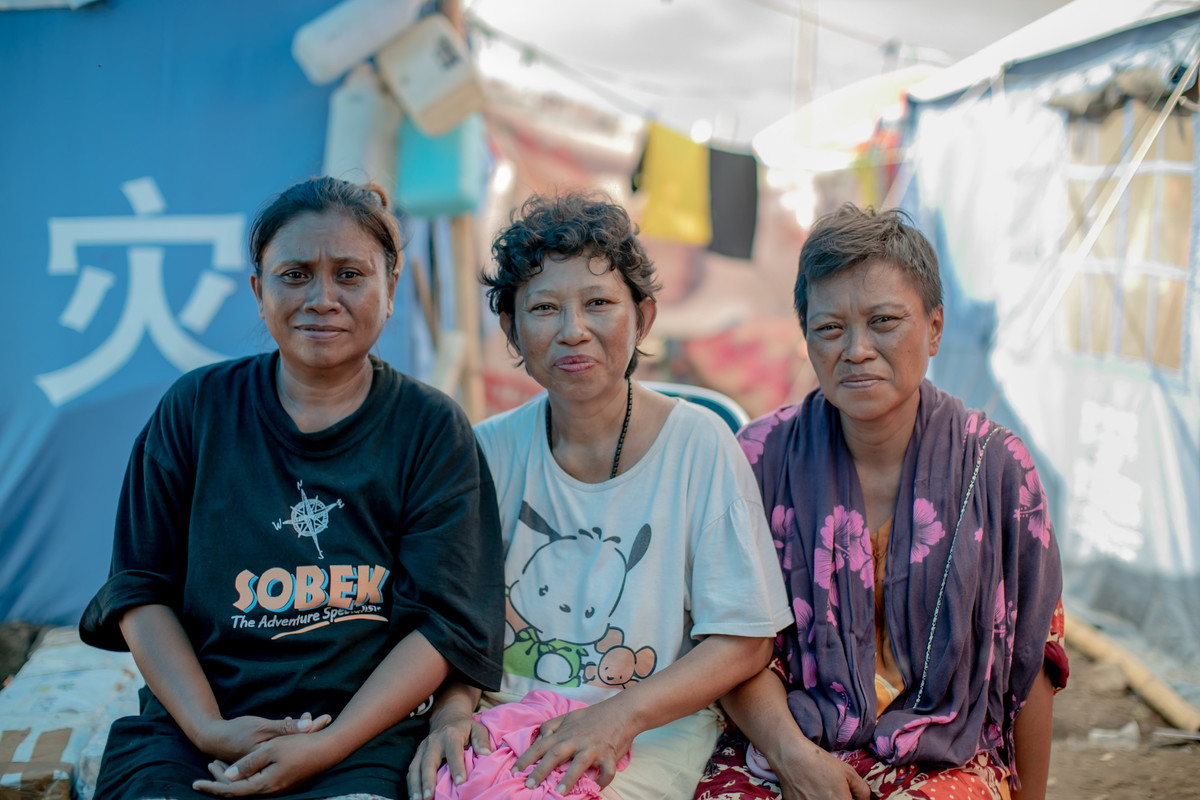 Ani (centre) and Nuri (right) with their sister Nur-Ain (left) outside their tent at a displaced persons camp near Petobo. Image: Kathleen Prior/DEC.
It took the family eight terrifying hours to find safety as they were caught in the swirling mud, the ground moving under their feet, but thankfully they all escaped. They now live in a camp for displaced people, and thanks to your donations, are receiving help from a local partner of the British Red Cross to help them deal with the trauma of their ordeal, including access to a child-friendly space where Dewi can learn and play.
"The community are so happy to receive this assistance… Thank you very much for the assistance given to us here in the shelters," says Ani.
Thanks to your generous support we have now raised over £25 million for our Indonesia Tsunami Appeal, helping thousands of people affected, like Ani, Nuri and Dewi. However, the level of devastation is so great, that families like theirs are still living in tents, reliant on aid agencies while their community rebuilds.

"I grabbed her by the hair, pulled as hard as I could." A video interview with Ani and Nuri.
DEC charities have been helping survivors from the moment the earthquake struck, and plan to continue to provide access to clean water after pipes and sewer systems were destroyed, as well as providing shelter and a range of other interventions including support to help rebuild people's livelihoods.
In the first six months of the response, 10,000 families will be provided with access to clean water, while 6,900 families will receive emergency shelters and 4,000 families will receive training in how to rebuild safer housing in case disaster strikes again.
In addition, 5,000 families will receive support to help rebuild their livelihoods, 8,000 children will receive school materials to help them start learning again, while more than 9,000 households will receive cash support so that they can prioritise their own immediate needs while supporting the local economy.
The road to recovery for the region will be a long one, after such a devastating disaster, but your support is helping to put survivors back on their feet and help them begin to rebuild their lives and communities. Thank you for your support.
*The names of children have been changed.
Our Indonesia Tsunami Appeal is still open. Click here to donate and help survivors like Ani, Nuri and Dewi.