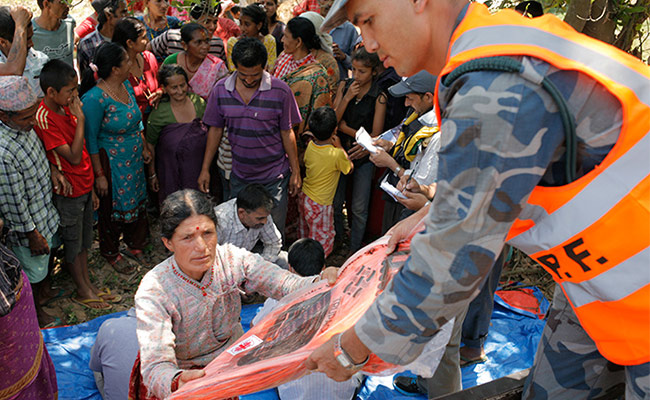 A distribution of tents and tarpaulins to the victims of the earthquake in Kavrepalanchowk district
Faced with huge logistical challenges, DEC member agencies and their partners have succeeded in getting aid through to some of the worst-affected part of the Nepal, providing aid in more than 60 villages, camps and towns across 17 districts.
 
An estimated 8 million people have been affected by the devastating earthquake which struck on Saturday 25 April. Hundreds of thousands of people, many in remote villages, had their homes damaged or destroyed and have been in urgent need of food, water, shelter and medical care.
 
Ten days after the DEC launched its Nepal Earthquake Appeal on 27 April with all major UK broadcasters carrying appeals on radio and television, the organisation announced that the UK public had raised £45 million.
 
DEC Chief Executive Saleh Saeed said: "The overwhelming generosity of the UK public will help families get through the next few months and rebuild their lives over the coming years. Our members' teams have been are working around the clock to provide essential aid. However, a huge amount of work remains to be done before the monsoon rains make the response even more difficult and the risk of disease outbreaks increase."
 
Rain, avalanches and the mountainous terrain have made aid deliveries difficult but agencies have managed to get aid to districts such as Sindhupalchok where most of the deaths have been reported and over 80% of houses are said to have been destroyed.
 
DEC agencies have ensured that better shelter, drinking water and sanitation are a key part of the emergency response ahead of the rainy season that starts in June. Contaminated water and poor sanitation in the aftermath of the Nepal earthquake can lead to potentially serious outbreaks of disease. In many areas there have already been reports of diarrhoeal disease outbreaks and chest infections with clean water supplies disrupted and people living and defecating in the open. 
 
DEC agencies have been delivering trucks of drinking water to camps for displaced people, establishing toilets and distributing family hygiene kits and providing information on the importance of hand washing.
 
Another key need has been the difficulty of pregnant women accessing maternity services. Women giving birth and their newborn children are especially vulnerable in the earthquake-ravaged regions of Nepal, and have very specific needs. In the aftermath of the earthquake some new mothers were physically weak from lack of food and faced the added difficulty of finding it embarrassing to breastfeed in the crowded tents where they are staying. DEC agencies have been delivering dedicated nutritional food packages for pregnant and breastfeeding women as part of its relief effort, together with medical supplies and equipment for operating theatres.
 
The DEC appeal has so far helped agencies and their partners reach over 300,000 people and the number continues to rise. The assistance has included:
ActionAid has provided food to 20,000 people.
Age International has provided cash to 2,100 older people to spend on urgently needed items.
The British Red Cross has health teams working in 12 locations.
Tents and food have been delivered to 10,460 people in three districts of the Kathmandu valley by CAFOD and its partners in the Caritas network.
CARE has provided more than 5,300 people in Gorkha with shelter, water and sanitation kits.
Christian Aid has provided ten water filtration units – each which provide 1,500 litres of purified water per hour for 10,000 people in Gorkha, Dhading and Sindhupalchok.
Islamic Relief has distributed food for 2,500 people in Sindhupalchowk district.
Oxfam has distributed 925 hygiene kits for 4,625 people and 1,245 bottles of chlorine solution for 6,225 people.
Save the Children has distributed shelter kits, baby kits and relief supplies to more than 25,000 people in Gorkha.
Plan has distributed more than 1,290 education kits in Sindhuli.
Tearfund has reached 3,300 people with tarpaulins and food in Makwanpur and Lalitpur districts.
World Vision is running ten child friendly spaces.
After people's emergency needs are met, the process of rebuilding begins. The DEC has decided to extend its aid response to three years to allow its member agencies to meet longer-term needs and help rebuild lives and livelihoods which will withstand future disasters.