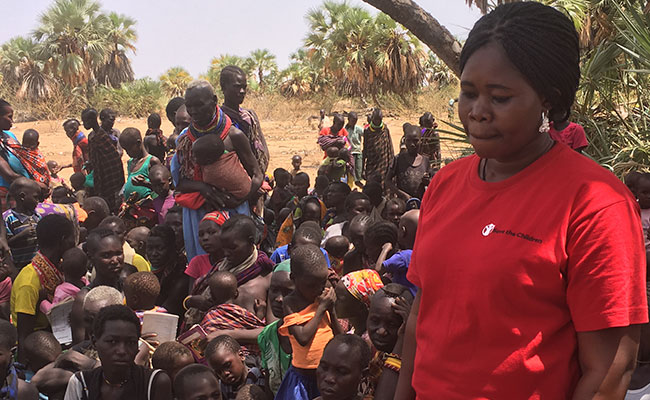 In March this year, the DEC launched its appeal to help people affected by drought and conflict in Kenya, Ethiopia, South Sudan and Somalia. Three months on, the DEC's Monica Blagescu visits remote Kenya to see how donations from the UK public are saving lives.
Three camels without humps walk past the car – a crude indication that the animals have exhausted all their body fat. I'm in a small village called Nangtony, a two-hour flight from Nairobi and a two-hour drive from the county's capital, Lodwar.
I'm here to find out how DEC funds are helping people affected by two years of consecutive drought. In northern Kenya, most rely on the milk and value of their cattle to survive – but many have lost their savings and source of income over the last few months as animals perish. Many families are now going days at a time without food and are simply running out of options to survive.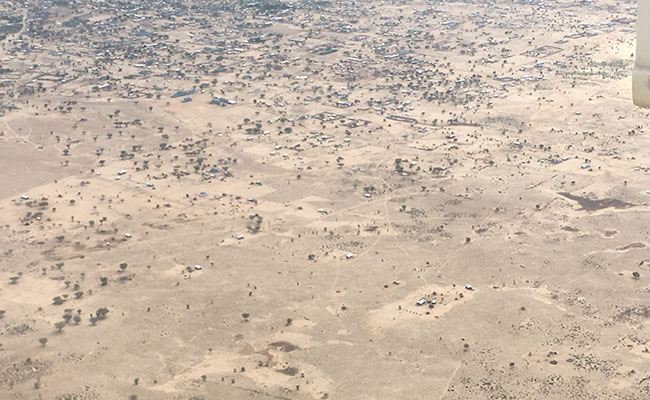 The county capital Lodwar, seen from the air
As we drive to a remote emergency malnutrition clinic, set up by Save the Children to treat some of the 3.5 million people across the country who are in need of humanitarian assistance, I see no animals for most of the drive. The lack of green vegetation along the way is even more worrying. On the vast planes, as land meets sky, I see water mirages.
It is the long, dry period of the year, between July and September, which usually follows the long rains – but this year like last year, they never arrived. Parts of the country received less than half of their normal rainfall causing Kenya's worst drought in decades.
Crops have failed and cattle have died. Poor harvests have pushed up the prices of cereals to near-record levels across most markets and in some parts of the country, crop-eating caterpillars are ravaging the little food that has been produced before it can be harvested.
The lack of milk, children's main source of protein, is seriously affecting the development of children under five, while the water shortage has increased the spread of disease, leaving young, pregnant mothers and the elderly at risk of life-threatening illnesses.
Your aid helping people at risk of severe malnutrition
Just three months on from the launch of the DEC's East Africa Crisis Appeal, donations from the UK public have already helped more than 250,000 people, providing food and nutrition treatment, clean water, cash and vouchers for food, tools and livestock care and improved sanitation services. DEC charities are working to reach 1.5 million people in Kenya, Ethiopia, Somalia and South Sudan over the coming year.
Close to 160 people are waiting outside the make-shift building – here they will be examined for signs of malnutrition and provided with treatment. Over 30 per cent of Turkana's children are suffering from malnutrition so mobile clinics like this one visit remote communities to reaching and treating as many children as possible.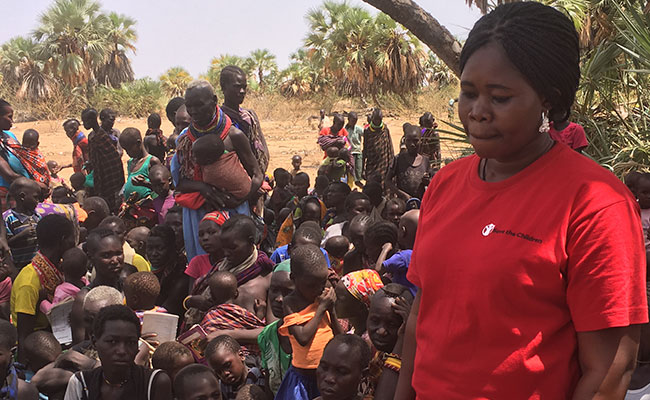 Crowds gather at a Save the Children outreach post
Measuring the mid-upper arm circumference of babies and infants is a simple way of identifying malnutrition. Arm bands are colour coded and if the girth of the patient's arm falls within the green part of the band, it indicates they are not malnourished, yellow means they may be at risk of malnutrition, red – the patient is severely malnourished and at risk of starvation.
Malnourished children are provided with ready-to-use therapeutic food, such as the peanut paste Plumpy' Nut. Such food is high in fat and protein and fortified with the vitamins and minerals. A few weeks of treatment can mean significant improvements.
Those severely malnourished and in need of closer supervision are referred to a stabilisation centre, set up with DEC funding, where patients are treated to full recovery, unless complications mean they must go to the town hospital.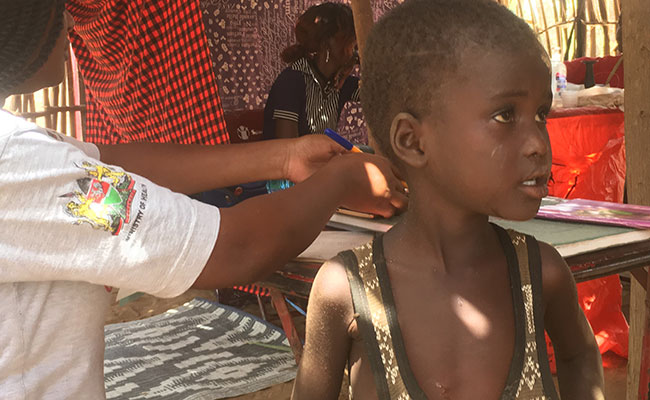 I meet Jakomboyo Ngacho – who, at four years of age has the stature of a two-year-old child. A volunteer nurse tells me Jakomboyo is stunted, most likely by years of poor nutrition and recurring infections. Stunting is associated with an under developed brain, with long-lasting harmful consequences, including diminished mental ability and learning capacity. Jakomboyo's future is bleak, as is that of other children growing up through this drought.
Jakomboyo's nine-month old brother has a fever, most likely due to a minor infection. Malnourished children are more at risk of catching infectious and other diseases and take much longer to recover. As he starts to cry, his mother tells me that "the crying babies are the lucky ones, because they are still strong enough to cry".

A water purification demonstration at the makeshift clinic
Outside the small makeshift clinic, people are being given a 10-litre bucket, 24 water purification tablets, a filter cloth and a bar of soap as a volunteer worker shows everyone how to use them, including the life-saving purification kits to help sterilise the water and make it safe to drink, preventing the spread of water-borne diseases.
Continued support is crucial for communities
Under an acacia tree, the elderly men tell me the drought is the worst they've ever experienced. And in crises like this one, it is always the weakest who are most at risk – children under five, pregnant women, the sick and the elderly. The men, as others I meet throughout the day, tell me that assistance from DEC funds has kept his community alive and that more support is needed to help them survive until the rains come.
As we leave, one of the elderly men holds my hand. "We pray for rain, but some of us are beginning to lose hope – you are the only hope we have right now," he says. And this last encounter before we go back on the road stays with me for the entire two-hour journey back. As I board the plane in Lodwar a few hours later, I cannot help but do what the old man told me he does every day – pray for rain. And hope.
Don't delay, donate to the DEC East Africa Crisis Appeal.
Monica Blagescu, DEC's Director of Humanitarian Programmes, travelled to Turkana at the end of July 2017.
All photos @Monica Blagescu