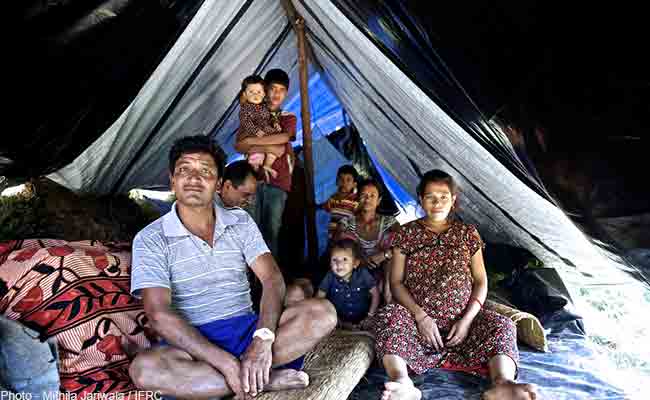 Family provided with emergency shelter from the Red Cross
DEC member agencies and their partners have reached over half a million people with aid since a deadly 7.8 magnitude quake rocked the country on 25 April 2015. The DEC Nepal Earthquake Appeal has now raise £65m since it opened to donations on 27 April.
DEC member agencies are providing a wide range of emergency items and services, such as emergency shelter, food, blankets, clean water, sanitation supplies, water storage units, medical aid, baby kits and other essentials. As quickly as possible, they will begin supporting the worst affected communities to begin rebuilding more permanent homes and restoring their livelihoods.
Speaking about the appeal Saleh Saeed, DEC Chief Executive, said: "I have been very moved by the extraordinary generosity of the UK public in response to the appalling devastation in Nepal.  Their kindness, combined with the courage and tenacity of the Nepali people, working with our member agencies and their partners, have helped provide aid to over half a million people in just one month. 
"This has been achieved even in many villages that were all but inaccessible even before the earthquake; despite Kathmandu's small airport being completely overwhelmed; regardless of the severe damage to Nepal's already inadequate road network; and in the face of extremely hazardous flying conditions for the limited number of available helicopters.
"There is no room for complacency. The monsoon is coming. The need for emergency shelter and materials to help people begin rebuilding homes is incredibly urgent because conditions for homeless survivors will be soon be intolerable and the road will become even more treacherous.
"These huge challenges, and the need to support the Nepali people through the hard years it will take to rebuild their lives and livelihoods, are why the DEC Nepal Earthquake Appeal remains open and why we are relying on the continued support of the UK public."
The 7.8 magnitude earthquake struck Nepal on Saturday 25 April 2015 (11:56am local time), with the epicentre some 50 miles northwest of Kathmandu in Gorkha district. There have been hundreds of aftershocks but a second major quake of 7.3 magnitude struck on 12 May at 12:50pm local time. The epicentre was 47 miles northeast of Kathmandu in Sindhupalchok district - an area already badly affected by the earlier quake.
The death toll has increased to 8,631 people, including 154 people killed in the 12 May earthquake. So far a total of 494,777 houses have been reported destroyed and 267,373 damaged, which means that up to 3.8m people may need help with temporary shelter, repairs or rebuilding.
The monsoon will begin in June and is at its most intense in July and August.  Survivors will have an increased need for shelter, an already weak and earthquake damaged road network will be further compromised, and flying conditions will become even worse. This creates an urgent need to provide as many of the worst affected communities as possible with emergency shelter materials or, ideally, shelter kits to allow them to begin to repair or rebuild their homes.
Examples of help already provided by DEC member agencies, directly or through their partners, using DEC and other funds, include:
ActionAid has delivered over 372 tons of rice in Kavre, Kathmandu Valley, Rasuwa and Sindhupalchowk
Age International are advocating for older people and people with disabilities to be included in the overall humanitarian response through the UN coordination system
British Red Cross have provided tarpaulins for shelter for 270,000 people
CAFOD has delivered shelter kits and water and sanitation kits to 32,000 people in Gorkha
CARE has provided emergency shelter to 8,500 people in Ghorka and Dhading - focusing on the extremely remote areas where some villages have lost 90% of their houses
Christian Aid has provided support to 66,000 people with emergency shelter, 15 days' food ration, and water and sanitation kits in Gorkha, Dhading, Sindhupalchowk, Kathmandu, Lailitpur, Bhaktapur and Rasuwa districts.
Concern has given 2,147 shelter and hygiene kits in Sindhulpalchowk and Dolakha districts
Islamic Relief has provided food to 5,100 people in Nuwakot and Sindhupal Chowk districts
Oxfam has given emergency shelter kits to 12,000 people in Gorkha, which include a tarpaulin, blankets, ground sheets, foam mats and solar lamps
Plan has distributed more than 16,000 tarpaulins and 5,635 food packages across Nepal, including in Sindhupalchowk and Dolakha
Save the Children has given out over 25,000 food items including flour and dry food, as well as delivering kitchenware, bottled water and jerry cans
Tearfund has provided food, tarpaulins and blankets in Dhading and Nuwakot to families whose homes have been destroyed
World Vision has distributed 2372 tarpaulins and 2372 blankets, and set up one child friendly space, all in Kathmandu.