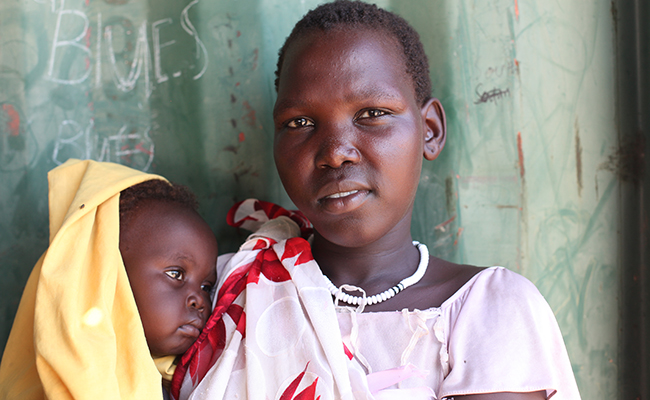 New figures released today by the Disasters Emergency Committee (DEC) show leading UK aid agencies have less than two-thirds the money they need to respond to the growing crisis in South Sudan. 
Up to 5.3 million people are estimated by the UN's World Food Programme (WFP) to face severe food insecurity in the coming months, leading up to what is expected to be a poor harvest beginning in September. At least 2.8 million people are already dependent on food aid and wild foods such as water lily roots for survival.
Although a government of national unity has now been formed after a brutal two-year civil war, millions of people have lost their cattle, seed stores, tools, businesses or land. Returning to their former homes remains a terrifying prospect for many.
With the rainy season starting this month, vast areas will soon be cut off as most the country's extremely basic and limited roads turn into rivers of mud. 
The DEC's Chief Executive Saleh Saeed said: 
"I have just returned from South Sudan and after years of horrific conflict our member agencies are desperate to support people to survive and rebuild their lives. Instead some may be forced to cut back their work due to a lack of funds.
"Communities need food, clean water and healthcare. We should be supporting people to not just survive but to return home when they feel safe to do so, to plant crops, replace livestock and restart their businesses – we won't be able to do all this without more funding.
"We are very concerned that despite some strong news coverage of the situation, public awareness of the crisis in the UK remains very low. This makes appealing for funds very difficult for our members and currently prevents the DEC from launching its own appeal."
DEC member agencies are seeking £198.2m to fund their emergency work in South Sudan and to date £68.8m has yet to be secured.
Food prices have sky rocketed this year, with the price of the country's staple cereal sorghum, 400 per cent above the five-year average in Juba in March. In the first three months of this year alone the United Nations diagnosed 53,775 children with Severe Acute Malnutrition (SAM) – a 40 per cent increase over the same period in 2015. 
More than 16,000 children who have been recruited by armed groups also need help to reintegrate back in to their communities. This must be achieved with close to one third of schools destroyed, damaged, occupied or closed, impacting on the education of more than 900,000 children.
The overall gap in humanitarian funding faced by all agencies is even worse than that faced by DEC members. Only 29 percent of the required emergency funding identified by the UN has been provided by international governments, institutions and other funders. The UK Government, though, is amongst the more generous funders of the aid effort. While South Sudan has received the third highest amount of funding of any humanitarian emergency in 2016 after Syria and Ethiopia, the money is not enough to reach everyone in need or help people escape the cycle of hunger. 
DEC appeal criteria require evidence of potential public support before any appeal can be launched and with the current very low levels of awareness of the crisis, this requirement has sadly not yet been met. This situation prompted the DEC to take the highly unusual step of visiting a country, South Sudan, before an appeal has been declared.
DEC member agencies appealing for South Sudan include:
British Red Cross
CARE International 
Christian Aid
Concern Worldwide
Oxfam 
World Vision