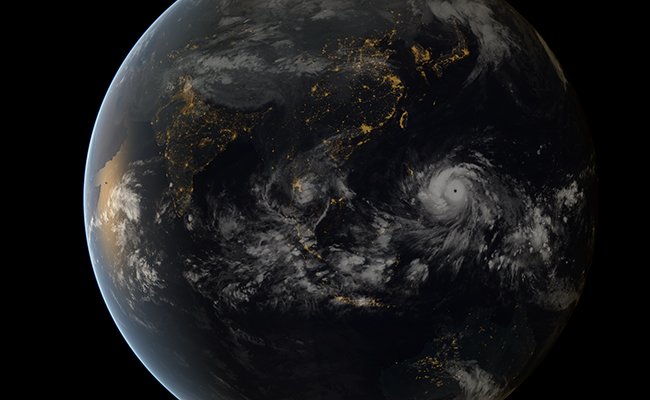 Typhoon Haiyan approaching the Philippines, November 7th, 2013. Photo:  © 2013 JMA/EUMETSAT
Two years on from one of the strongest typhoons ever to hit land, markets are bustling again and most people are back to work. In the months after the disaster, 1.4m people received urgent aid from our member charities and their partners using DEC funds. As the response has continued, increasingly efforts have turned to recovery.
The Disasters Emergency Committee has been working with local people and organisations to help restart businesses that were crippled by the disaster and to help those who lost everything become entrepreneurs.
Typhoon Haiyan hit Eastern Samar, Leyte and Central Visayas in the Philippines on 8 November 2013 local time (7 November UK time), killing 6,300 people, displacing 4.1 million from their homes and affecting 16 million. The huge aid response included £97 million raised by the DEC in the UK.
Saleh Saeed, Chief Executive of the DEC, said:

"The devastation that Haiyan wreaked for millions of families was immense. So many fishermen and women lost their boats and nets, taxi drivers lost their cars or scooters, farmers were left without equipment and crops, shops and enterprises were washed away. The thriving coconut and rice industries were battered and yet in only two years, people have found the strength and resources to start again. Many have learnt new skills and launched new careers with the help of the British public. While the lengthy process of rebuilding continues, families are able to send their children to school and earn an income."
DEC member agencies have provided hundreds of thousands of people with emergency shelter or materials and advice to help them rebuild their homes.  Some member agencies have also been involved in building permanent homes. Helping people rebuild an income has enabled many more to speed up the process of restoring or rebuilding their own homes.  Government-led projects to build large numbers of permanent homes have moved relatively slowly and close to 100,000 families are still living in temporary accommodation.
An independent evaluation of the DEC's Haiyan response, commissioned by the DEC, found that a year after Typhoon Haiyan, 95 percent of households are working although only some have fully restored their previous livelihood.
The report found that incomes of coconut farmers and the fishing community were particularly affected. In both Dulag and Tanauan almost all coconut trees were destroyed by the storm surge or strong winds and will take five to ten years for new trees to grow and bear fruit, while fish stocks remain low due to the destruction of marine life.
The destruction of mangroves, coconut trees and fish stocks will take many years to recover but DEC members are helping people to improve their business skills to make the most of the assets they have. For example they have introduced crop insurance to rice farmers, set up savings and loans groups and provided coaching for business owners.
A post distribution monitoring (PDM) by one agency found that 100 percent of rice farmers and 90 percent of micro-enterprise beneficiaries said the livelihood programme had helped them recover either somewhat or completely from the effects of the typhoon.
In addition to technical courses, young people have taken part in sessions on life skills, providing them with practical tools such as interview skills and CV writing, as well as self-awareness and confidence-building sessions.
In some cases when people find their existing work too challenging, DEC agencies are providing alternative options. For example since women fishers are often marginalised, they have received help to earn an income from fish trading, drying, and processing fish.
These thriving new businesses not only help families meet their costs now, they mean communities are more resilient for the next disaster.
In a country which is hit by an average of 20 typhoons per year –Typhoon Koppu killed 48 people and left one million homeless just last month – making sure people are prepared and more able to cope when disasters hit, is a fundamental part of recovery.
DEC member agency initiatives in the last 18 months, with an emphasis on work to improve people's incomes, have included:
ActionAid provided more than 12,770 women with start up grants to restart their businesses or start a social enterprise, as well as receiving livestock and farming tools.
Age International has provided training sessions on innovative and diversified farming techniques, as well as supporting model farms, benefitting almost 3000 people.
The British Red Cross has provided business training for 25,900 people in skills such as rice, livestock and poultry production, as well as book keeping and financial saving.
CAFOD has trained more than 630 people in work such as carpentry, welding or electrical installation and wiring, as well as small business development – supporting income generation and reconstruction.
CARE International helped close to 8000 people start businesses such as seaweed production, rice farming and milling, fish culture, IT services, bamboo processing, sesame seed production, banana production, community based eco-tourism and herb production, processing and trading.
Christian Aid is supporting 2,242 farmers to improve their incomes with marketing, hog and poultry raising, communal and house vegetable gardens, small convenience stores, rice trading, food processing and vending.
Concern Worldwide helped more than 3180 people with new boats and fishing gear or cash grants so fishing families could start work again.
Islamic Relief helped 724 people construct shelters, contributing to their overall recovery.  
Oxfam supported 4050 people boost their fishing and aquaculture businesses, including boat repair, construction, coastal rehabilitation, aquaculture and business skills training.
Plan is helping 960 farmers create demonstration farms to showcase sustainable farming technology, allowing farmers to learn new techniques.
More than 10,970 young people were given vocational trade or skills training by Save the Children.
Tearfund trained 1160 people on safer and resilient shelter techniques to help them construct more disaster resistant homes.
Close to 2250 people benefitted from business start-up kits provided by World Vision.
The scale and geographical spread of this disaster was enormous.  The logistical challenge associated with the response being spread across so many islands has been substantial.  But the speed and persistence of the response of the affected communities has been the most extraordinary thing about this crisis and the DEC and its members are incredibly proud to continue to stand beside them through this period of recovery.