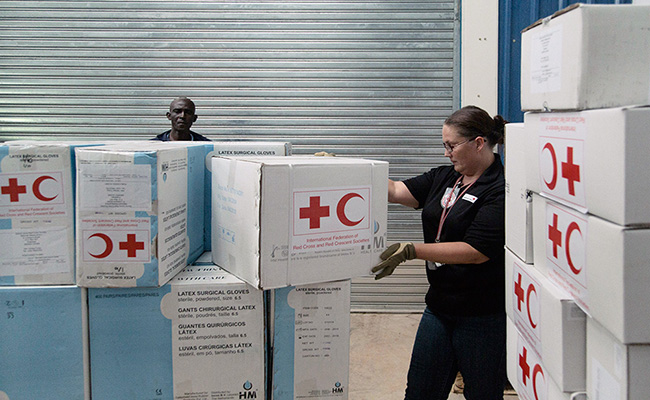 Red Cross food distribution in Monrovia, Liberia

A milestone £10 million has already been raised  for the Disasters Emergency Committee (DEC) appeal to help people affected by the devastating Ebola crisis in west Africa through web and phone donations, and UK government support, the organisation said today.
 
This total has been raised although the appeal was only officially launched on Thursday (30th October 2014); the DEC said it had been "humbled" by the generosity of the British public.
 
The UK Government is matching the first £5 million given by the public and their contribution makes up £5 million of the total £10 million raised so far.  
 
Saleh Saeed, Chief Executive of the DEC, said: 
 
"We have been humbled by the extraordinary generosity of the UK public in response to our unprecedented appeal for the Ebola Crisis in west Africa, and want to thank each and every person who has given"
 
"We are also extremely grateful for the kind support of the UK Government for the aid match funding which has been a significant boost to the Appeal."
 
"Our member agencies have already achieved so much– providing protective clothing, educating communities and supporting safe and dignified burials – but there is so much more to do."
 
DEC member agencies are scaling up their aid efforts in West Africa where they have already helped over 2.5m people affected by the Ebola crisis. They are reaching some of the worst-affected and most remote areas of Sierra Leone and Liberia.