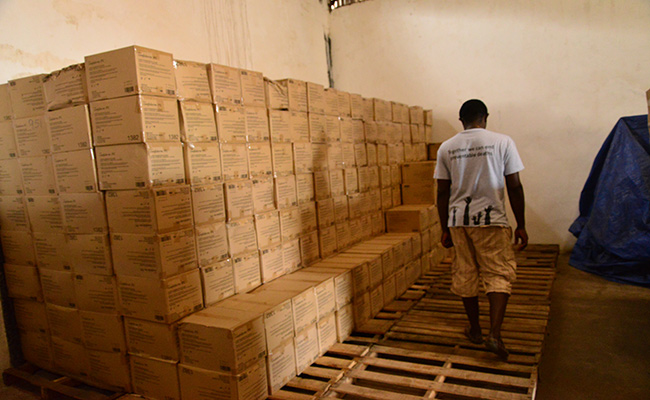 Protective clothing ready for use by World Vision in Sierra Leone.

Over £6 million has already been donated to the Disasters Emergency Committee (DEC) appeal to help people affected by the devastating Ebola crisis in west Africa through web, phone and text donations and UK government support, the organisation said today.
 
Although the appeal was only officially launched yesterday, the DEC said it had been "overwhelmed" by the generosity of the British public.
 
The UK Government is matching the first £5 million given by the public and their contribution makes up £3 million of today's total.  HRH The Prince of Wales has also supported the DEC's Ebola Crisis Appeal with a generous donation. 
 
Saleh Saeed, Chief Executive of the DEC, said: 
 
"We have been overwhelmed by the extraordinary generosity of the UK public in response to our unprecedented appeal for the Ebola Crisis in west Africa.
 
"We are extremely grateful to the UK Government for the aid match funding which is a significant boost to the Appeal. The UK Government will match a further £2million raised, so we encourage the UK public to donate as soon as possible to double the amount of their donation while they can."
 
"We are also enormously grateful to The Prince of Wales for his generous donation towards the DEC Appeal. This donation, along with money from all our other generous donors, will enable the DEC members to help prevent the spread of this deadly disease and to provide urgently needed support to those who have been affected.  
 
"Our member agencies have already achieved so much – providing protective clothing, educating communities and supporting safe and dignified burials – but there is so much more to do."
 
DEC member agencies are scaling up their aid efforts in West Africa where they have already helped over 2.5m people affected by the Ebola crisis.
 
So far, almost 5,000 people have been killed by the virus and more than 13,000 have been infected. But experts say the real figures could be far higher due to under-reporting.
 
The DEC appeals aired on BBC, ITV, Channel 4, Sky, Channel Five and other broadcast outlets, fronted by actor Chiwetel Ejiofor (ITV and other commercial broadcasters) and comedian Lenny Henry (BBC).