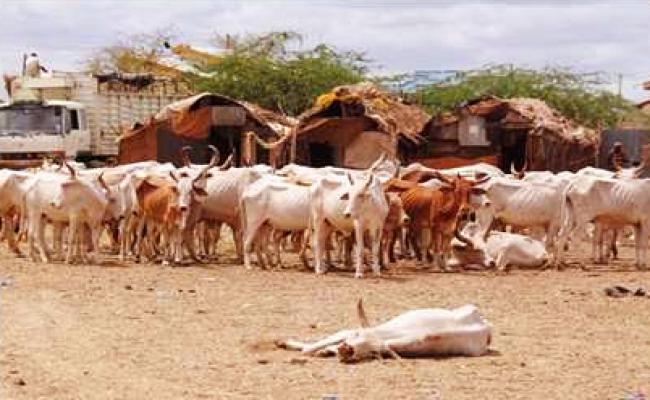 Mother-of-two Amina Mohamed, 30, visits an animal market in Garissa, north-eastern Kenya. Her family lives close to the Somali border and is struggling with the drought. She doesn't have any animals to sell today, but still looks around.
 
"It gets worse every day," she says. "The animals are getting weaker and weaker – there are only a few left. My family has no water; they have to come to town to buy it and it is getting so expensive.
 
"Half of the food we get we share with family. I can't eat when I know that they have no food."
 
Dying animals and desperate people
 
Vivian Paulsen, from the Norwegian Red Cross, also visited the market. "The sight that met us at the market was terrible – thin, dying animals and desperate people trying to get what they could for the animals they have left.
 
"The stench was awful. We saw four cows dead on the ground, and two that had been lying there for over a day, fighting but losing the battle."
 
The situation in the drought-affected region is becoming increasingly desperate, and it will worsen in the coming months as the next expected rainfall is not until October.
 
Digging in riverbeds
 
Anne Signe Hørstad, a Norwegian Red Cross water and sanitation delegate based in Kenya, describes how the drought has changed the area. "I've never seen this area as dry as it is now," she says.
 
"The seasonal rivers are supposed to fill up during the rainy seasons and keep the water flowing for quite a while afterwards. It's really bad that they're dry. People are digging in the riverbed to get to the ground water."
 
The lack of water has disrupted pastoralists' usual routes to find water for their livestock. Anne explains: "Many of the pastoralists in the eastern part of Kenya have taken their cattle and camels to the western part of Ethiopia, where there is some vegetation. Northern Somalia has had some rain, but due to the conflict it's difficult for people to access the areas." 
 
Malnourished children
 
Kenya is currently hosting over 423,000 refugees from Somalia, according to the UN. As of 22 July 2011, more than 3.2 million Kenyans are classified as food insecure and in desperate need of assistance.
 
The Red Cross is helping thousands through initiatives such as school feeding programmes, borehole rehabilitation, water trucking and emergency healthcare. The Red Cross is also supporting sustainable food projects, such as greenhouse farming in communities and schools.
 
Parents like Amina are understandably concerned about their children's future. "The children are malnourished, and it's getting worse," she says. "Food prices are so high. I'm worried about the children. We do not have enough money to feed them properly.
 
"What will happen to them if they don't get enough food?"
 
Read more from the British Red Cross.