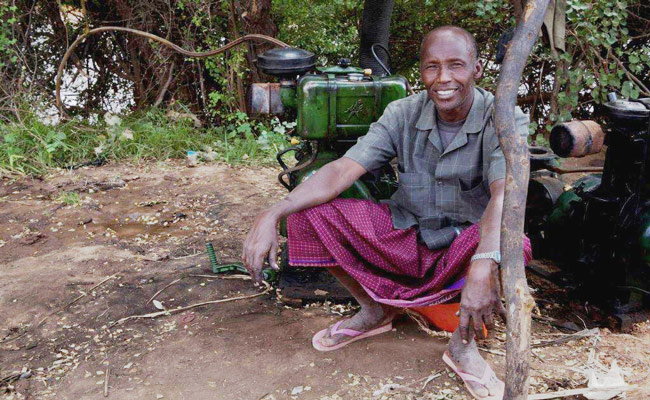 Disasters Emergency Committee member Islamic Relief is using funds raised by the 2011 East Africa Crisis Appealfor disaster protection in Kenya, which is particularly vulnerable to droughts.
Disaster protection gives people like  Abdi Tifow Bare (pictured) from Mandera, north-east Kenya, a chance of surviving droughts which are becoming more frequent, in line with the predicted impact of climate change.
 
Without disaster protection, traditional pastoralist families like Abdi's would have struggled to survive and maybe died during drought, as his animals would be wiped out. But now, Abdi has been persuaded to try his hand at growing vegetables and cereals instead, selling his last seven camels to buy some land.
 
"Islamic Relief helped with bush clearing, tractors for ploughing and pump sets for irrigation," explains Abdi.  "They also provided seeds, fuel and training workshops for the farmers. We used to rely a lot on the milk from our animals, but when there was a drought they didn't produce much milk and our children became malnourished. With last year's drought we were much better prepared because we had a good harvest and we stored fodder for our livestock."
 
The success of this project shows that disaster protection works. Islamic Relief has helped Abdi to make a secure income through a project that costs a fraction of what it would cost to provide him with emergency food aid and medical care in the event of a drought. 
 
"Islamic Relief believes people need to be prepared for the worst, rather than expecting them just to hope for the best. Examples of successful projects include cereal banks and microdams to store food and rain water ahead of the dry season, and cyclone shelters where people can take refuge as storms approach," says IR's Jehangir Malik. An acre of Abdi's onions can generate around 50,000 KES (over £360) in net profit in three months, giving him an income that is four times what a farm labourer on a monthly wage would earn – and enabling him to survive a drought without being forced to turn to expensive emergency aid.
 
Disaster protection works.
 
Bev Cohen
Islamic Relief
 
This appeal update was drawn from a wider report by Islamic Relief on Disaster Risk Reduction (PDF).