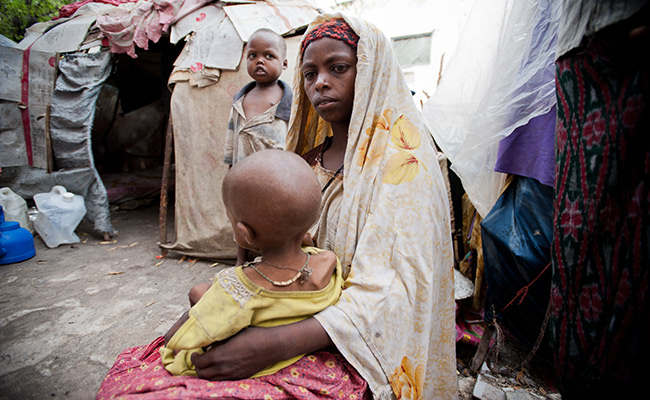 Just a month ago, Howa Madey Salaad (35) was a mother of five, living in Ooflow, a rural area between Baidoa city and Diinsoor town in Somalia. Since drought has ravaged the Horn of Africa, Howa has lost three of her children, and has been forced to leave her home to seek refuge in Somalia's worn-torn capital, Mogadishu.
In the shelled out ruins of the offices of the former Italian governor, Howa lives in a small, make-shift shelter with her husband and two surviving children, along with over two hundred other families in this impromptu camp for internally displaced persons. The Viishio Governo camp came into existence around a month ago as families were forced to leave their homes, and livelihoods, due to the drought. 
 
"This kind of drought is something we never imagined", she says, the scale of which is "unprecedented and never seen in my life". Howa and her husband lost their entire livestock of twenty goats, which was followed by the death of two of her children. "It was very painful" she mourns, the loss precipitating their decision to leave when they realised that things, already bad, were likely to get worse.
 
She described her life before as good: working on her farm, rearing the animals and taking care of her children. "I never before dreamed of coming to a town, let alone Mogadishu" she says, disorientated, feeling "very confused" to be here, forced by the drought. "I am sick, and tired". 
 
It took her family fifteen days to reach the capital, walking and hitching rides. They have been in Viishio Governo for a further fifteen days. Conditions in the camp are dire: there is no clean water or sanitation facilities, nor proper shelter, and little food.
 
Amongst the drought-displaced, it is children who are the most affected. One of Howa's two remaining children, one and a half year old Abdi Ibrahim, is visibly ill with malnutrition, his shoulder blade protruding from his back as his mother cradles him. She worries for his life, having lost her third child just yesterday. Three other families living around her were mourning the death of a child yesterday, too.
 
In a cruel twist following the months of drought, the camp was battered last night by rain, pools of water lying around the shelters, which offer little resistance.
 
Help is slowly reaching the displaced, as local people have rallied around in support and the district authorities doing what they can to assist them. Concern Worldwide has been distributing non-food item (NFI) kits to each household, and delivering medical aid with what they have in their stores. Work began today with the construction of latrines, and the grey plastic sheets from their NFI kits cover the roofs of the crudely assembled shelters.
 
Despite the hardships, Howa says she feels safe, for the time being, and wants to remain in the camp "as long as the drought continues to devastate my land". Once the crisis is over, she hopes to return to the rural area that she came from, but for the time being, she laments "I don't know what is in store for me". "Right now, I need food, water and security."