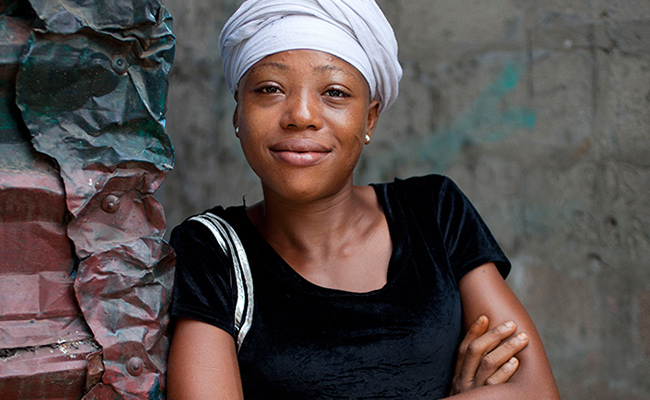 Ruth Yomoi - an Ebola survivor from Monrovia, Liberia.

In the three months since the DEC launched its Ebola Crisis appeal, its members have played a vital role in stopping the spread of the disease. The number of new cases across the worst affected countries – Sierra Leone, Liberia and Guinea – is now dropping day by day.
 
The UK Public has donated a generous £34 million to the DEC Ebola appeal, helping member agencies to educate people living in high-risk areas, provide treatment to sufferers, safely dispose of the bodies of the dead and support survivors of the virus. 
 
Only eight cases were confirmed in Liberia in a week in mid January compared to a peak of more than 300 new confirmed cases per week in August and September 2014. Liberia has reduced the number of new infections and is now hoping to reopen schools in the next six months. 
 
In Sierra Leone the number of cases is decreasing quickly with 117 new confirmed cases reported in the week to 18 January 2015, compared with 184 the previous week and 248 the week before that.  
 
DEC appeal Chief Executive Saleh Saeed said: "The downturn in Ebola cases in West Africa is positive. The hard work of our members, together with the courageous actions of volunteers and the communities themselves, is now finally helping turn the tide in the battle against Ebola. This progress would not have been possible without the generous support of the British public."
 
However the threat of renewed outbreaks are still very real making the continued hard work of aid agencies vital in securing the gains made across the region. The World Health Organisation said the outbreak continues to constitute a Public Health Emergency of International Concern, while the head of the U.N. Mission for Ebola Emergency Response Anthony Banbury has said the Ebola outbreak can be "stomped out" in 2015 but that months of hard work remain.
 
More than 8640 people have died from the disease and the total number of cases now surpassed 21,700 – almost half of the known cases were in Sierra Leone.  Close to 500 health workers have reportedly died in the three worst-affected countries. 
 
One way DEC agencies have helped bring down the rate of infection is by supporting community members to go door-to-door to raise awareness about Ebola, while ensuring anyone showing symptoms is immediately isolated and referred for treatment. One-third of all new cases in Liberia in December 2014 were identified through this approach.
 
Examples of the DEC member agency work show how urgent the situation remains. 
In Liberia, Action Aid has supported more than 1000 people, including children orphaned by the disease, with survivor packs or food.
Trained British Red Cross teams continue to play a critical role in providing safe and dignified burials across Guinea, Liberia and Sierra Leone and have conducted a total of 10,618 burials to date.
In Sierra Leone CAFOD has provided outbreak prevention kits, containing protective clothing, bleach and cleaning materials to 995 places of worship.
CARE International has provided hygiene kits for 13,683 people in Sierra Leone and 11,048 people in Liberia.
Christian Aid partners trained hundreds of volunteers to reach 1.2 million people in Sierra Leone with advice on Ebola preventative measures.
Concern has begun construction of sanitation and water storage facilities and incinerators at eight peripheral health units in Freetown, Sierra Leone.
In Liberia, Oxfam has reached 322,000 people providing equipment and funds for the training of 454 community health volunteers and 28 supervisors. In one part of the country, volunteers helped increase the average survival rate from 24 to 43% due to early referral for treatment.
Plan has distributed food and other essential items to at least 17,885 people living in quarantined communities in Sierra Leone.
In Guinea Save the Children has reached 71,577 people by providing psychosocial support and interim care solutions for children.
In Liberia, Tearfund has reached more than 14,465 people through 'house to house' health education campaigns by 15 emergency response teams.
World Vision is managing the fleet of ambulances and burial team vehicles across all 12 provincial districts in Sierra Leone. 
While real progress has been made in containing the spread of disease we are nowhere near the zero cases target the UN was originally aiming for by the beginning of this year and another threat is now looming. The early warning system FEWSNET has predicted that poor families in Guinea, Liberia, and Sierra Leone will face high levels of food insecurity by June . Some are already facing dire food shortages, especially those directly affected by Ebola or poor families living in the worst-hit areas.
 
The prolonged catastrophe is also having a devastating impact on the economies of Sierra Leone, Liberia and Guinea. Two new World Bank surveys  say job losses and food insecurity in Sierra Leone and Liberia are direct results of the Ebola crisis. Most unemployment is due to preventive efforts to limit the disease's spread and the economic decline of affected countries. 
 
Two-thirds of Liberian households the World Bank spoke to said they could not afford rice and more than 80 per cent of Liberian responders reported reduced harvests compared to last year, mainly due to the fear of working in teams.
 
The DEC works with communities affected by disasters to help them not only survive a crisis and its aftermath but also to support people to rebuild their lives.  Some agencies are already providing food to families badly affected by the disease and in time many will receive help to rebuild their livelihoods.