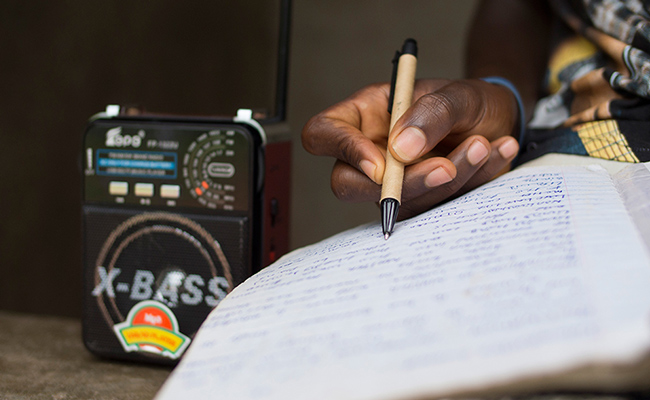 Radio education project in Sierra Leone supported by  Concern Worldwide
It's eleven o clock on a Wednesday morning and Mada Karimu is sitting on the porch of his home in Magburaka, a provincial town about three hours drive from Freetown, the capital of Sierra Leone. Beside him is a funky-looking Chinese made radio, and on his lap a copybook. He's listening intently and writing deliberately as a male voice emanates from the speaker. For Mada, this is what school looks like in a country which has been ravaged by the Ebola virus. 
 
"They closed my school on July 18th," Mada tells us. "I am so sad, but they say it might re-open it in January and that gives me hope." All over the country schools are locked up and, the result of a government order designed to help stop the spread of the virus.
 
The reality is that schools may stay closed a lot longer than Mada's expectation. "We could be looking at September before they re-open," according to Amy Folan, who is National Education Co-ordinator for Concern Worldwide. "That's a huge gap in a child's education – a gap we desperately need to fill."
 
And one solution to the problem is to provide classes over the radio network. Already there is a basic system in place, run by the Ministry of Education, providing three hours of classes every day. Today the subject for fifteen-year-old Mada is math. "My favourite is Integrated Sciences, but I like math too. I hope to study science in university and one day I would like to be President," he says, beaming widely.
 
On the other side of the porch Hawa B Conteh sits with her other son, seven-year-old Ishmel, patiently going through spelling and pronounciation on a set of cards she has made up herself. Known locally as Baby, she is something of an entrepreneur, and has high hopes for the two boys. "I would like Ishmel to be a doctor," she says proudly. "I am discouraged that the children are not going to school – learning is very important."
 
The Concern Education team are now working with the government and other partners to expand and improve upon the current radio education service. "It's important that we get a quality system in place –for these kids to learn and develop and for the future of the country," she says.