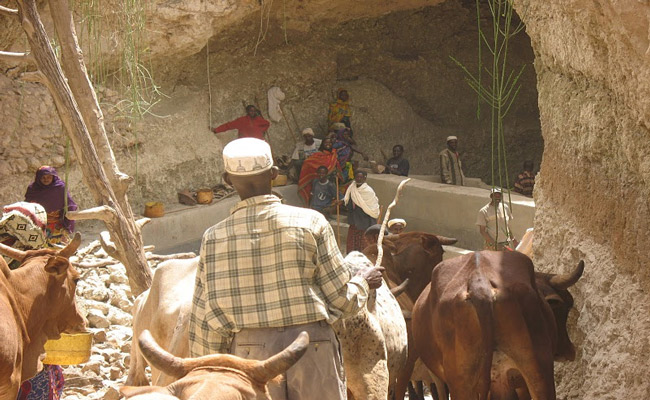 The Borana region of Ethiopia is known for its deep traditional wells. They are the main water source for livestock and household consumption in the dry season and in times of drought. These wells are known as the "singing wells" - because when people fetch water they form a long line up a ladder and sing as the water container is passed from one person to another, until it reaches the last person waiting above ground.
The traditional wells have kept the people and livestock safe for generations – until this current drought, when they stopped giving water.
"There was never a drought like this one that made the traditional singing wells of Borana run dry. Never in history," said an elderly man from the community, with an expression of disbelief.
 
Due to the greater number of deaths of livestock recently, and migration of the remaining animals, it seemed normal to expect that there would at least be less pressure on the wells now, as they would serve only for human consumption. But their natural capacity to produce water has dropped precipitously, making the situation increasingly dire.
 
Previously both animals and humans took water from the same source – but in the recent past CARE, through our Resilience Enhancement Against Drought in Ethiopia (READ) project, rehabilitated these 12 to 15 metre deep traditional wells for better and more hygienic accessibility and quality of water during dry seasons and droughts. But even these improvements cannot make the wells give water when nature does not cooperate.
 
Currently, rationing is in place in five woredas (districts) at water points served by different NGOs. CARE has continued rehabilitating water points and providing water purification solution.
 
After the great number of deaths of livestock, the lifeblood of Borana pastoralists, it has become normal to hear people saying, "We have stopped thinking about our animals now. We are worried only about lives." Cereals are in short supply in markets, and prices are out of reach for many. Malnutrition for nursing mothers and children under five is another serious issue that is getting worse day by day.
 
More and more cattle can be seen for sale at the market, but their selling price is lower than ever and few can afford to buy them. The rate of deaths has been slowing lately, but as rains fail and drought conditions persist, the situation is again deteriorating – precious herds are dying.
 
CARE is actively involved in preventing the loss of livestock, by providing feed and helping herders manage their herd size, culling animals while they still have some value for meat, rather than letting them starve. We are also providing supplementary feeding for malnourished children in three woredas and scaling up to reach two more, as the number of new cases soars.
 
The songs may not come back to the wells anytime soon, but CARE is determined to bring a note of optimism to the herders of Borana in these difficult times.
 
Yohannes Jarso
Emergency Program Manager
CARE Ethiopia, Borana Field Office
 
Read more from Care International in East Africa.