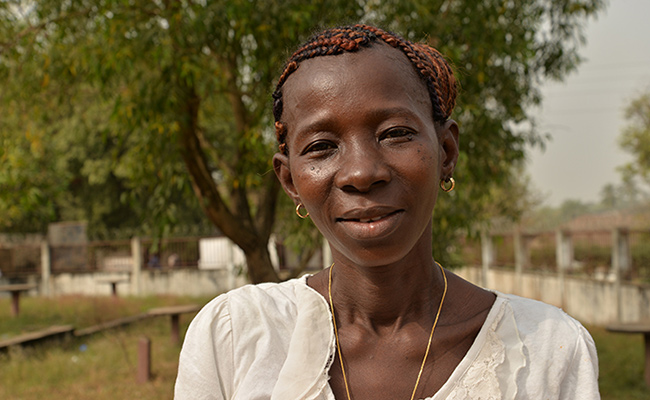 Mansary Kamara survived Ebola and now works to give less fortunate victims a safe and dignified burial
"I wish my sister would have followed in my footsteps when she got sick," said Mansaray Kamara, 53, who has just joined World Vision's burial team in Bo, Sierra Leone's second largest city.
 
Mansaray went to visit her sister in the nation's capital, Freetown, in early November, when the Ebola outbreak was at its height there. Her sister, Jebbeh, aged 35, became ill but was reluctant to call for help as she believed false rumours that people were being injected with the virus in local hospitals.
 
Around the same time, Mansaray's husband, who was living at the same house in Freetown, also became ill, but he too was reluctant to seek treatment.
 
Mansaray herself had been living in Bo, where World Vision staff and partners have been running a public campaign to educate people about how the virus is spread and encourage them to call the national hotline and seek early treatment if they show symptoms.
 
So when she started to feel pain around her waist, was vomiting and had difficulty walking, Mansaray immediately called the 117 hotline and was taken to Lumley Hospital in Freetown. Soon after the test came back positive she was transferred to the Bandajuma treatment centre near Bo.
 
By her third day in Bandajuma, she was able to stand up again. After two weeks, she was able to return home, cured.
 
World Vision burial teams are committed to 'safe and dignified burials' which means that not only do the teams carefully don Personal Protective Equipment to protect themselves and disinfect the homes to protect other family members, they also encourage families to call a local religious leader, either an Imam or a Pastor, to perform a ceremony as the body is removed from the home or at the graveside, whichever the family prefers.