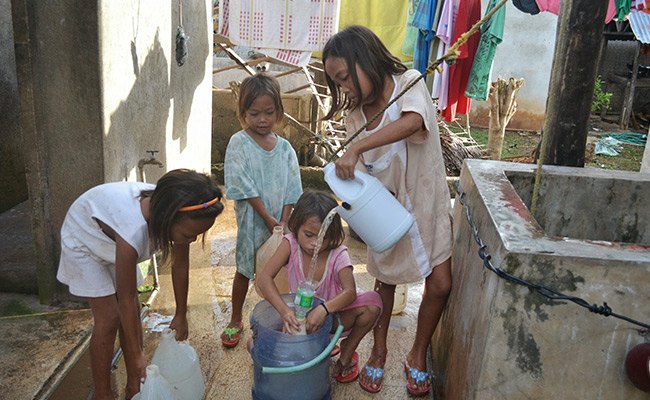 Mondejar sisters Nelia, Sarah Jane and Rizza Mae
Last weekend Typhoon Haiyan barrelled through the Philippines leaving a trail of complete destruction in its wake – homes, roads, trees and power lines wrenched from the ground and tangled into an unimaginable mess. Over eleven million people have been affected and nearly 700,000 have been left homeless. Yesterday the Disasters Emergency Committee launched an appeal on national television to the British public to help.
 
The Disasters Emergency Committee (DEC) is a collection of fourteen British aid agencies including the charities Oxfam, British Red Cross and Save the Children. When a large-scale disaster hits the DEC reaches out to the British public to ask to give what money they can. So last weekend when the early fears that typhoon Haiyan would cause catastrophic devastation became true, the DEC put its wheels in motion to see how it could get help to people in need.
 
The DEC's aid agencies are already working in the Philippines and are not unfamiliar with helping people prepare for and cope with tropical storms. On average the islands which make up the country suffer from twenty typhoons a year - but typhoon Haiyan was so huge that stocks charities put by to help people in an emergency, like soap and blankets, have already been used up. Money is urgently needed to supply people with these basics.
 
People have lost everything. Thousands of mothers, sisters, brothers and fathers have been killed or reported missing. In the city of Tacloban, nearly one hundred per cent of homes, schools and hospitals have been destroyed. People are desperate for food and water, as rice and other staples have been washed away and water pipes damaged by falling buildings. People are struggling for survival.
 
'People are desperate for food and water, as rice and other staples have been washed away and water pipes damaged by falling buildings. People are struggling for survival.' Tata Abella-Bolo, a female aidworker for Oxfam, a member of the DEC, came across three sisters aged ten, eight and five each carrying a jerrycan of sea water through the streets of the destroyed town of Daanabaytan. The sisters were going ten times a day to fetch water for their mother to help with cleaning and cooking. When Glenn asked the three sisters what they were drinking, they replied that they had no other choice but to drink the water without even boiling the salt off as they didn't have enough fuel.
 
While the three sisters and countless others struggle and will continue to for months to come, help is starting to reach those who need it. Right now members of the DEC have staff on the ground pinpointing people's needs, starting to provide emergency shelter and distribute food. 
 
The UK public has already shown an overwhelming level of support to help people like the three sisters. Even before the appeals by Myleene Klass and Kirsty Young aired on national television last night, the public had already given £1.5 million via the website. Now just 24 hours after the DEC opened its gateways, the public has given £13 million to the more than 11 million people affected.
 
DEC Chief Executive Saleh Saeed said: "The initial public response has been overwhelming – people have given so generously in such a short space of time. They have obviously been moved by the heart-breaking stories coming out of the Philippines of those struggling to survive."
 
"Much of the money donated will be needed to pay for work by emergency teams on the ground who are providing essentials such as food, water and temporary shelter. It's clear that people are getting desperate. It's vital that we continue to respond to their needs, and that the UK public continues to give."
 
Many challenges lie ahead. Basic logistical hurdles remain, including clearing rubble and debris from roads and towns so the basics like food and water can be delivered and emergency shelter can be provided. As times passes, children will need to return to school and people will need to find jobs. The world needs to stand by the Philippines right now and for months and years to come.
 
Brendan Paddy
Head of Communications
Disasters Emergency Committee
 
This article was first publised on Mumsnet.