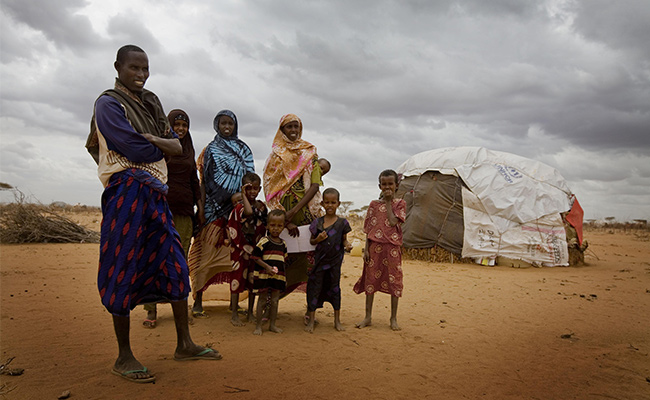 Story of Osman Sheikh Hussein, who earlier this summer fled drought and conflict in Somalia to arrive at the Dadaab Refugee Camp in north eastern Kenya.
"My family and I have come from Somalia - from Baidera in the Upper Juba Valley. I took the decision to leave with my family because of drought and violence. The situation had become very bad. There had been no rain and everybody was starving. We walked by foot all of the way, it took us 32 days and every night we stayed under the sky. When we reached the border with Kenya some of the women and children were very tired and sick. So I managed to get some money and paid for them to come here in the back of a truck. It was a difficult journey. 
 
"We have been here 29 nights now but still haven't been able to register to get food aid. When we first arrived we went to a place with other new arrivals and we got some food and other basic things. Because we had to leave out town quickly we left nearly everything behind. Along with way we lost some things too and the children were so tired that we had to carry them. 
 
"I have been wanting to leave Somalia for a long time - the situation never gets better. There was nothing left in Somalia - it wasn't like it used to be. There were no schools or health facilities - and I want my children to have an education. The security situation was getting worse and the drought has meant that there is now a lot of violence because people are hungry. I don't know when the conflict is going to end and in our community it hadn't rained for nearly five years. Everybody's animals have died. We used to have a big herd of goats and sheep and also some camels. All of them have died because of lack of food. It is so dry there now and I don't think the rains are going to come again. 
 
"Here we only have this shelter that we have made from plastic sheeting and wood. But at least we can get food and water. There is a health centre too and for the first time in many years I feel safe and don't go to sleep worrying my children may die." 
 
CARE carries out life-saving activities in the camps in Dadaab, including water and food distribution to over 400,000 refugees.