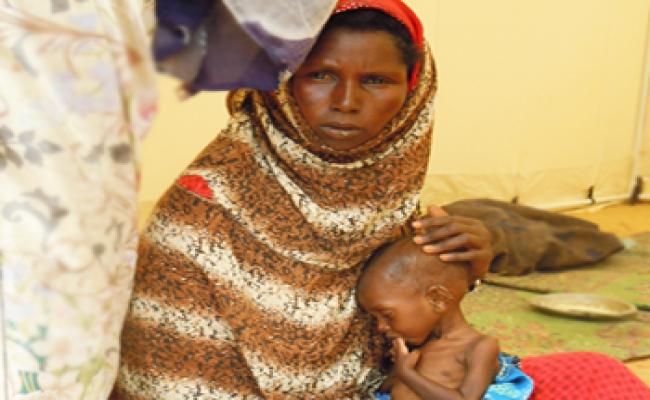 There are no real roads; we travel between buildings passing armed men at checkpoints, dressed in fatigues and carrying machine guns. There is no order as to how the guns are carried, slung over the shoulder, carried by the side or just held in the hands. The people of Mogadishu carry on with their business almost as if the armed men are invisible.
The camp is made up of wooden igloo-like structures but instead of ice they are made from sticks from trees that bend and their ends are tied together at the top, covered with whatever little material people can find. Children that have the energy play in the dirt, attempting to forget about the harsh reality of their situation. A closer look reveals many malnourished children. It is an all too familiar sight: sunken eyes, protruding rib cages, skeletons visible beneath thin layers of skin. Families have made the long journey from southern Somalia to Mogadishu with these children.
Raowla (pictured right) travelled 500km to reach Mogadishu in the hope of escaping the drought that has hit East Africa. Her 16 month old daughter, Jowhara, is malnourished like so many other children here in the Khursan camp for internally displaced people. Jowhara clings to her mother; the only comfort to this child is feeling close to her mother in the absence of food and water. Her siblings are skinny, something that is evident as they stand around the tent. A single mother, Raowla struggled after her livestock died and she was unable to cultivate her farm because of the drought.
We move on to a nearby tent and find thirteen year-old Abdullahi. He is dying. Severely malnourished, he lies in his mother's arms. His face is covered with flies but for him these are just a small problem. Every breath is a struggle; his mother looks on expecting his each breath to be his last.
Islamic Relief staff later decided to take Abdullahi to hospital. They are not sure that he will survive. Abdullahi is admitted into the local hospital in Mogadishu and put on an intervenes drip.
At the local hospital Mahmoud carries a rolled up plastic carpet. Inside is his dead four-year-old son, wrapped in a blue cloth. Abdul Rahim died of hunger. I freeze with incredulousness, pen not writing on my notepad, hand stays still for a while. His father carries him, a look of reluctant acceptance runs across his face.
"I have no money, so I cannot bury my son properly," Mahmoud says whilst briefly stopping to talk to me, "I will just bury him by my tent."
Mahmoud is one of the thousands that have travelled to Mogadishu from the South. Mahmoud's wife follows behind him, too upset to speak, she hides her tears with her head scarf. It took this family ten days to travel to Mogadishu, a journey they undertook to save their children, a journey across the arid and harsh landscape. But even though they made it to Mogadishu, Abdul Rahim died.
I visit an Islamic Relief health clinic in an IDP camp in Mogadishu, a make shift tent structure that would barely withstand a strong gust of wind, the skinny sticks give those inside some shade from the sun. In this IDP camp in the Benadir region there are at least a hundred new arrivals a day. There are over 6000 people living in this camp already. The health clinic runs twice a week and they get around sixty people visiting them on any given day. The aid workers make do what they can with the little they have. There is a lack of medicine and a lack of money, problems exacerbated by the poor conditions of the camp. Four-year-old Mona Muhammed had measles, but after two weeks of treatment she is now recovering. Thanks to Islamic Relief she was cured and the rest of her brothers and sisters have not caught the disease. It is essential that Islamic Relief staff have a presence at this camp, a fact that becomes clear soon.
A woman comes in and informs us that a child has just died. A child that had only visited the health clinic half an hour before, but it was too late. We leave the health clinic and ran towards the tent. In the tent where the child has died, the mother, Maryam, sits on the floor, resting her arm on her knee and her head in her hand. Opposite her on the wooden bed lies a body, covered with cloth. Her two-year-old son Muhammed Ahmed has just died. He died of measles. A disease that has been wiped out in the West but here it is running rampant in the camp. There is no sound of crying, talking or any movement, there is complete silence. The father, Ahmed Ali, stands over his son's body. He has a plain look on his face. This is the second child they have lost in a month to measles. Their three-year-old, Ilyas Ahmed, died of the same disease. Of four children they now have two left. "We come twice a week, we have three staff, we need more to do more," says Ahmed Ilmi, an Islamic Relief health officer at the clinic.
Islamic Relief are trying their best to reach these people. But relief aid can only go so far; for many of the children it is already too late, but there are even more that we can save.
Visit Islamic Relief.