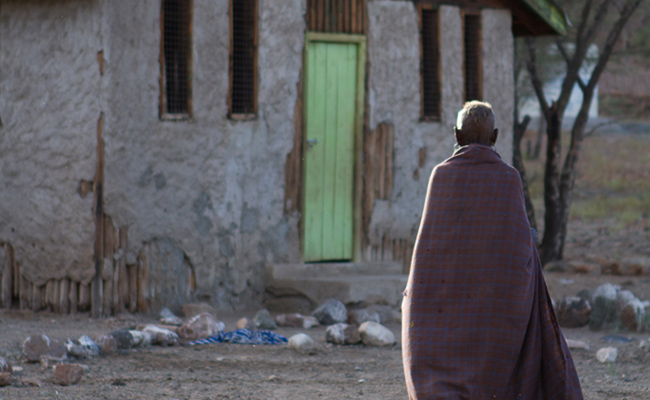 Maralal in northern Kenya has always been synonymous with 'remoteness' in my mind; on my trip I met communities in great need and others living in hope as they cope with the worst drought to hit East Africa in 60 years.
 
The drive from the Kenyan capital Nairobi – a Maasai name for 'a place of cool waters' – to Maralal is a journey of contrasts. Barely half an hour into your drive west from the Kenyan capital, you come across the vantage view points of the Great Rift Valley. The Rift Valley is Kenya's 'breadbasket' – a region that supports a green economy where maize, potatoes, tomatoes and other crops are in full blossom ready for harvesting in a few weeks.
 
Maralal, by contrast, is in the northern parts of Kenya that have experienced three years of failed rains. It was drizzling as we arrived, and green maize plantations were visible on hilly farms that dotted the landscape. But the green scenery diminished the further we moved towards the small village of Pargati.
 
The small trading centre of Baragoi was a beehive of activity when we arrived as groups of men and women waited patiently for seeds from an aid agency. It was evident it had been raining recently. In this part of the world, that is a blessing, as it means there is hope of food in the coming months if the rains are good enough.
 
But the terrain as we headed further west became drier and drier. Long patches of dry scrubland with no animals or people were clear evidence the impact of the drought has been great. By the time we reached the village of Tuum, the searing heat was unbearable.
 
The journey to Pargati on rocky patches of pathways was the most atrocious I have ever undertaken. This is desert country minus the sand and the wind! Despite the heat, the bare, rocky mountains were very beautiful and scenic, a perfect location for film making or so I thought as we continued with our descent.
 
Pargati Oasis Primary School is located on the floor of the rocky mountains. It was very hot when we arrived and the land was bare. There was no sign of animals, apart from one or two goats. Women and children sat in makeshift shelters.
 
We heard how this community had endured the impact of the current drought from Ayapan Aribokin (pictured above right) - a mother of eight children and a great grandmother to three. Most of the people in these shelters, Ayapan told us, were displaced from their homes in Suguta Valley, some distance away.
 
Before they were displaced, Ayapan and her husband had more than 2,000 animals and were considered wealthy by their community. But they lost all their animals to drought and cattle rustling. Insecurity is a major problem in this region.
 
Ayapan and her family are now reliant on relief food from CAFOD. To stave off hunger, she ties a rope on her stomach. Water is also a major problem in Pargati as it is salty and affects the community with a common affliction of difficulties in urinating. Both the young and old have been affected. But it is good to know this community hasn't been forgotten, and through your generosity, they are receiving help.
 
Joseph Kabiru
Media and Communications Officer for the East and Horn of Africa
CAFOD
 
Read more from CAFOD and their work in East Africa.