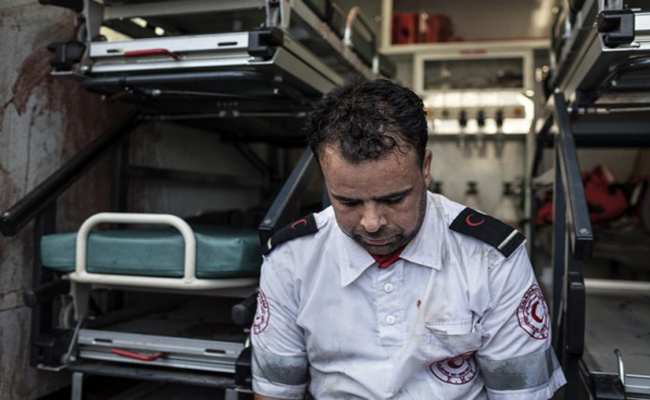 Gaza's health system is on the brink. Ambulance workers in places like Khan Younis city, in Southern Gaza, have been working flat out since the conflict began. 
 
Living and working in the midst of the Gaza crisis, these medical aid workers are risking their lives on the frontline. A number of aid workers, including volunteers, have been killed or injured. The Palestinian Red Crescent, a partner of DEC member British Red Cross, has seen two workers killed and 42 injured. 
 
Despite danger of the job, humanity pushes many front-line medical aid staff to persevere and race against time to save lives and to alleviate pain.
 
It's hard to imagine the difficulties they face: you would be treating severe injuries, removing bodies and evacuating wounded children who were stranded in the combat zone. You see things which you wish could be erased from your memory. You are trying to forget the relentless crying and screaming in the background whilst knowing that nothing is guaranteed. All you can do is to try your best.  
 
Despite the end of the ceasefire, the British Red Cross and member agencies are working tirelessly to provide first-aid, ambulance services and psychosocial support. British Red Cross is currently reaching 60,000 people with medical and first aid services.
 
Many more desperately need help. 1.8 million people living in Gaza are without adequate access to medical care because the health care system is on brink of collapse. As Gaza crisis continues, hundreds of thousands of people are in urgent need of medical care.