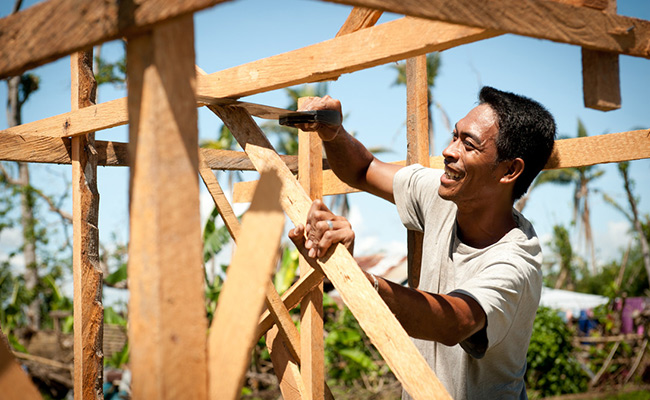 Carpenter Larry Tondo builds a coconut lumber sales kiosk as part of an Oxfam project to clear damaged coconut trees and provide income for coconut farmers.  (c) Eleanor Farmer/Oxfam 2014
Although DEC member agencies initially provided hundreds of thousands of people with emergency food, water and household items, giving cash grants formed a key part of the emergency response. Most local markets reopened very quickly and people appreciated the freedom to choose how they used the money. It also gave a much-needed boost to the local economy. Some agencies set up their own temporary markets using voucher schemes, or ran cash for work programmes such as removing debris and street cleaning.
 
Shelter and livelihoods are now the major needs in the Philippines. At first agencies provided tarpaulins, which are more flexible and cost-effective than tents. They quickly started providing shelter kits, which are an innovative approach that started to become more widespreat during the Haiti earthquake response. The kits include nails, timber, corrugated iron and tools.
 
Again, cash grants were common, as it was often quicker for recipients to buy materials locally than for NGOs to source and distribute the materials. Many people in rural areas hit by Haiyan relied on fishing and rice or coconut farming. Since coconut trees will take up to seven years to grow back there was an urgent need to find new, long-term income sources.
 
Agencies devised integrated programmes in which beneficiaries cleared damaged coconut groves, used the lumber for house building and any unusable trunks for fuel, and then planted seeds alongside the new coconut trees. This gave people money, lumber and the skills to raise new vegetable crops for sale. Temporary boat building production lines were created to re-start the fishing industry. There was a less pressing need for new livelihoods in towns and cities. Markets have returned and large parts of Tacloban city are functioning normally.
 
Although there were no large scale outbreaks of disease, member agencies worked on some water and sanitation projects, for example building latrines in damaged hospitals.
BACKGROUND
Typhoon Haiyan, the deadliest typhoon ever to hit the Philippines, made landfall on 7 November 2013 UK time. With wind speeds of 170mph and a storm surge 25 feet high, it carved a swathe of destruction over 100 miles wide through the central Philippines. Overall 14 million people were affected by Typhoon Haiyan, known locally as Yolanda. It killed over six thousand people, destroyed or damaged over a million homes and displaced four million people. Livelihoods were ruined as an estimated 33 million coconut trees were uprooted and 30,000 fishing boats wrecked.
 
Within six months of the appeal being launched on 12 November, the British public had donated £95 million to the DEC Philippines Typhoon Appeal, the third highest total in the DEC's history. Fundraising for the appeal closed in May 2014 but the response will take three years. DEC member agencies, working closely with local partners and the Filipino authorities, have already given aid to over 1.4 million people and begun helping them rebuild their lives. 
DELIVERY
1,428,000 people helped by DEC funds, examples of the assistance provided have included:
30,000 given rice seeds
165,000 given help with shelter including shelter kits, repairs, tents or cash
475,000 people have been given food aid
525,000 given cash to help with immediate needs
15,000 farmers taught new agricultural techniques 
WHAT NEXT?
Over the next two years the DEC member agencies will continue to help survivors rebuild homes and livelihoods. They started developing this long-term recovery plan much earlier on in the response than is usual, due to the speed with which the affected areas were improving. For example, member agencies are already searching for ways of improving construction skills such as masonry, carpentry and plumbing to boost employment improve the quality of reconstruction work.
 
The DEC and its member agencies are concerned that while the UK public have been very generous, a global shortfall in funding for the response may mean that many communities do not receive the help they need to rebuild their homes and livelihoods.
 
In the aftermath of the storm local governments and communities are keen to invest time and money into disaster risk reduction, making it an ideal time to develop this work. Around 20 storms a year hit the Philippines so it is vital that new buildings can cope with bad weather. The real test of the quality of the work being done now will be when the next large storm strikes.