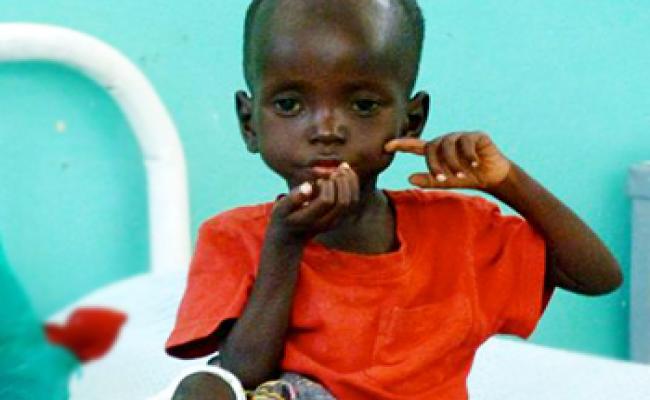 Having traveled from Lolupe village, on the outskirts of Lodwar town, Amekwi Maraka brought her 18-month-old son, Amaret, to the Merlin-supported Lodwar Hospital Outpatient Department on October 6th 2011. Severely wasted and dehydrated, Amaret weighed just 5.5kg and was ill with diarrhoea, fever, cough, vomiting and oral thrush. Sickly since birth, Amaret is one of Amekwi's four remaining children, having lost another two to disease. 
Upon examination, Amaret was immediately referred to the Lodwar Hospital Stabilisation Centre (SC), supported by Merlin with DEC funding. Once admitted, he received broad-spectrum antibiotic IV treatment to boost his immunity and a special diet of F75 therapeutic formula milk for two days and then higher-calorie F100 for three days, to increase his weight.
 
Amaret was diagnosed with pneumonia, gastroenteritis, oral candidiasis, together with dehydration owing to severe acute malnutrition. Both Amaret and his mother Amekwi are living with HIV; alongside anti-retrovirals, Amaret is also receiving treatment against tuberculosis (TB), after his chest x-ray suggested pulmonary TB.
 
Amekwi divorced her husband when she found out she contracted HIV from him. Her income now, at 200-300Ksh (about 2GBP) per month from weaving baskets, is not enough to pay for Amaret's medicine costs. But the staff at Lodwar Hospital have pooled their own money to ensure he receives treatment.
 
Maureen Awesit Etaan, a Merlin nurse seconded to MoH, says Amekwi is often scorned by other patients and staff for her abrupt nature but this is just her way of dealing with stress. "Even when she talks badly to me, I joke with her and she calms down. She needs understanding." Maureen and Echapan [Clinical Officer seconded to MoH by Merlin] counsel Amekwi daily on correct infant and young child feeding practices and on the importance of giving Amaret his anti-retroviral and anti-TB medication every day, even after he is discharged. "If Maureen and Echapan were not here, my child would not be alive. I see them pay so much attention to my child, now I have hope that he can survive," said Amekwi. 
 
On his 5th day in the SC, Amaret's diarrhea stopped, as did his vomiting two days later. On the 11th day he was taken off IV treatment and the oral thrush wounds in his mouth were healing. Weighing 6.1 kg, rehydrated and visibly less irritable, Amaret was showing an improved appetite and ability to sit up, play with his mother and eat glucose powder out of his hand (pictured right). 
 
Though his condition has almost stabilised, Amaret remains a severely malnourished child with the potential of developing medical complications again if the next steps in managing his condition are not followed up properly. For this reason, Echapan and Maureen advise Amekwi to enroll Amaret the Outpatient Therapeutic Programme in the health facility that is nearest to her home. There, health workers will continue to monitor Amaret's condition and provide him with the therapeutic food (Plumpy Nut, and at a later stage, corn soy blend) that will enable him to regain an appropriate weight for his age.