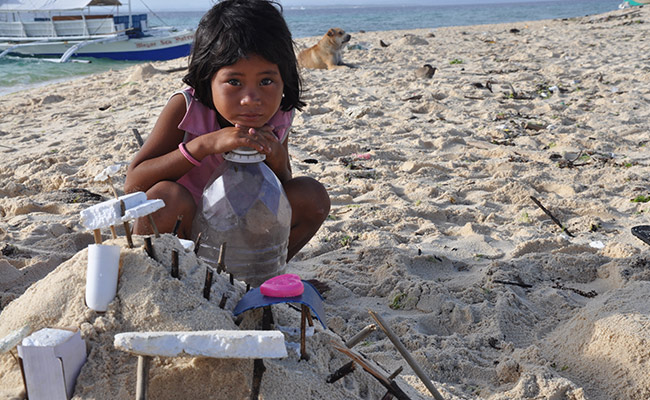 7-year old Zylie Conzas and her family are one of many being helped by DEC member World Vision
Six months on from Typhoon Haiyan's devastation of large swathes of the Philippines in November 2013 money raised by the Disasters Emergency Committee has helped DEC member agencies and their partners reach over 900,000 people.
 
DEC funded aid has so far included food for 243,000 people, cash grants and cash for work  for 258,000 people, shelter for 113,000 people,  livelihood support, such as providing seeds and fertilisers and replacing fishing boats, to over 59,000 people, and essential  household items such as cooking utensils and bedding for over 172,000 people.
 
This work would not have been possible without the extraordinary generosity of the UK public who have so far donated an incredible £94 million to the Philippines Typhoon Appeal.
 
An independent review published in May 2014 found the response of DEC member agencies had been good, providing timely and essential assistance such as food and shelter to those in need. 
 
However, the sheer scale of the disaster has meant that millions of people are still in need of help. More than 14 million people were affected by the Typhoon. Over four million people were displaced from their homes and over one million homes damaged or destroyed. The coconut industry has been seriously affected, and thousands of fishing boats damaged or destroyed, affecting the livelihoods of hundreds of thousands of people.  Over the next three years DEC agencies will use funds to undertake a huge recovery programme, with rebuilding homes and livelihoods the priority.
 
Almost all member agencies are providing some form of shelter support, and many are providing people with shelter kits containing items such as nails, timber, corrugated iron sheets, plywood and tools. These kits are a relatively new approach to shelter which grew out of agencies experience working in Haiti, and aim to give more people more shelter and quickly.
 
Although shelter is now making up the majority of support provided, agencies have also distributed hygiene kits and carried out health promotion, provided education and psychosocial support  and helped people to rebuild urban livelihoods. One of the largest aid programmes was the provision of unconditional cash grants. These grants were especially welcome among beneficiaries, who appreciated the freedom to make choices with the funds. Most recipients spent the cash on basic items such as food and shelter. Others bought medicine or paid school fees.
 
DEC member agencies and their partners are responding across all affected provinces including Leyte, Cebu, Eastern and Western Samar, Antique, Aklan, Capiz and Iloilo. Aid delivered and paid for with DEC funds has included:
 
ActionAid and its partners have provided hygiene kits to over 41,817 people. 
Christian Aid and partners have helped up to 185,000 people with essential household items. 
33,405 farmers received rice seed from Oxfam and partners.
The British Red Cross and partners have given cash to 70,000 people, enabling them to buy essential items.
Save the Children and partners taught 5500 children about better hygiene practices.
Over 48,831 people have been helped with shelter kits from Concern Worldwide and partners. 
26,420 people received food packages from Plan UK and partners.
Islamic Relief and partners have provided emergency shelter support, such as tents and tarpaulins to over 11,260 people. 
2420 people received livelihoods support from CAFOD and partners.
World Vision and partners have helped over 47,675 people with food packs.
Age International and partners distributed seeds and/or fertiliser to over 4500 people.
3674 children have benefitted from Tearfund and partners' child friendly spaces.
CARE International and partners aim to provide over 25,000 people with training to rebuild more storm-resistant homes.