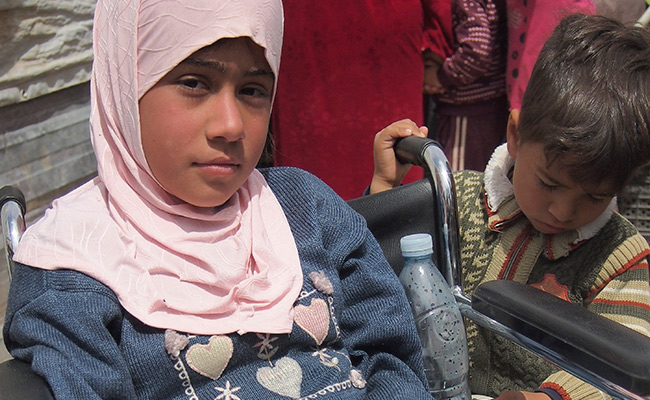 12 year-old Sidra is paralysed from the waist down. She had been in the Zaa'tari refugee camp in Jordan for two days. Sidra borrowed this wheelchair from a neighbour so that she could get to the hospital.
 
Sidra's mother is Fatima, 39, a mother of five. The family decided to leave Syria largely because the fighting made it increasingly difficult to find medical help for her daughter. Her husband, a builder, remained behind because he felt he could still earn money for the family. 
 
"The main reason we came here was for my daughter's safety. In Syria, if it wasn't for my daughter's situation, we would not have left. Whenever there were attacks or bombings, people would go and hide in the shelter, but my daughter couldn't do that. Someone would have to hold here and stay with her. Without God's mercy, we would have been bombed and died long ago. Just the thought of my daughter being safe and secure here now is worth everything." 
 
The family are hoping to move from their tent to a caravan which will offer more space and privacy. But their key concern is to get a chair for Sidra that can give her more independence to get around the camp. 
 
"I'm very grateful for all the help we have received so far; the organizations here have been very good; they treat us and respect us very well", said Fatima.
 
However, with more than 171,000 actively registered refuges at Zaa'tari, it's a challenge for all agencies, struggling with funding, to provide the level of help needed. Many other families are also on the waiting list for wheelchairs.
 
Oxfam is working to help those with disabilities by building shower and toilet blocks in one section of the Zaa'tari camp; each of the 48 blocks includes a disabled-friendly and accessible toilet. In addition Oxfam has procured 50 commodes for disabled people in Zaa'tari for people who cannot leave their tents or caravans.   
 
By Caroline Gluck
 
Find out more about Oxfam's work in response to the Syria crisis and how you can support them here.