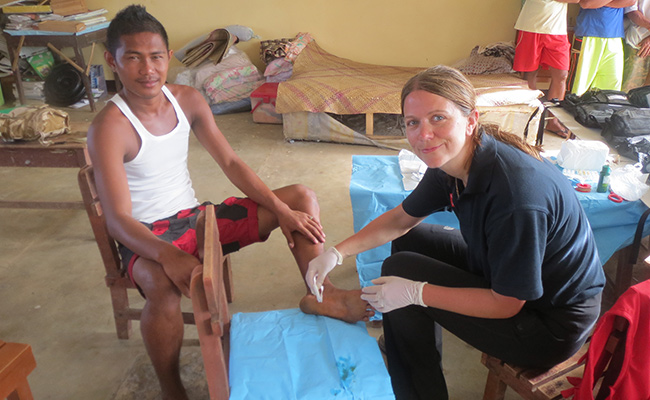 Deborah Lau, one of Merlin's medical experts treats a Typhoon survivor on Panay Island.
Over two weeks on, it's become even clearer that the impact of Typhoon Haiyan is much worse than anyone imagined. 
 
Over 13 million people have been affected across nine regions and more than four million people have been forced from their homes. People are in desperate need of medical help.
 
A unified response
 
On the frontline, our teams have been working in tough conditions. Despite the hurdles, determined to save lives, Merlin and Save the Children have been doing everything they can to reach out to people with life-saving care no matter where they are.
 
Lizzy Berryman, Merlin's Head of Emergencies, says "We agreed that while joining up our operations in these toughest of circumstances would no doubt throw up challenges, it was the right way to reach the greatest number of affected children, their families and communities.
 
"As a result, Save the Children and Merlin colleagues are now working side-by-side at head office, bases in Manila, Cebu, Roxas, and most importantly out amidst the wreckage Haiyan has left across swathes of the country."
 
Together, Merlin and Save the Children are combining resources and expertise to get relief supplies out as fast as possible. 
 
Save the Children Philippines Deputy Director Ned Olney says, "Our teams on the ground experienced very difficult conditions. There was considerable debris on the roads, very few operational vehicles and the airports were closed. We purchased pick-up trucks to move supplies around and looked at ways to fly in extra emergency relief items."
 
Taking healthcare directly to people
 
The Philippines health system is crippled by this disaster. Medical supplies have run out and hospitals have been destroyed. To ensure people can get the essential health services they need, we have 9 mobile health clinics going out to communities across the Philippines.
 
They are providing primary healthcare, and urgent support for pregnant women and children. Right now, children are at most risk of getting diarrhoea and communicable diseases so we are promoting hygiene care and distributing water purification tablets. 
 
Four islands, seven days
 
The Emergency Specialist Medical Team, supported by Merlin, Save the Children and DFID have been treating people suffering from serious injuries in Talcoban city over the past two weeks. 
 
Another part of the medical team have been deployed on board a UK naval vessel to provide basic medical services to people in remote areas and islands, such as Panay Island.
 
In four days, they've been to seven islands assessing and treating 300 patients.