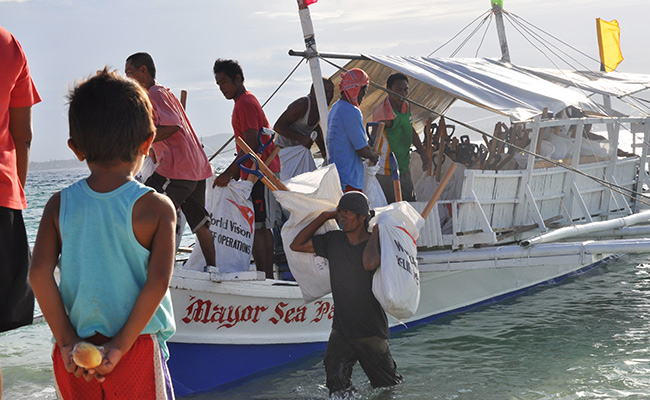 World Vision using boats to deliver shelter building materials.
"We've experienced different typhoons every year but this one was the most frightening of all. It was raining hard and the wind was too strong that it literally blew our houses away," recalls Milagros, 50.
Almost six months after typhoon Haiyan struck Central Visayas in the Philippines, an estimated 1.1 million houses were either partially or totally damaged across 44 provinces. The people have not fully recovered yet.  
On April 12, World Vision distributed shelter tools for 192 families in Gibitngil island in the town of Medellin, North Cebu. One has to take 20-minute motorboat ride to go to the village. The once thriving fishing community was not spared from the wrath of the typhoon. Assessment showed that among the 379 households, 192 were totally destroyed.  
The typhoon also highlighted the people's acute problem on water supply. "When we talked with our local officials, we found out that the source of water is their number one problem.  Their ancestors did everything to look for potable water source within the island but they always end up with salt water," says Mike Macabasag, World Vision's North Cebu Team Leader for Haiyan Response.
"In one of our discussions with the municipal engineer of Medellin, we found out that they tried to put up pipes that will connect from mainland to the island but failed due to strong sea current. After the typhoon, things became much harder for everyone in the island," adds Macabasag.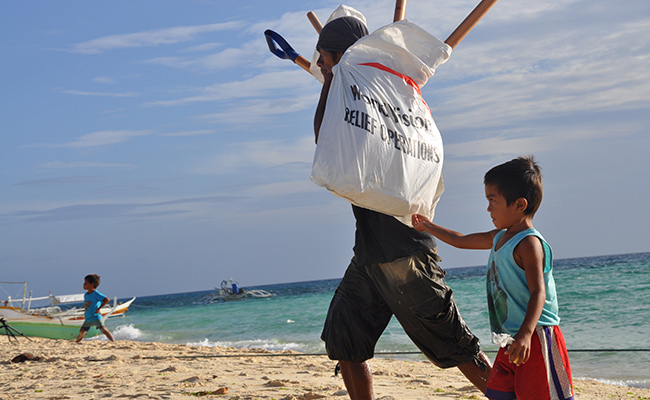 World Vision shelter programme helps local people rebuild their homes
Families like that of Milagros' used to worry about P140 (US$3.5)/day budget just for their water needs. Haiyan left them without livelihood and worst, destroyed houses. The people found it hard to start again.
According to Macabasag, World Vision considered the needs of the people as they explored practical construction designs. The roof of each house was planned to collect rainwater flowing to the containers.  The water will then be used for washing and even for bathing.  
"As we assist the community to get back on their feet through our shelter program, we also now have to consider community support with longer impact. We will try not to quick-fix things so we integrated the build-back-better workshops to educate people on disaster-safe houses," explains Antonia Salamat, Zonal Manager. The workshops also include tips on disaster preparedness.
The workshop, which is done before the distribution, aims to create awareness among the people about the things that they need to consider when building a house. Aside from shelter tools, World Vision will distribute shelter materials such as galvanised iron sheets, plywood, lumber and nails.
Prior to the distribution of shelter tools, World Vision provided jerry cans, aqua tabs, tarps and non-food items to more than 300 families.
"These are all very helpful to all of us.  Even until today, we are trying to help ourselves but it is difficult to do the rebuilding on our own. We are very thankful for this support. It is easier for us to move on with the materials that you provided," says Milagros as she sighs in relief.