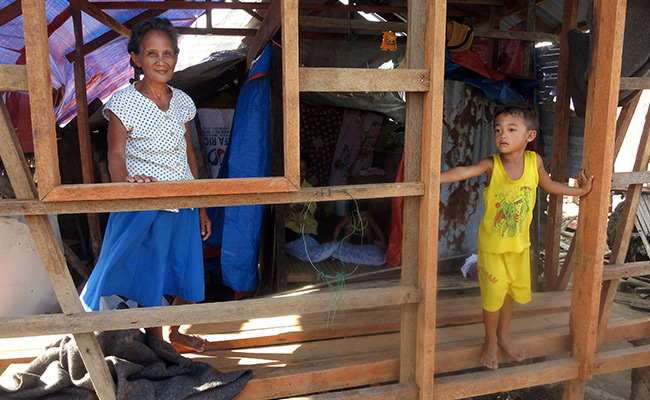 Remedios Petilla with her grandson, one of the many people helped by DEC appeal funds
The Philippines was ravaged by Typhoon Haiyan some three months ago; the official death toll stands at 6201 with 1785 still missing – we may never really know how many lives were truly lost.
  
Haiyan – known locally as Yolanda - left behind a scene of destruction (reminding many of the tsunami of Boxing Day 2004) with 14 million people affected and over four million left homeless. 
 
The Disasters Emergency Committee responded by launching one of its quickest ever appeal thanks to its partnership with broadcasters and the many, many wonderful people who put jobs and family aside in order to get the appeal off the ground so rapidly. 
 
A new bond of friendship
 
As always the care and generosity of the UK public came to the forefront with £90 million donated in only three months. From children giving up their pocket money, to older people giving their winter fuel allowance and over 1000 events up and down the country – all raising vital funds for the emergency response. 
 
In turn the Filipino community both here in the UK and in the Philippines reciprocated with overwhelming appreciation.  From posting messages of thanks on DEC social media sites to taking to Trafalgar Square on a cold Sunday afternoon for a 'thank you' march and thousands of handmade signs all over the Philippines simply saying: "Thank You".
 
In my many years of humanitarian work I have come across so many wonderful people and communities; it seems that out of the horror of the typhoon something really special has happened too and that is the new caring bond between the British public and the Philippines. Perhaps that seed started with many of us experiencing first-hand how caring Filipino nurses and carers have been to us and our loved ones here in the UK?
 
Rising up to the challenge
 
In the three months since the DEC launched its appeal our member agencies and their partners have already helped over four million people in the Philippines.
 
I recently visited the islands of Leyte and Cebu which took the brunt of Typhoon Haiyan. I wanted to see first-hand the difference the generous donations received from the UK public are making and take stock of the challenge ahead. 
 
What I witnessed will remain with me forever. Trees remain broken and uprooted, cars tossed like toys, and tonnes of debris still remain on the side of the roads, thousands of homes roofless and torn open. 
 
But amongst all this a sign catches my eye:  "Bangon Tacloban" which translates as "Rise up Tacloban" - a common message that is being spread throughout the city and helping to keep spirits high for the challenge ahead.
 
Much effort has gone into the last three months with great strides achieved - but there is still so much more to do. 
 
Getting back to normality
 
Millions of children have been traumatised by what they have been through during the typhoon and the horror that followed. So it is vitally important to ensure that as well as support for these children they also get back to a sense of normality as quickly as possible.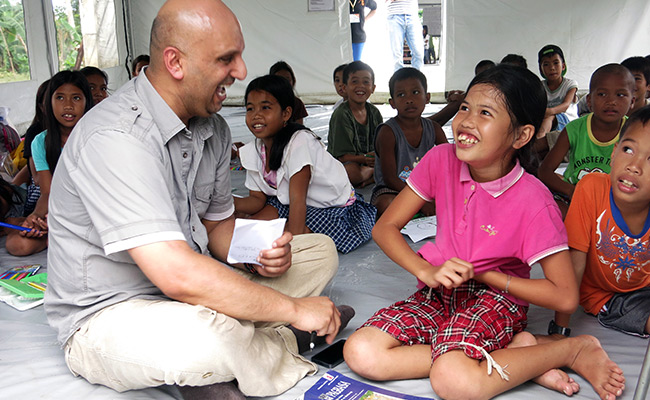 Saleh Saeed with Cherrie May and brother Dave in a World Vision child friendly space
Cherrie May explained to me how she felt: "I was really afraid when the typhoon ripped off the roof of our home, but I'm happy at school, these new school tents are bright and spacious."  
 
With the support of DEC member World Vision, Cherrie, her brother Dave and many others are able to carry on with their education in special child friendly spaces.
 
Laying the seeds of the future
 
Typhoon Haiyan destroyed or disrupted the livelihoods of 5.9 million workers. One of these is Chadra Lupen who through DEC funds is now being supported by CAFOD to get back on her feet.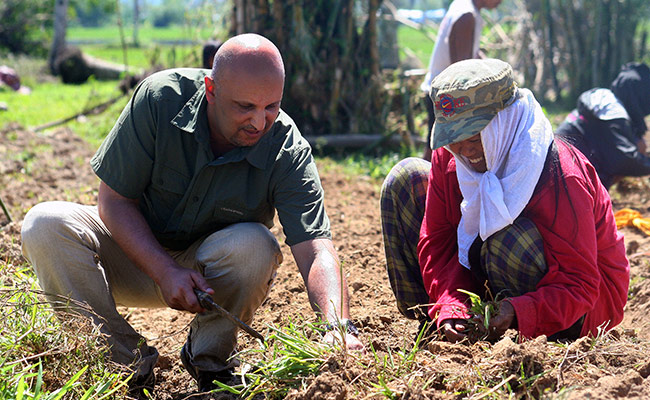 Chadra prepares land to grow vegetables, this DEC funded scheme enables vulnerable families to earn an income.

Chadra told me about her experience of Haiyan saying: "I used to sell fish on the market that my husband caught, the boat got destroyed by the typhoon and we lost our income, I'm grateful for the opportunity to work on these fields and provide for the family".
 
Building back better 
 
Haiyan severely damaged or destroyed over 1.1 million homes. Sadly in times of disaster it is usually the poorest and most vulnerable communities that suffer the most. 
 
People like Remedios Petilla, a 70 year old grandmother, with 10 children of her own and many grandchildren. As I walked up to her she welcomed me with a warm motherly smile.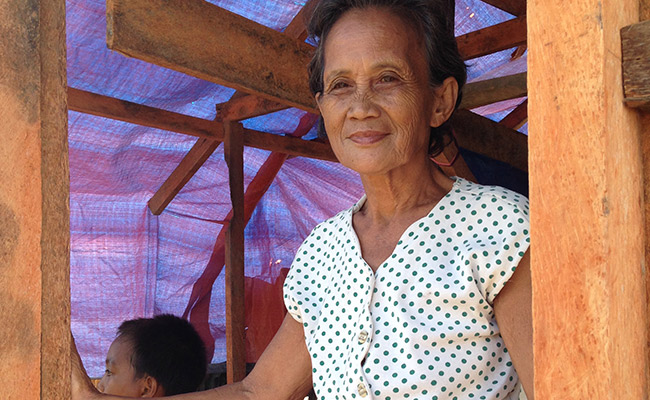 Remedios Petilla in her new house provided by CARE International

She shared with me her memory of that terrible day: "In all my life I have never experienced such a powerful storm, we left our home for safety to a nearby school with concrete walls, there we huddled together, and we prayed together while the storm passed, we then came out to find all our homes had disappeared.".
 
With assistance from DEC member CARE International, Remedios is now being helped to build a new home; one that has been designed to be more resilient to any future storms. 
 
Through planning, supply of building materials and – critically – the training of builders and carpenters, CARE International is mobilising people to build their own homes with their own hands.
 
The long road to recovery
 
Sadly the damage caused by Typhoon Haiyan cannot be undone in months and it will be several years before all those that have lost everything are able to rebuild their lives.
 
In a small village called Pooc on Bantayan Island Ricardo Parsaga is one of those millions made homeless. He is grateful for the aid he and his family have received - without which he wonders how they could have survived. Essential items such as food packets, shelter kits and a tent from DEC member Islamic Relief.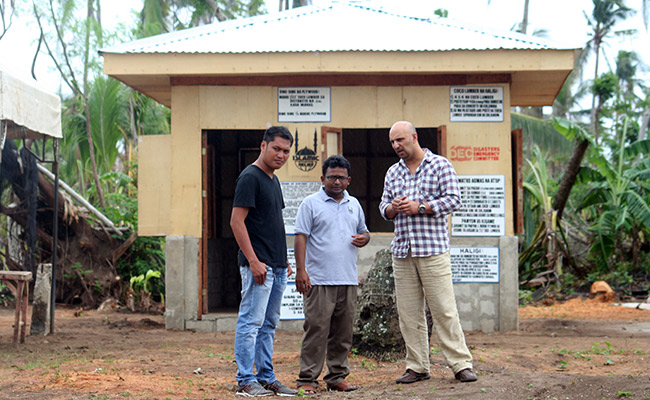 Left to right: A local municipality engineer with Munier/ Islamic Relief &
DEC's Saleh Saeed outside an example of the type of shelter provided by DEC member Islamic Relief

The family told me how delighted they were to see their new reinforced model home being erected. Islamic Relief aims to build a further 270 of these homes in the coming months and has used this model home to consult with the community and building experts on the design, with the aim of making them both culturally appropriate and resilient to future storms.
 
Salamat
 
The scale of destruction is huge and I was deeply saddened by the devastation I witnessed. However, my lasting impression will be of the strength and resilience of the Filipino people. They have been through so much but are determined to rebuild their homes, their schools and their lives.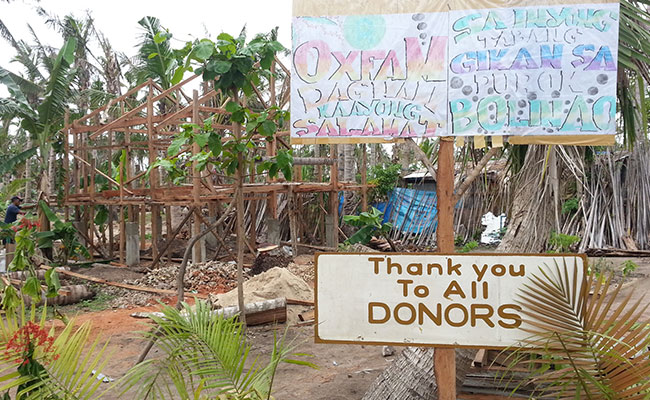 One of many signs erected by survivors expressing their thanks to all donors!

Everywhere we visited people were appreciative and thankful saying, "Salamat – thank you"  to everyone who has helped them in their time of need. On the side of the road I saw some graffiti which I think says it all: "Roofless, homeless but not hopeless". 
 
I have seen children back in school, houses being rebuilt and crops that are now being replanted. Thanks to your donations, so much is being achieved. 
 
Saleh Saeed
CEO, Disasters Emergency Committee