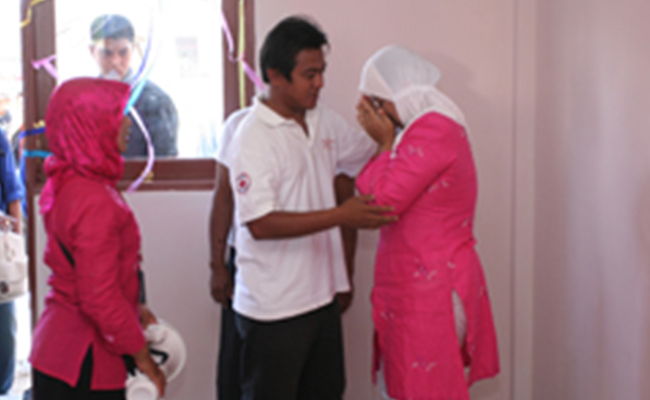 When the tsunami hit the town of Ajuen in Aceh, the Sabri family managed to escape by running to higher ground, but when they returned, their house had been flattened. They lived in a tent for three months then rented a house that had been damaged by the tsunami.
The Sabri family moved into a new house on 1 July 2006. Ida Sabri said: "I was so stressed thinking about our situation but the new house from the British Red Cross is like a medicine for us and we are thankful to the people in Britain for helping us."
An emotional ceremony was held to officially hand over the properties. Owners and their homes were blessed in a traditional ritual with rice and holy water sprinkled on the house, followed by prayers with the families. When Ida moved into her new home with her husband Abdullah and son Fadri, she wept as they opened the door.
Struggling to speak through tears, Ida said: "I don't know what to say. I am very pleased and happy but so overwhelmed I am crying." The new homes are earthquake resistant and built using the safe housing principles developed to suit the region's environment.