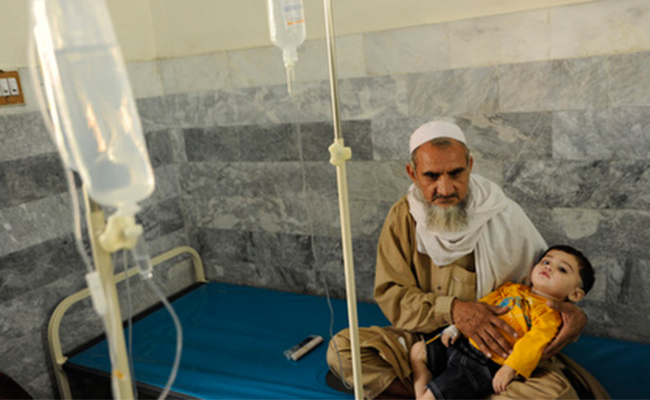 With floodwaters covering an area the size of England, the threat of water borne diseases was extreme. Within 48-hours of Merlin opening its medical centre in the town of Matta in the mountains of north west Pakistan, it received some 60 patients suffering from acute watery diarrhoea. During an emergency, diarrhoea can kill and children are the most common victims.
Two-year old Mohammad Faizan was brought in by his grandfather, Noshad Ali. Arriving severely dehydrated, he was could have died within 24 hours if left untreated because children cannot withstand extreme dehydration. In 2009 diarrhoea is estimated to have caused some 1.5 million deaths in children under the age of five.
Mohammad lived with his extended family, near the banks of the Swat River, which destroyed their home during the flooding. Noshad Ali said: "We were eight people walking around with water up to our neck. Everything was drowning, including our cattle." He suspects that the water in the family well is now contaminated, and that this is the likely cause of this grandson's illness.
Many DEC member agencies are delivering work that will help prevent water borne diseases: ensuring clean water supplies, building safe toilets, delivering hygiene packs and training community hygiene educators.