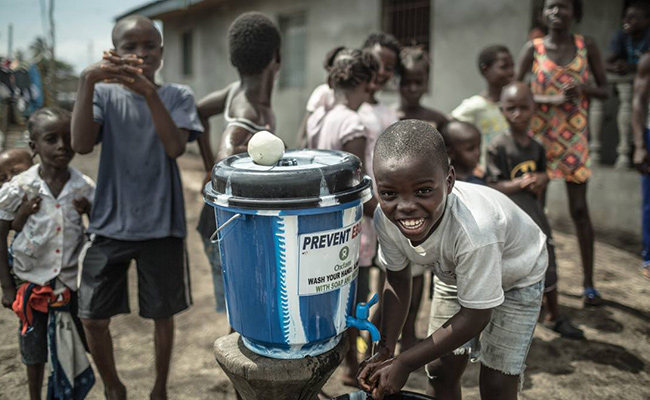 Children wash their hands at an Oxfam tap stand in Clara Town, a township in Liberia. 
Nearly one month after launching its Ebola Crisis Appeal the DEC has now raised £26 million and says there are at last some signs of hope that the outbreak is beginning to be brought under control.
 
The charity warned against complacency, saying there was still a huge amount of work to be done to contain the spread of the disease and to support those affected, and that further funding was still urgently needed to continue this work.  The DEC Ebola Crisis Appeal was launched on 29 October with broadcast appeals presented by Chiwetel Ejiofor, Lenny Henry and Joanne Froggatt.
 
Although the rate of infection in two of the worst affected countries – Liberia and Guinea - is no longer increasing nationally, there are still hotspots within those countries where Ebola transmission remains intense.  In Sierra Leone, the rate of new infections remains worryingly high nationally.  The majority of new cases are in the West and North of the country, including the capital Freetown. 
 
Both the UK public and government have been very generous in their support of the response to the crisis but global funding is still well short of what is required.  The UN has identified work by all agencies costing $US1.5bn that is required but to date only $US816m has been given.
 
Saleh Saeed, Chief Executive of the DEC, said: 
 
"The main credit for beginning to bring this terrible disease under control belongs to the communities in West Africa for the incredible courage and care they have shown. They have changed the way they bury their dead and how they care for their sick, and have also -changed hygiene practices that help prevent the spread. These communities have been supported by our member agencies and their partners as part of a wider international effort.
 
"It is incredibly important that we do not relent until Ebola is under control in all areas still affected.  This will mean taking a flexible approach to ensure our response focuses on areas currently experiencing high rates of transmission but also areas where transmission may yet flair up."
 
Over 5,000 people have been killed by the virus and more than 13,000 have been infected. However, experts say the real figures could be far higher due to under-reporting.  
 
Since the beginning of the outbreak DEC member agencies and their partners have helped over eight million people across the region, the majority of whom have received information to help them to stay safe and stop the spread of the disease.  This work has in part been funded by donations to the DEC over the last month.
 
Examples of the work being done by DEC member agencies and their partners include:
ActionAid has provided 17 medical facilities in Margibi, Bomi, Gbarpolu and Montserrado counties in Liberia with sanitation supplies including chlorine, latex gloves, buckets, disinfectants, soap etc, benefitting 93,122 people.
Christian Aid has distributed food and hygiene care kits to 2,100 people in quarantine in Kailahun and Freetown's Waterloo suburb, in Sierra Leone.
Concern Worldwide is managing two cemeteries and ten burial teams in Sierra Leone to ensure the safe and dignified burials of people who have died. This includes the management of 22 vehicles and hearses used to transfer victims of Ebola to burial sites as well as 70 motorbikes.
Oxfam has provided hygiene kits containing soap and buckets to 13,200 households in Monrovia, Gerand Gedeh and River Gee in Liberia.
Plan has delivered food & hygiene kits in Macenta & Gueckedou, Guinea to 44,219 people.
In Liberia, Save the Children built a 70-bed Ebola Treatment Unit in Bong and is due to open a second 92-bed ETU in Margibi shortly.
World Vision is leading an effort to organise and train teams to ensure people who die of Ebola receive a safe and dignified burial with four teams already at work.