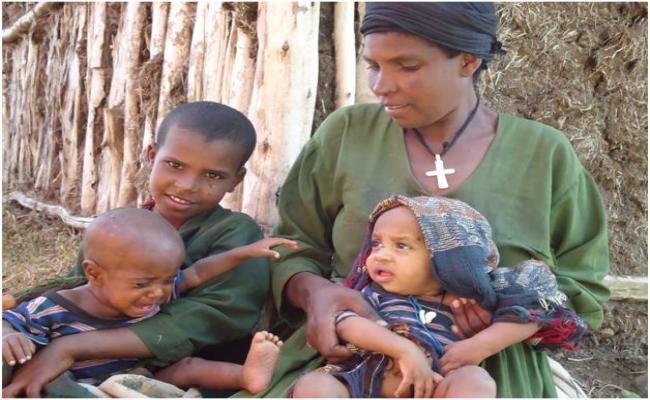 Assefash Metese is a 30 year old single mother living in Zaha Kebele, Ebinat. She has three children, a ten year old girl who is partially deaf and not able to attend school and one year old twins, a boy called Yitazeben and a girl called Sintayehu.  They live in a Tukul (round hut) with a thatched roof in a mountainous area of Northern Ethiopia. Assefash has a small patch of land, but is unable to cultivate it herself, so someone else cultivates it and Assefash is given some of the produce of sorghum, beans and wheat.
When she was six months pregnant with the twins,  her husband left her. She has been trying to get him to pay some assistance towards the children, but he has refused.  Since her husband left, she has no income or livelihood through which to provide for her children.
We met Assefash when she was attending a targeted supplementary feeding programme distribution, run by Concern Worldwide, funded by the DEC. She was carrying her son on her back, whilst her ten year old daughter carried her little sister. She told us that she mainly cares for her son and her ten year old daughter cares for the younger daughter. Since the failure of the Belg harvest in June and July, the hunger gap for her and her family has been even greater. Her son is moderately malnourished and has been in and out of targeted supplementary feeding programmes since April.She told us that he is now beginning to gain weight and is becoming more  lively, although for his age he is still small and subdued.
 
Assefash's youngest daughter Sintayehu has severe acute malnutrition; she is smaller and thinner than her twin brother. She had to be admitted into a stabilisation centre to gain weight. The stabilisation centre is run by the Ethiopian Ministry of Health and supported by Concern Worldwide. Two weeks previously, Assefash told us that her daughter was near to death and she was worried because she could not afford to pay for her to go to hospital. However, when she took her to a stabilisation centre which gives in-patient therapeutic feeding care for children that are severely malnourished, her daughter received treatment for malnutrition and health complications and began to put on weight. She is currently still severely malnourished, but is improving and is carried by her older sister every week to attend an out-patient therapeutic feeding centre so her progress can be monitored. 
 
When asked what she hoped for, Assefash replied that she just wanted her children to be healthy and educated. However, she feels she is unable to go out and earn money until they are 3 years old, and then she hopes to be able to afford her children's school fees. When they are older she wants to be able to go out and work on other peoples farms, or to have a sewing machine to do embroidery.
 
She told us that if she had not received the assistance from Concern, it would have taken a long time to get the money to take my children to hospital. She knows that her youngest children are malnourished, and their progress is slow, but she's seeing a difference and over time they are getting better and regaining their strength.