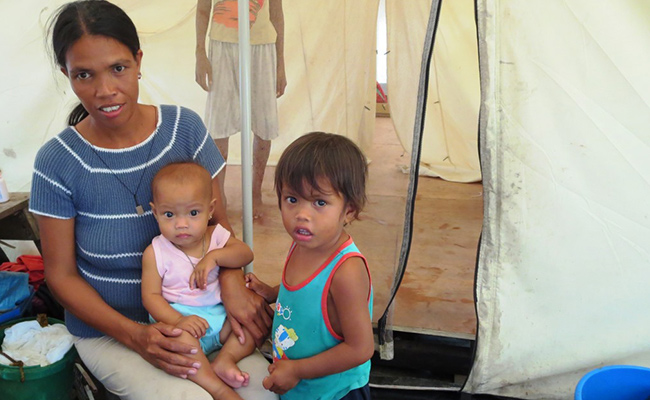 Maribel Baynaco and her family are being supported with shelter materials, food and counselling.
When Typhoon Haiyan swept across the Philippines six months ago, it devastated huge swathes of the country, destroying homes and livelihoods, and leaving many people traumatised and in need of help. 
 
DEC member Christian Aid and partners have been working to help some of the most severely affected people, providing a range of support from help with shelter to rebuilding livelihoods so people can start earning a living once again.
 
Maribel Baynaco, 35, sought refuge with her husband and five children in the local school as Haiyan approached her home in Tacloban City, Leyte. The onslaught of high winds and waves flattened their home and washed away all their belongings.  They lost everything.
 
Since November, the family have been sheltering under a tent. Yet the tent gets uncomfortably hot and the ground is uneven, making it difficult to sleep, and  causing health problems especially for the children.
 
Christian Aid partner Urban Poor Associates (UPA) have provided plywood to keep the ground dry and even, making sleeping more comfortable and ensuring the tent stays clean. 
 
Three of Maribel's children have also benefited from a supplementary feeding programme provided by UPA, as well as psychosocial support to address the trauma experienced by both children and adults in the wake of Typhoon Haiyan.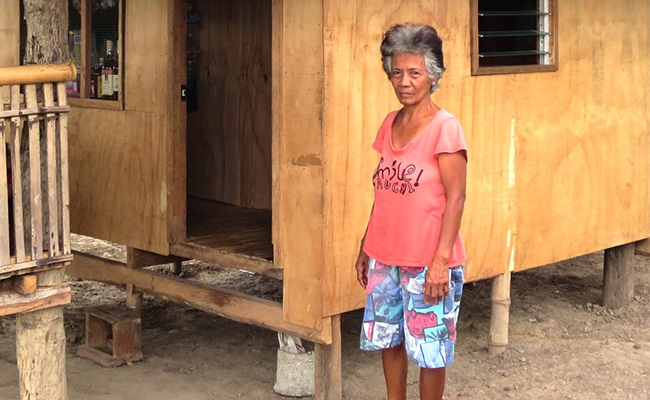 Editha has been supported with cash for work to help her restore her home.

Widow Editha's, 69, home was flattened and destroyed by a felled coconut tree during Haiyan. Thankfully she'd moved to higher ground, but she lost all her belongings apart from a few items from her small convenience store that she'd hidden in a plastic sack.
 
She also lost her only means of earning a living, and in the aftermath of the typhoon had to share food she'd managed to salvage with neighbours in their community in Libertad, Ormoc City.
 
Due to her age and the fact she lived alone, Editha was considered a priority case for help  and selected to take part in a cash-for-work programme to repair her home, organised by Christian Aid's partner Rural Development Institute Leyte (RDI-Leyte). She also received food relief.
 
Editha is now restarting her small business and is no longer dependent on help from her neighbours.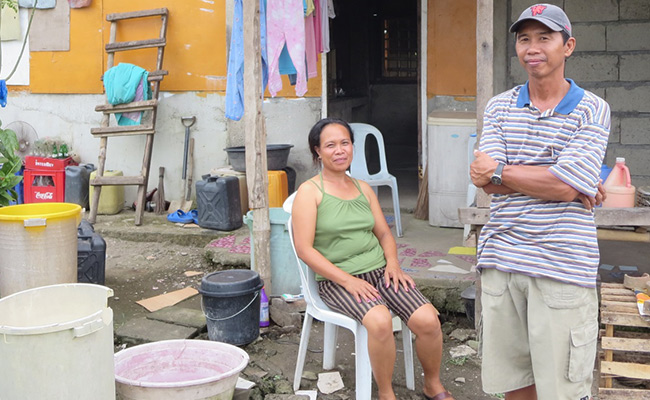 Jesus Monte and his family have been helped with urgently needed food supplies and other household items.

Believing their newly built house could withstand Typhoon Haiyan, Jesus Monte, 42 and his family chose to stay at home when they typhoon hit – against the advice of their community.
 
As the storm swept across the land, they huddled in their lower-floor bathroom as the upstairs of their home was torn away and destroyed. In the aftermath of the typhoon, the family struggled to find enough food to eat.  The family business selling longganisa (processed meat) was also destroyed.
 
Christian Aid partner RDI-Leyte provided Jesus with much-needed food supplies, including 25kg rice, cooking oil, dried fish and cans of beef, as well as soap, toothpaste, a cooking pot and two plastic mats.
 
Jesus hopes to restart their family business, but first needs to recoup his capital. He is now planning to rear pigs to supply Ormoc with pork, as supply is still very low, but he's currently earning a small wage selling bananas in the city market.
 
Over the next three years, Christian Aid and other DEC agencies will use Philippines Typhoon Appeal funds to undertake a huge recovery programme, with rebuilding homes and livelihoods the priority.