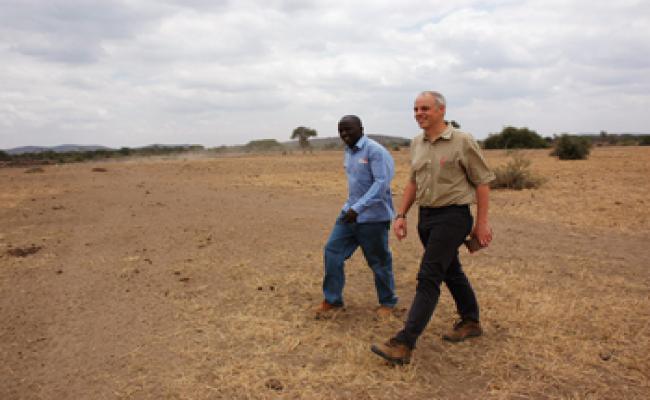 The start of my week in the Horn of Africa was a full on day of meetings in comfortable Nairobi, Kenya, the hub of the international community's response to the drought across the region.
 
It was Eid ul Fitr on Wednesday – the feast marking the end of the Muslim holy time of Ramadan – and so a national holiday in Kenya.
 
It's good to help get my head around the complex causes and ever changing dynamics of this emergency, wrestling how best to meet immediate humanitarian needs in some very tough places while also addressing deep seated chronic issues.   Fascinating discussions through the day and evening on everything from humanitarian principles to politics, from security to spirituality.   Impressive local, regional and global World Vision colleagues leading our response across Kenya, Somalia and Ethiopia and impressive too was the head of the UK government's (DFID's) response and longer term aid programme to Kenya and Somalia.
 
The next day, I spent a wonderful day visiting World Vision projects in southern Kenya.  In the sparse, dry savannah amidst the heartlands of Maasai pastoralists who suffered heavy loss of their precious livestock in the 2009 drought are now facing drought again. Most are coping though and we saw the real difference that long term development can make to communities' ability to withstand drought.
 
The cost to children and their families' tough search for water in this harsh dry environment was  powerfully clear as we met Sabina, a 12-year-old girl huddled over in a small hole dug out of the bottom of a dry river bed.  Sabina was scooping out water into plastic bottles for her family's drinking water. She told me how she spends up to five hours a day doing this.  A far cry from how my own 12-year-old daughter, Maia, spent the day at home in England.
 
Sabina is full of hope though; she is sponsored, attends a nearby school which World Vision helped establish and although since her father died she's looked after only by her mother, she has set her hopes high.  She told me she wants to be a pilot when she grows up and wanted to study hard to get there.  I'll think of Sabina tomorrow as we fly north to see some of the worst drought affected areas.
 
In Mashuru, one of the 15 drought affected areas where World Vision's been working long term in Kenya, we saw the transforming power that water can have. In one village, with World Vision and government help, the community now has a deep borehole pumping out water that supplies cattle, health centre and school. Their cattle can survive the drought and women, men and children have much more of that precious resource – time, which in turn means their 1,500 children are in school, while their mothers and fathers can strengthen their families' living.  Like James who is now studying community development and wants to "help my community take the next step forward".
 
This is a far cry from the last drought in 2009 when they told us "it was terrible, many livestock died, we got sick, children couldn't go to school and many of us migrated to Nairobi". Today the biggest challenge they spoke of was of animals from the nearby wildlife conservation area breaking the fence which guards their new water point. I saw the physical evidence of this as I was shown first zebra, then giraffe and then elephant dung and followed big, fresh elephant footprints from last night through the dust.
 
Our final stop of the day was to see a verdant green vegetable garden and greenhouse in the midst of the red dust and thorn trees. With drip fed irrigation from a water tank fed by piped water originating from far off Mt.Kilimanjaro, the villagers proudly showed us their crops of tomatoes, spinach, kale, pumpkins and newly planted orange trees. "We've had five harvests of tomatoes, each one 21 crates full, and earning us 1,000 shillings (£6.50)," they told us.   The fruits not only of four kms of pipes and a water storage tank from World Vision, but of their own hard work as a community to tend the gardens and maintain the water supply.
 
The economic benefits are clearly helping them survive the harsh conditions, but they also told us how it's improved their nutrition, especially for the children. "We used to eat only milk, blood and meat, but now we find that adding vegetables to our traditional Maasai diet is not only tasty but good for us," they said.
 
After an enjoyable dinner catching up with my old friend Girma who leads World Vision's work here in Kenya it's time for bed before our early start in the morning to head up towards the heart of the drought in the north east of the country.
 
Justin Byworth
Chief Executive
World Vision UK 
 
Read more from Justin's East Africa visit on the World Vision UK blog, visit the main World Vision UK website.