In the second part of his visit to Lebanon Saleh Saeed visits Bekaa Valley where the Syrian refugee crisis is overwhelming.
Here he shares day three of his trip, to catch up with the first two days of his visit head over to here.
Day 3: Bekaa Valley, Lebanon
 
Our journey took us out of Beirut, through the snow topped mountains and down into the beautiful, green Bekaa Valley. The valley acts as a natural collection point for the melting snow from the surrounding mountains which then gathers in the flat areas, helping farmers grow vegetables for the local markets.  
 
The first stop was the offices of DEC member World Vision where Refugee Response Manager Karim Bayoud explained how the growing crisis is affecting both the refugees and the Lebanese people.
 
"Imagine that as hosts the local Lebanese welcomed refugees into their homes thinking it will be for one to two months - now it has been two years. Resources are so low that tension is growing and the situation is at a tipping point. So it is important for us to ensure that we don't contribute to the situation and deal with it sensitively."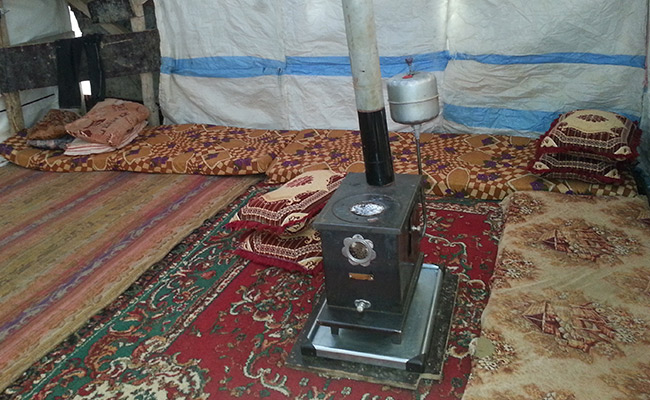 World Vision is targeting the most vulnerable refugees by supporting them with food vouchers to over 40,000 refugees. They also distribute hygiene kits and over 1,000 stoves for heating and cooking have been delivered, helping over 7,000 people. 
 
"The refugees mainly count on Lebanese host families or their own very limited resources," says Karim. "This highlights the need for international organisation's to find funding to be able to meet the needs of the most vulnerable refugees."
       
World Vision decided to focus on unregistered refugees for the stove distributions because they are amongst the most vulnerable and cannot access formal assistance. Each stove costs about $100 and each family requires about $100 per month in fuel coupons.
 
World Vision has also started to offer accelerated learning programmes for refugee children and are now in discussions with the education authorities to recognise the programme as a formal part of the Lebanese curriculum. 
 
We then visited a distribution centre that was temporally housed in Nasr Sports Hall in Saadelnayal. In this distribution centre refugees receive both their food vouchers and mattresses. World Vision Lebanon is also working with the Danish Refugee Council (DRC) to ensure that they coordinate their relief efforts to distribute vital supplies on the same day. This helps refugee families travelling long distances to the distribution points and also ensures that the aid reaches even more people.
 
We then left the distribution centre and visited a family that now has to live in a converted garage. Abdulaziz and his wife Faryal, have four children, Asma 15 who has a spine condition that needs treatment, Abdulrahman 11, Wiyaam 8 and Abdulkarim 6.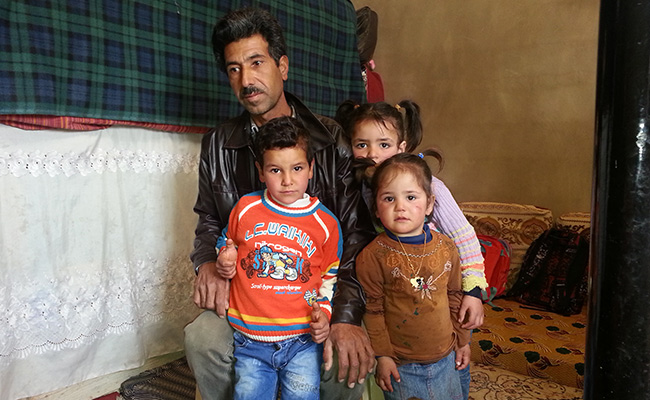 "We left Syria six months ago with only the clothes on our backs, our home and livelihoods were destroyed - all we have is what you can see in these rooms." 
 
Abdulaziz said, "We are lucky that we managed to find this garage which we converted ourselves into three rooms. My family sleeps and lives in one room and there are six of us, then my sister-in-law and her three children sleep in the next room. We share a space that is both our kitchen and toilet. We have to pay $100 a month in rent for the garage. 
 
Abdulaziz' wife Faryal showed us her stove provided by World Vision telling us, "We are able to keep warm with this from the extreme cold. Now all we need is to get help for Asma, as I am worried that her condition is getting worse. She has a spinal disorder and needs urgent medical care, she can't even carry her school bag because of the pain." 
 
As Faryal finished speaking about her daughter's condition, she began to cry. 
 
We then moved onto a site with make-shift tents made out of recycled plastic and left over wood. Here we found 13 families - over 100 people - from a neighbourhood in Aleppo in Syria who had left together. They made contact with Syrian farmers in the area and set up this informal tented settlement.  The Lebanese government does not allow formal refugee camps out of fear that they will become permanent settlements.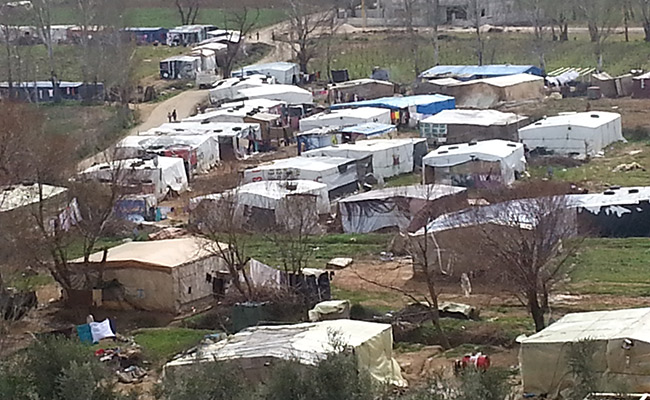 The chief of the 'village' told us how they support one another but said the site was always cold and wet from the water that comes up from the ground. 
 
"We try to get work in the fields and sometimes grow things. We need more help with fuel but we are grateful to World Vision for the stoves and the fuel they have already provided. When the fuel runs out we try to use wood for cooking and heating...We all want to go back to Syria when it is safe. Our main needs are for better shelter and healthcare for our children."
 
DEC member agencies are doing what they can with limited resources but there are still unmet needs that require funding. In my next update we visit families who are living terrible conditions in unfinished buildings with no water or electricity.
 
Saleh Saeed
CEO, Disasters Emergency Committee