In the final part of Saleh Saeed's write up of his recent visit to Lebanon he shares his experiences of meeting Syrian refugees seeking shelter in Sidon, south of Beirut.
Day 4 Sidon, Lebanon
Sidon is a coastal city south of Beirut, which was already home to over 100,000 Palestinian refugees living in overcrowded settlements. The more recent influx of Syrian refugees is causing a significant further strain on the local population. The Lebanese government does not formally recognise Syrian refugees and has not allowed the establishment of official refugee sites. Most of the families have had to find shelter wherever they can be it in garages, unfinished buildings, sheds or make-shift tents.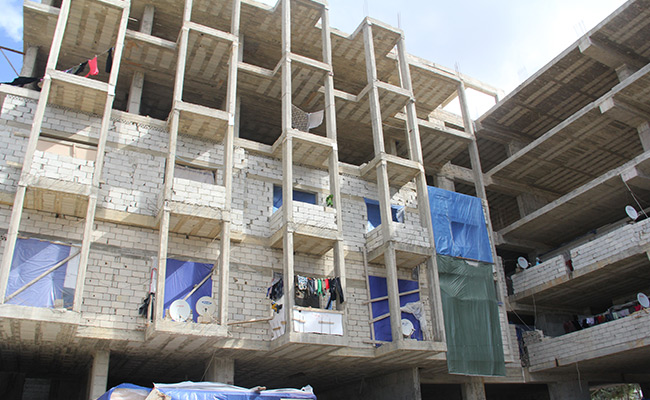 We visited the unfinished Sidon University site; the main building is a bare concrete frame with no roof, windows or doors. It is now used by some 125 families, and the numbers living there is swelling daily. Some families have no choice but to use the upper floors, which have no walls and pose a huge risk to the safety of their children.
Refugees are working with the building owners to create temporary rooms but with no money or resources most of the rooms are unfurnished and have no windows. Simple plastic sheets cover gaping holes and offer little protection from the rain and the fierce ocean wind.
 
Dangerous living conditions
 
We climbed the partially built concrete stairs to the second floor where we met Um Walid and her eight children. Um Walid and her family came from Humma last month after their village and farms were destroyed.  They survive on hand-outs and the little savings they have remaining. 
 
She told us that "We had a reasonably simple life in Syria and grew our own food. Everything we had has been destroyed - gone. We have nothing left and we don't know what to do next."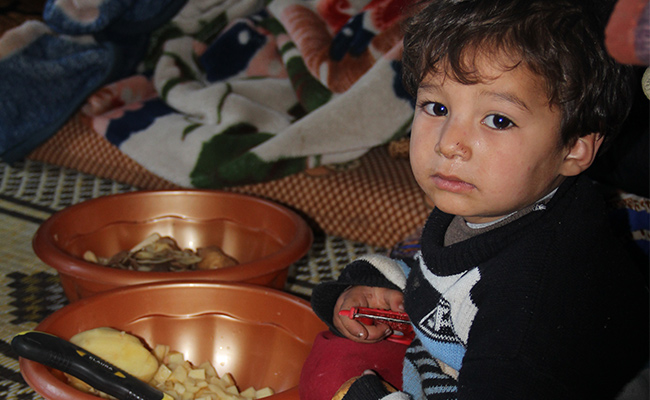 There are only two latrines for 125 families and no water or electricity supply. During the night children are so scared of the dark they have no choice but to use the landings as a toilet. 
 
As we walked through puddles of water and dirt we noticed how elderly ladies carried 20 litre jerry cans on their heads up many flights of unsafe stairs. I have only seen sights like these in the poorest parts of the world in remote rural villages, and this is now how Syrian refugees are living in Lebanon.
 
Two miles further on from Sidon University we came across an unfinished school which is now home to over 100 refugees. The classrooms have been converted to house two or three families each and with no partitions they have very little privacy.  We were introduced to Fatima (picture below) who's 73-year-old husband has Parkinson's disease.  She was also caring for four young grandchildren: "The children are orphans now, their mother was shot in the war and 12 year old Abdelkadir barely survived.  A bullet which went through his chest has damaged his spine.  He is disabled now and finds breathing and walking difficult because of his injuries."
 
"My other grandson was disabled from birth, and with their mother dead and at my age I have to care for all of them. At night I can't rest due to my husband's condition and during the day I have to care for the children and the youngest is only one year old. So life is very difficult."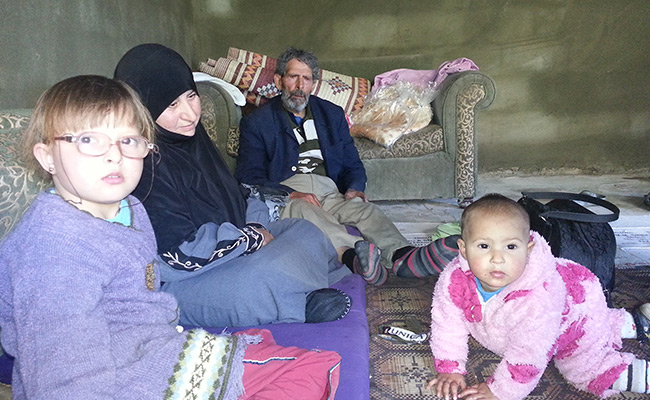 "We came from Idlib two months ago in a bus that was constantly shot at.  We have this room but as you can see we only have these thin mattresses and a few blankets, my husband doesn't have even shoes. We told our story to so many people but only a few people have been able to help us. We have survived on bread and water."
 
As we walked through the rubble we saw the terrible and dangerous conditions, water from the hills flows into the buildings and surrounding areas, causing health and safety risks for adults and children alike.
 
The worsening humanitarian crisis
 
We made our way to the offices of DEC member Islamic Relief in Sidon, where we met the Sidon Union of NGOs – representing 10 local NGOs working together to improve co-ordination and the delivery of aid. They told us about the urgent need for food and shelter and how they are reaching 4,000 families but are now operating with stretched resources. 
 
We then travelled back to Beirut where we joined the UNHCR interagency meeting to hear the latest details on the refugee situation in Lebanon.
 
During my journey in Lebanon and Jordan I saw how the lack of proper shelter is worsening the situation for thousands of people. Vulnerable refugees can't afford to pay rent and are left in the most precarious situations - even those that manage to find empty buildings or tents live in appalling conditions. Many of the refugees find themselves in flooded areas with poor sanitation and little help. The UN is forecasting an even greater influx of refugees and a significant expansion of informal settlements.
 
I left the region having seen thousands of refugees living in shocking and deplorable conditions. They all need urgent help, especially better shelter, and they need it now. God forbid if the situation gets any worse, then we will have to ask ourselves: have we failed millions of people?
 
Saleh Saeed
CEO, Disasters Emergency Committee
 
To find out more about the Syria refugee crisis and how you can help our member agencies follow this link.