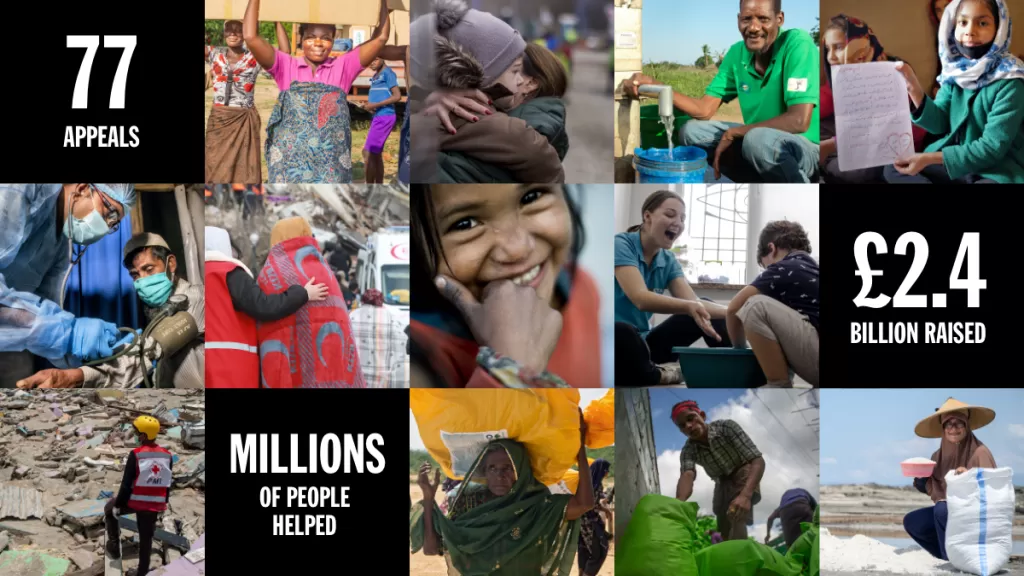 Ethiopia Famine Fund – 1984
The 1980s Ethiopia famine was one of the worst humanitarian events of the 20th century. A catastrophic combination of drought, civil war and a repressive government led to food shortages and a hunger crisis from 1983 to 1985. The United Nations estimated that a million people died of hunger and millions more were displaced and left with nothing.
Aid agencies tried to raise the alarm, with DEC appeals in March 1983 and June 1984 raising £1.9 million and £9.5 million respectively, but the world finally paid attention when the BBC's Michael Buerk broadcast from a remote part of northern Ethiopia of "a biblical famine in the 20th century". The images shot by Kenyan cameraman Mohammed Amin, together with Buerk's powerful words, produced one of the most famous television reports of the late 20th century.
The public gave millions in just a few days and Band Aid and Live Aid followed.  
The famine was an important landmark in the history of global humanitarianism. The complexities of the 1984 famine helped aid agencies to learn many strategies which are now commonplace, such as working on both sides of a civil war by running programmes remotely through local partner organisations.
Amount raised: £5.2m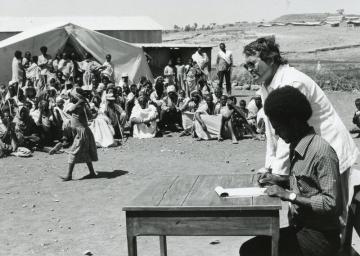 Rwanda Emergency Appeal – 1994 
One of the worst genocides of the 20th century took place in Rwanda in 1994 when Hutu extremists killed nearly one million Tutsis and moderate Hutus. As the Tutsi-led Rwandan Patriotic Front successfully battled for control of the country, millions of Hutus, fearing retribution, fled to Zaire (now DR Congo).
Aid agencies were present in Rwanda throughout the genocide and worked in Zaire during the aftermath.  
In the aftermath many DEC charities focused on vulnerable children, with an estimated 100,000 separated from their parents and many left orphaned. Aid workers first worked to meet children's basic needs. 
However, it was clear that children needed more than physical help, as the violence had separated them from their families. The international arm of DEC British Red Cross, ICRC, helped to register 38,000 children who had lost their families in the chaos.
Amount raised: £37m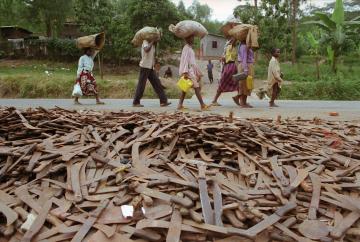 Kosovo Crisis Appeal - 1999
As conflict between ethnic Serbs and Albanians in Kosovo escalated, NATO launched air strikes against Serbia. In response the Serbian government increased its ethnic cleansing of Kosovar Albanians, sparking huge numbers of people to flee.
When the DEC launched its appeal more than half a million refugees had left Kosovo, 40% of them children. Many fled to Albania, Macedonia, Bosnia-Herzogovina and other neighbouring countries, and thousands more were left trapped in Kosovo.
Following two televised appeals, 84 volunteer telephone operators took calls at the BT Mayfair Telephone Exchange in central London. Within 20 minutes of launching 18,000 people had called the hotline. There was an average of 4,000 calls an hour and an average donation of £31. 
At the time it was the biggest response ever to such an appeal, with £8 million raised in just three days. The DEC appeal funded emergency shelter, sanitation, school rebuilding programmes and more.
Amount raised: £53 million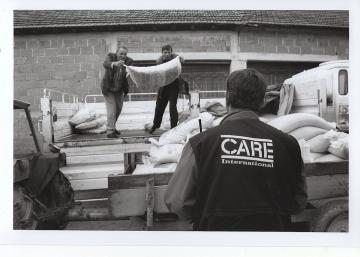 Boxing Day Tsunami Appeal - 2004
A massive earthquake off the coast of Sumatra, Indonesia, triggered a huge tsunami which hit seven countries around the Indian Ocean. Hundreds of thousands of people were killed and millions of lives were shattered in the worst natural disaster in modern times. 
The images broadcast on television screens on Boxing Day 2004 shook the world. The response of the British people was unprecedented, with the DEC raising £392 million in just two months and setting a Guinness World Record for the most money raised through a website in 24 hours. 
The generous response from the UK public allowed DEC member agencies to respond to the huge scale of the disaster with recovery and reconstruction work.
More than three quarters of a million households benefitted from DEC funds across seven countries, with the majority of the money being spent in Sri Lanka, Indonesia and India which bore the brunt of the damage.  
Alongside emergency aid and livelihoods projects, DEC member charities built more than 13,700 homes, 55 schools and 68 health centres, with an emphasis on 'building back better' so that buildings could better withstand earthquakes. 
Amount raised: £392 million*
*Unlike other appeals, this total only includes donations that came directly to the DEC and not those that came directly to our member charities. Adjusted for inflation, it would be worth £668 million in 2023, making this our biggest appeal.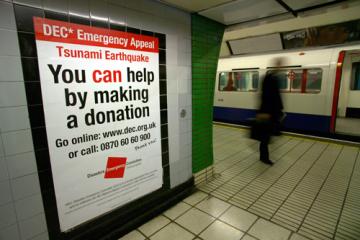 Haiti Earthquake Appeal – 2010
A catastrophic earthquake with a magnitude of 7.0 struck Haiti on 12 January 2010, followed by 52 aftershocks. It was the worst earthquake to hit the country in 200 years. The epicentre was just 16 miles west of Port-au-Prince and devastated the capital. Around 220,000 people died, 500,000 people fled to the countryside and 1.5 million people were displaced into temporary camps.
In the immediate aftermath, huge logistical challenges faced the international aid operation as they tried to reach the millions of people sheltering in a shattered city. There was extensive damage to roads, Port-au-Prince seaport and the single-runway airport, including the collapse of the airport control tower. Despite the terrible conditions, emergency relief got steadily through. Early on for example, many DEC agencies made progress by using over-land convoys from the Dominican Republic.
DEC charities played an important role in providing emergency relief including the delivery of food aid through the UN World Food Programme and in helping to establish hospitals. Huge quantities of essential items were delivered including hygiene kits, blankets, tarpaulins as well as working with vulnerable groups like pregnant women, children and the elderly.
Amount raised: £107 million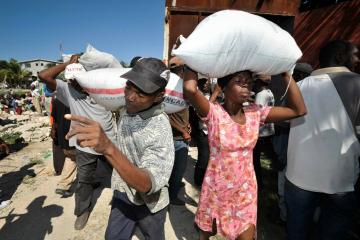 Philippines Typhoon Appeal - 2013
Typhoon Haiyan, one of the fiercest typhoons ever to make landfall, ripped through the centre of the Philippines archipelago causing devastation.
More than 6,000 people were killed and 4 million people saw their homes destroyed or severely damaged. The typhoon also decimated livelihoods, with 30,000 fishing boats destroyed, millions of coconut trees damaged, and rice fields inundated.
A special celebrity telethon was held at BT Tower where famous names including Jamie Olivier, Amanda Holden and Natasha Kaplinsky took donation calls from the public. After Typhoon Haiyan BT also supported on the ground by deploying their Emergency Response Team (ERT) to provide on-the-ground satellite communications.
Donations from the appeal helped reach 1.4 million people including supporting 3,472 farmers to rehabilitate their devastated farms. DEC funds provided cash grants, tools, and training schemes to help people restore and improve their livelihoods long term.  Farmers were offered training to diversify their methods, and by the end of the DEC's response the average income of farmers was up 5% compared to before the disaster.
Amount raised: £96 million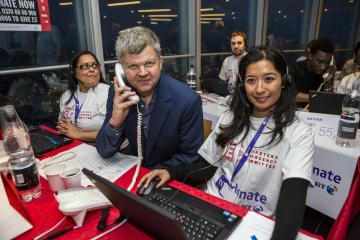 Nepal Earthquake Appeal – 2015
The two earthquakes that struck Nepal in 2015 were devastating, causing a total of 8,891 deaths and over 22,000 injuries. Hundreds of thousands of homes were destroyed leading to the displacement of over 200,000 people.

The DEC launched an appeal which raised over £87 million, and funds were spent to help people across Nepal to rebuild their livelihoods and help prevent future catastrophes on the same scale.
This included the building of 9,000 earthquake-resilient homes, cash grants to set up small businesses for 8,000 people and major renovations to water supply systems which provided 68,000 people with safe drinking water.
Amount raised: £87 million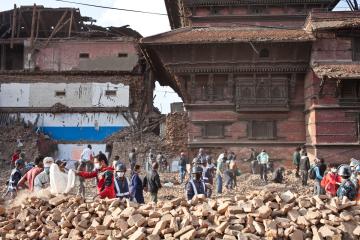 Coronavirus Appeal - 2020
The coronavirus pandemic was particularly devastating for many vulnerable communities around the world. The DEC launched an appeal in July 2020 to fund work in seven countries - Afghanistan, Bangladesh, DR Congo, Somalia, South Sudan, Syria and Yemen, where millions of people have little access to medical care or clean water, making them much more vulnerable to the virus.  
Nur Jahan* and her daughter Ismat*, refugees from Myanmar, had been living in an overcrowded refugee camp in Cox's Bazar, Bangladesh for more than three years when the pandemic struck. Social distancing was just not possible, and people were not able to work or go to market to buy essential items.
Oxfam and other DEC member charities provided clean water, spaces for people to wash, and awareness sessions on Covid-19 prevention. They also received soap and hygiene kits.
Nur said: "I know about coronavirus. I heard that we have to clean hands often with soap. We have to do it to prevent the disease. We also have to maintain distance from each other. We are not afraid. We heard from volunteers, they told us how to stay clean to stay away from the disease."
In April 2021, a new variant of the disease caused a huge outbreak in India, overwhelming health services. The DEC extended its appeal to include India, raising additional funds to help the most vulnerable communities there.
Amount raised: £62 million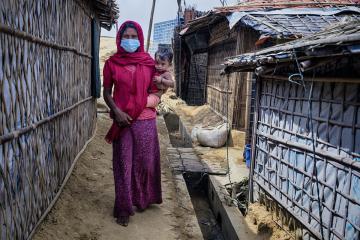 Ukraine Humanitarian Appeal – 2022
Launching the appeal in March 2022, the DEC's Chief Executive Saleh Saeed told a press conference: "The unfolding crisis in Ukraine is horrific and heart-breaking. And the grim reality is that it is likely to get worse."
The situation was complex. In the first seven days of the conflict, more than a million people fled Ukraine into neighbouring countries. DEC member charities supported people inside Ukraine, as well as four neighbouring countries: Poland, Romania, Moldova and Hungary.
The response to the appeal from the UK public was extraordinary. With every day that the crisis worsened, individual fundraisers, community groups, employees and companies took time and effort to raise more money for the appeal.
The appeal set a Guinness World Record for the most money raised online in one week, and by the end of week two the total had reached £200 million – the equivalent of £3 for every person in the UK. After one year, that figure had increased to over £400 million. You can find out more about how DEC charities helped here.
Amount raised: £422 million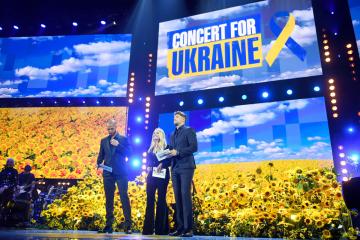 Turkey-Syria Earthquake Appeal – 2023
On 6 February 2023, two earthquakes struck Turkey (now known as Türkiye), the largest the country had seen in the last century. Tens of thousands of lives were lost, and widespread damage was caused to homes across southern Turkey and north-west Syria.
The two earthquakes struck in the early hours of the morning, leaving nearly 18 million people in need of immediate humanitarian assistance, including clean water, food and shelter.
The DEC launched the Turkey-Syria Earthquake Appeal on 9 February, and within two weeks, the appeal had raised £100 million. Now with a total over £150 million raised in the first six months of the appeal, including £5 million from the UK Government as part of the Aid Match scheme, it makes it the third largest DEC appeal to date.
Using the money, DEC charities are continuing to provide support to the most affected communities, including providing food and direct cash payments, repairing damaged water infrastructure, and building toilets.
Amount raised: £151 million