The coronavirus pandemic is affecting people in every country, and every person on the planet has a role in preventing the spread. Here in the UK we have all had to make huge sacrifices to protect each other and save lives. 
But now countries and communities around the world that don't have the same health services, resources and infrastructure are now stuggling to contain outbreaks of Covid-19. People affected by poverty, drought and conflict are particularly vulnerable.
For example Yemen, already home to the world's worst humanitarian crisis, is currently battling a severe outbreak. The UK Government estimates there may be a million infections in the country where 50% of health clinics and hospitals have been destroyed as a result of the five-year civil war. Around 14 million people there don't even have somewhere to wash their hands to help prevent the spread of the virus.
The Disasters Emergency Committee's 14 member charities are racing to help inform the communities they work in about the virus, equip local medical staff and adapt the aid they deliver to help prevent its spread. Both the health and economic consequences of the pandemic mean that their vital work is now more important than ever.
DEC charities working in refugee camps, warzones and poorer countries will always prioritise those most in need of humanitarian assistance, including those most severely affected by Covid-19. With international travel restrictions in place, our member charities will also be increasing their support of local partners as part of the response.
All 14 DEC charities have now launched appeals to combat the pandemic. You can donate via the links below:
DEC charities have extensive experience in responding to epidemics and disease outbreaks in different and challenging contexts such as cholera in Yemen and Ebola in DR Congo and West Africa.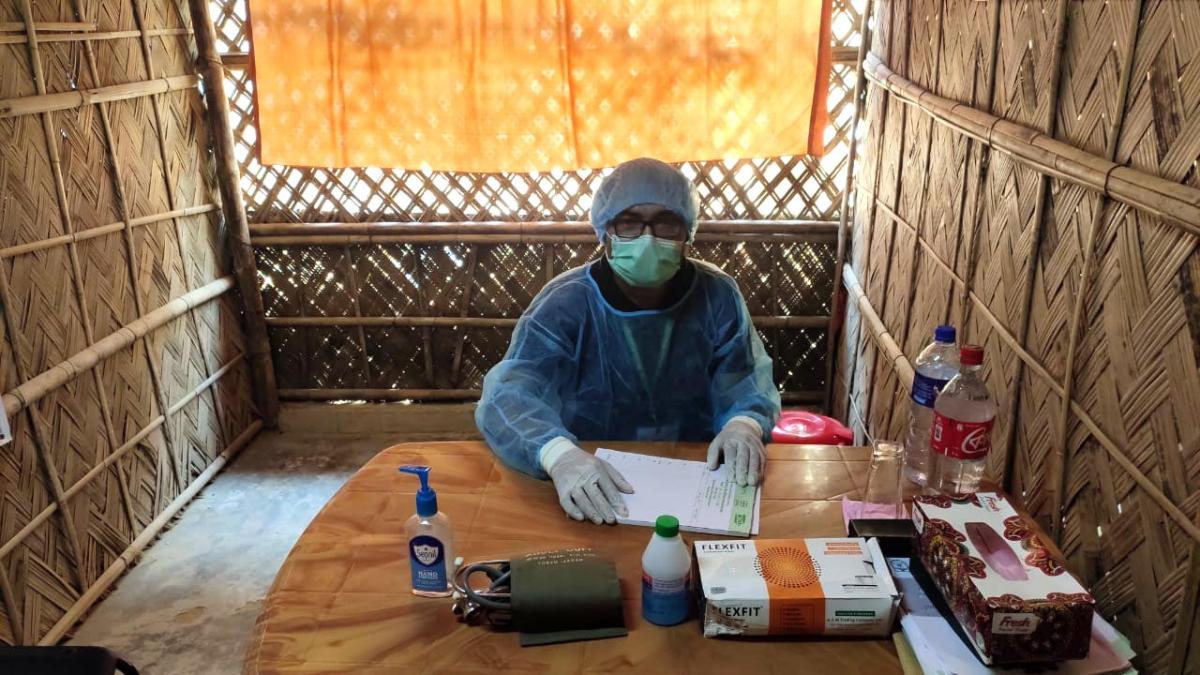 A doctor being supported by Christian Aid in the Rohingya refugee camps in Cox's Bazar, Bangladesh, waits for his next patient. Image: Christian Aid/Dhaka Ahsania Mission
The work that they are undertaking now in the communities where they are present includes monitoring the scale of local outbreaks; public health messaging and education; providing protective equipment and medical supplies; providing clean water and soap; and helping feed malnourished people.
DEC member Save the Children is working to help vulnerable children as schools close, while Age International is focused on how their teams around the world can help and protect older people who are the most vulnerable to the virus.
In the UK, DEC member British Red Cross is supporting people in isolation as well as working with the Department of Health, NHS England, Public Health England and local authorities, while Islamic Relief has partnered with a range of British organisations to ensure that the most vulnerable are kept safe.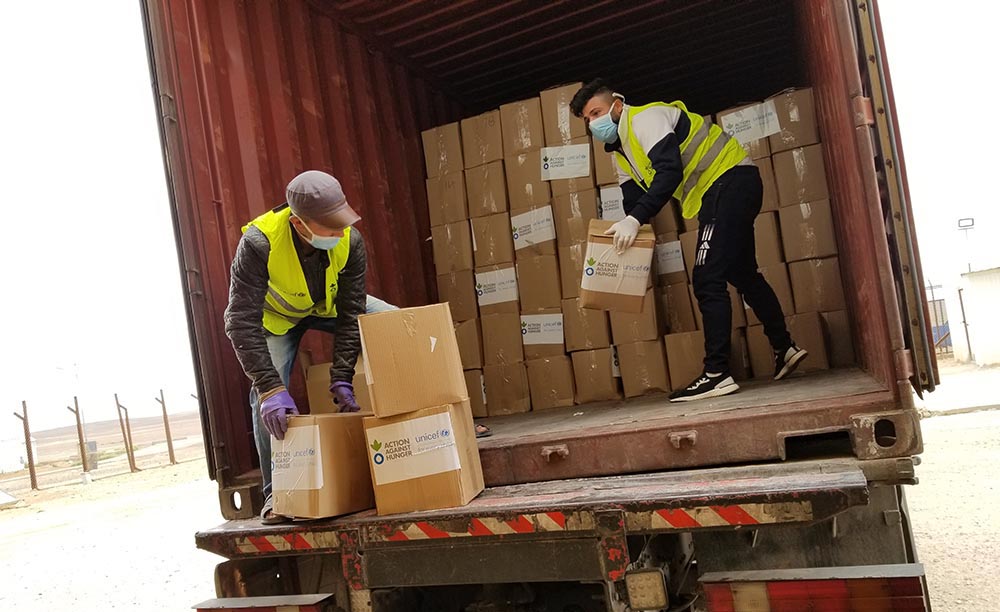 Staff unload cleaning supplies from Action Against Hunger at Azraq refugee camp in Jordan. Image: Action Against Hunger
With the virus spreading rapidly around the world, all countries will be affected in some form. At the DEC, we will continue to assess our appeal criteria to inform our decision-making about when to launch one of our national fundraising appeals.
While we are deeply concerned for vulnerable people and frontline workers in the UK, the DEC is unable to fund domestic emergency responses because our mandate is focused on delivering humanitarian assistance in the world's poorest countries, as is most of the work of our member charities. You can find out more about how we work here.
However the National Emergencies Trust, set up last year to distribute donations in a similar way to the DEC but in times of national crisis, has launched an appeal in partnership with British Red Cross to help people affected by the Covid-19 outbreak in the UK. Donations to their appeal will go to various charities – mainly local community foundations – to help people ill with the virus, but also from the economic and social impact of the virus. If you would like to support the NET in the UK response, further information can be found here.
We very much hope all of our supporters stay safe and follow the NHS guidance on Covid-19 at this unprecedented and immensely challenging time.