Yemen: Fighting coronavirus amid the world's worst Humanitarian crisis
After five years of civil war millions of families are already struggling to survive. Covid-19 could cause a catastrophe. Donate to the Coronavirus Appeal here.
14/07/20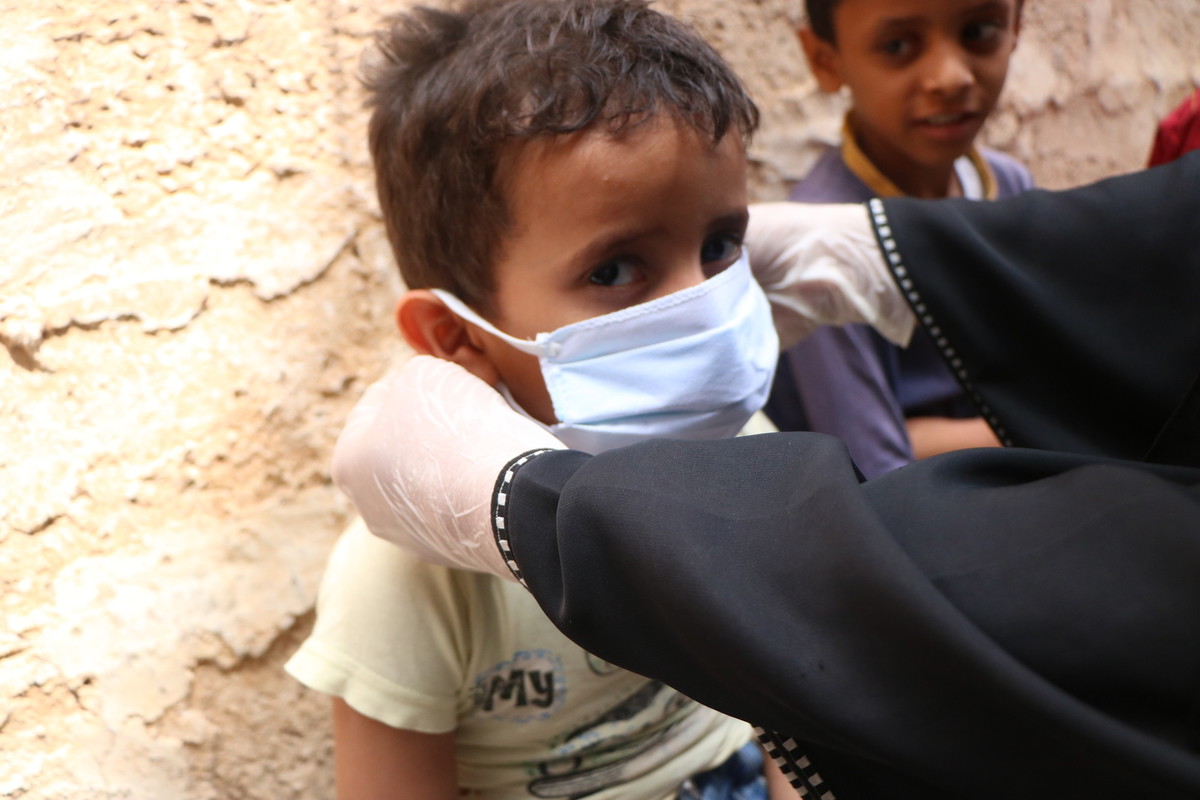 A child is fitted with a mask at a hygiene training session run by CARE International in Yemen to help prevent the spread of coronavirus to vulnerable communites. Image: Sarah Alabsie/CARE
Update: Please read our Breaking Point report, released March 2021, for a more up-to-date information on the situation in Yemen.
The DEC's Coronavirus Appeal has been set up to help people in some of the world's most vulnerable places. One of these places is Yemen, currently home to the world's worst humanitarian crisis, leaving millions of people extremely vulnerable to Covid-19. Even before the outbreak of the pandemic, 80% of Yemen's population was in need of aid.

The spread of coronavirus around the world has been difficult to predict and sometimes difficult to track. In the poorest countries, there is very little testing taking place, so the numbers of cases or deaths caused by the virus are almost impossible to estimate. Sometimes the only way to assess the severity of an outbreak is by how busy the gravediggers are.

And in some parts of Yemen, they have been overwhelmed. Officially, the number of people who have died with the virus is currently 275, but unofficial estimates in the city of Aden are that eight times as many graves as usual have been dug in recent weeks. The UK Government estimates there may already be a million infections in the country.

Yemen scored the lowest in the world in an index of how capable countries are of preventing the spread of the disease. Around half the population don't have access to soap and water to wash their hands. More than half the population live in slums, which are often overcrowded and lack proper sanitation. The simple but effective protective measures of hand-washing and social distancing are currently impossible for millions of people in Yemen.

What's more, years of war and deprivation have already taken their toll. Malnutrition and infectious diseases besides coronavirus, including cholera and diphtheria, are common. With severely weakened immune systems, people are at a far higher risk from coronavirus and significantly more likely to become seriously ill or die. UN official Sir Mark Lowcock wrote in an article for Sky News: "The best data we have shows that one in four Yemenis who've contracted Covid-19 has died. That's much higher than anything we're seeing elsewhere."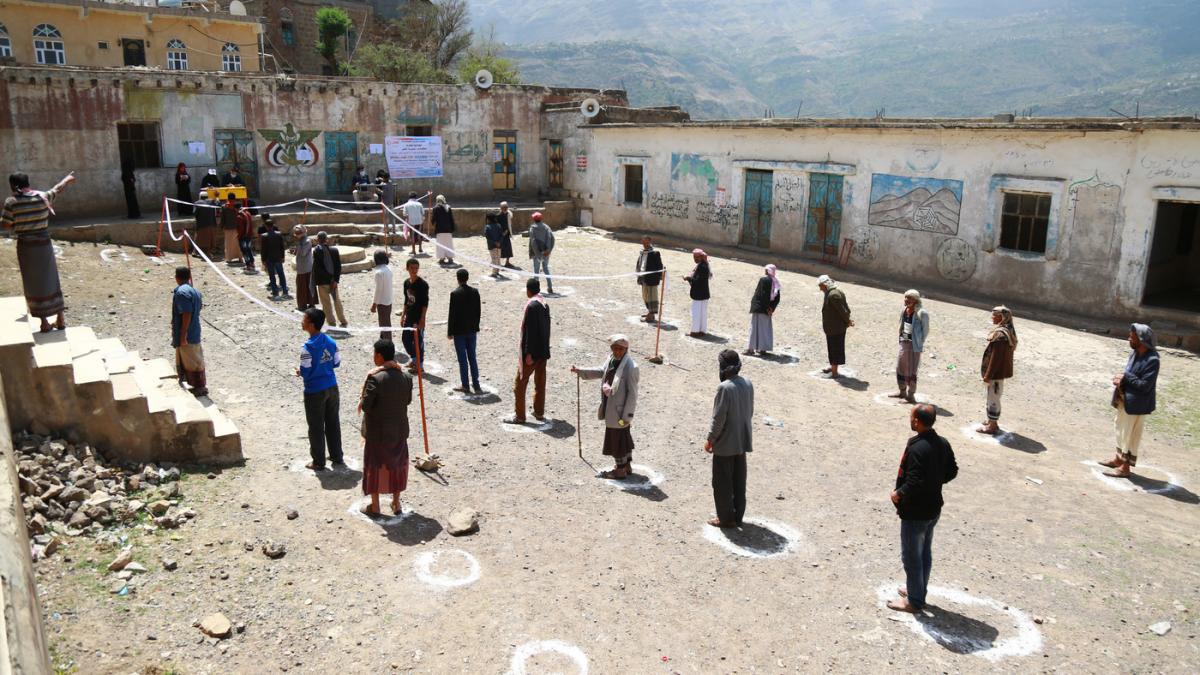 Aid agencies have had to change the way they distribute aid due to Covid-19. Image: Ameen Al-Qawass/CARE

In Yemen, coronavirus is a serious danger for children too. Two million under-fives need treatment for malnutrition. In 2018 it was estimated that 85,000 children had died of malnutrition in the previous three years. The pandemic is worsening food shortages in Yemen, threatening to push more children into malnutrition.

And for those who do fall ill, the situation is dire. After five years of civil war, 50% of health clinics and hospitals have been destroyed. Of those that do remain, only half have enough staff to operate properly. And after seeing the way hospitals were targeted during the war, many people are too afraid to go to hospital at all.

On top of this, the pandemic has led to a reduction in funding for aid programmes. The UN has been forced to close many of its programmes in Yemen, including nutrition programmes and programmes to supply hygiene and sanitation supplies to families.

The DEC's Coronavirus Appeal has been set up to raise urgent funds to help people in fleeing war and living in fragile states. DEC charities are already on the ground in Yemen helping those most in need, but they desperately need more funding to scale up their operations.
The people of Yemen have endured five years of civil war, a situation which is still ongoing. Millions have lost their livelihoods, their homes, and their loved ones. The hardships they have already faced only puts them more at risk from this new invisible danger. You can help by donating to our appeal today.