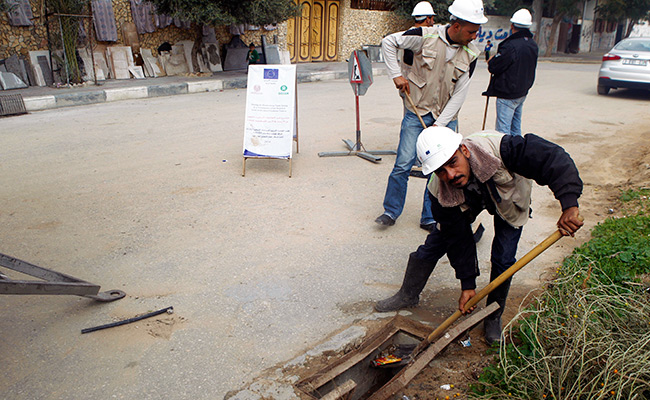 Kamel Qasem is clearing storm water drains as part of Oxfam's "cash for work" project. Photo: Anas al Baba/Oxfam
One year after the beginning of the Israeli 'Protective Edge' military operation in Gaza (08.07.14), DEC funds have helped provided assistance to over 190,000 people* in the territory.
The DEC Gaza Crisis Appeal was launched on 8 August 2014 and went on to raise £19 million - £12 million by the DEC itself and the balance collected by our member agencies.
The aid provided by DEC member agencies and their partners has included:
102,000 people given food parcels, vouchers or meals
65,000 people provided with clean water, hygiene kits or safe toilets
49,000 people given household items including kitchen sets or bedding
20,000 people provided with medical care or psycho-social support
15,000 people helped with  rebuilding their livelihoods
Note: these numbers exceed 190,000 because many people received more than one kind of assistance.
Member agencies spent more than £3.8m of funds raised by the DEC in the first six months after the launch of the appeal with all remaining funds to be spent within two years of launch.  Over 80% of funds spent so far were used to pay for goods and services with the balance covering logistics, staffing and other costs associated with the process of getting the right aid to the right people. 
The majority of funds were spent providing food (28%) and replacing essential household items such as cooking equipment and bedding (24%). Support for livelihoods (20%) and providing water and sanitation (7%) made up the majority of the remaining total. Funds were also used to help protect those left vulnerable by the crisis, to provide education or training, on supplying healthcare and on other forms of support.
The work of the DEC member agencies and their partners has provided immediate relief to many of those affected by the conflict but cannot adequately support the recovery process in the absence of political progress.
The blockade of Gaza and the lack of an effective government have severely limited UN-led reconstruction efforts and any hope of economic recovery. The majority of the nearly 18,000 families who saw their homes severely damaged or destroyed remain in temporary accommodation – the luckier ones in rented accommodation or with host families but some in tents or makeshift shelters. Based on the current rate at which construction materials are being permitted into Gaza, the UN estimates that repairing and rebuilding damage caused by the 2014 conflict will take 19 years.
DEC Head of Communications Brendan Paddy said:
"The scale and severity of destruction in Gaza is enormous and DEC member agencies will continue to work with the worst affected people for years to come. People are not only dealing with loss of homes and incomes, the majority have experienced or witnessed traumatic events, likely to cause lasting suffering without the right support."
"While DEC agencies have used the funds donated to our appeal to make a real differences in the lives of over 190,000 people, adequate rebuilding and recovery remains blocked by the political situation facing the people of Gaza."
* Aid delivered by DEC members and their partners using DEC funds. Some people will have received different kinds of help from more than one DEC agency resulting is some unavoidably double counting of the number of people receiving assistance