'It will be a catastrophe': In Syria, 6 million displaced people brace for coronavirus
21/07/20
Doctors in war-torn Syira are preparing for an explosion of coronavirus in camps and say the next 10 days are critical. Donate to the Coronavirus Appeal here.
Islamic Relief provide masks to residents of a camp for people displaced by the war in Idlib province, Syria. Image: Islamic Relief
After nearly 10 years of civil war and with over 6 million internally displaced people, many of whom are living in overcrowded camps, Syria is one of the most fragile places in the world, and one of the most vulnerable to the coronavirus pandemic. 

The UN has called for an immediate country-wide ceasefire to allow an unrestricted response to the outbreak. But years of conflict have decimated the health care systems. There are only 57 public hospitals fully functioning, with considerable shortages of trained staff and equipment. This is all before the pandemic struck. 
DEC charities are reporting urgent concerns about the risks of the virus spreading, as vulnerable people are unable to take the basic measures to protect themselves. Mustafa, 28, a frontline worker supported by DEC member CAFOD, lives in a camp outside Idlib with displaced people. He uses imagery more akin to the warzone Syria has become to describe the country's latest challenge.
"My heart is beating so hard; we are expecting an explosion of coronavirus in the camps," Mustafa told CAFOD staff. "The coming days are really critical for us. Doctors are preparing for the spread of the virus. People live in large overcrowded settlements in tents with maybe 12 people and no access to clean water. It will be a catastrophe. Disaster. Please help them."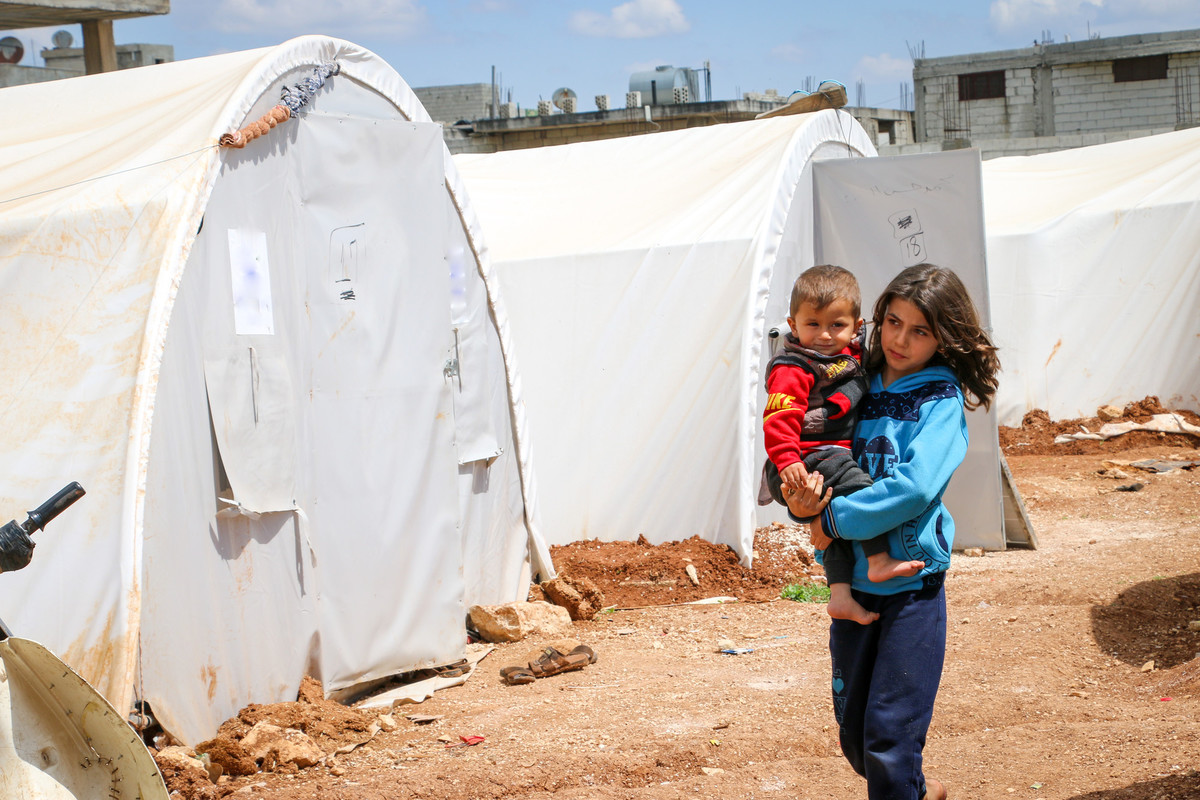 Laia* and Nasir* walk past tents in the camp for displaced people where they live. Image: CAFOD
Like other fragile states DEC charities are working in, a large proportion of the population are now living in crowded displacement camps. Access to water and hygiene facilities is limited in these informal settlements. With most families living in basic tents only a metre or so apart. This makes enforcing prevention measures, like social distancing, incredibly hard.
Many Syrians are also already living below the poverty line. This means they don't have enough money to buy basics like soap or masks to protect themselves, helping the virus spread quickly and aggressively.
The areas of greatest concern are the camps in the north-east and the north-west of the country. On Thursday, fears were raised in the north-west of Syria as a doctor in Idlib became the first case confirmed in the area. A further three cases were subsequently confirmed, two more doctors and a nurse. There are fears this could spark a devastating outbreak in the camps.
Walid, who lives in a camp in Aleppo governorate said: "My family and the people of the camp have fears of an outbreak of Covid-19, especially as the majority of neighbouring countries have suffered from the same disease.
"I do not feel that we have the ability to take full precautions, because many families live in the same tent, the water isn't often clean and we do not have enough hygiene or sterilisation materials for the whole camp. So, I have serious concerns that the virus will spread in the crowded camps. God forbid."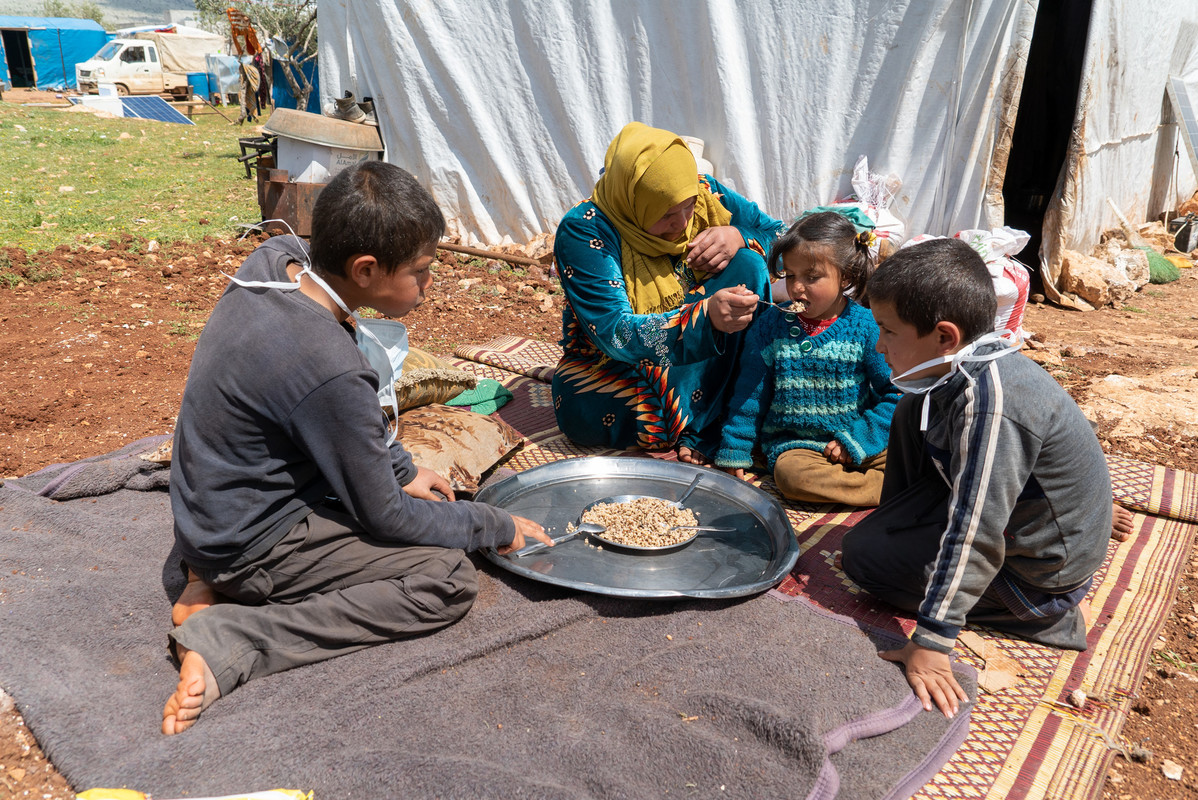 A family share a meal in a camp for displaced people in Idlib province, Syria. A food crisis also looms in the country. Image: Islamic Relief
There are also challenges due to lack of awareness and shortage of supplies to help people protect themselves. In Idlib and Aleppo governorates in the north-west, a recent report by Help Age International, affiliated with DEC member Age International, showed that out of the almost 800 people aged over 50 who were surveyed, 14% were not aware of Covid-19 and close to 50% reported not being able to access PPE or hygiene materials because they were too expensive or not available in the market. Of the 277 interviewed who were living in camps, many in tents with several people, 42% faced challenges getting access to clean water and sanitation.
Specialist medical equipment is scarce too. In March, DEC member Save the Children reported that in North-West Syria, there were only 153 ventilators and 148 intensive care beds. The number of people living in the area around Idlib has increased to nearly a million.  
To add to this, the pandemic could also cause a food crisis in the country, with 9.3 million Syrians already struggling to find enough to eat. The mix of mass displacement and the virus have meant prices have gone up beyond the means of many people. 
The economic downturn will mean spiralling poverty in fragile states. Many displaced people and refugees will lose what small income they had, putting them at risk of mass starvation.  
The situation in Syria is dire and many families are living in fear after already fleeing conflict and violence. They now face a new threat and need your support to help them protect themselves. The DEC's Coronavirus Appeal has been set up to raise urgent funds for those living in these fragile states. In Syria, £50 could provide enough basic PPE for one frontline health worker for two months  – please give what you can.