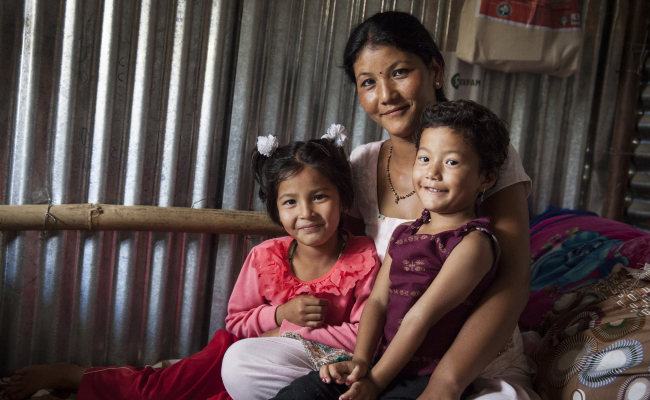 Nepali family supported by DEC member Action Aid
Much has been written about the immense challenges facing the humanitarian relief effort following the 7.8 magnitude earthquake six months ago and yet DEC agencies have reached more than 900,000 people in the first phase of the response.
A new independent review of the DEC's work explores some of the tactics agencies are using to overcome the greatest obstacles. The Nepal Earthquake Appeal Response Review, which was commissioned jointly with Canada's Humanitarian Coalition, also highlights how DEC member agencies can more effectively reach those most affected. 
Here we look at the top three challenges that faced the relief effort in its first three months, the innovative approaches used to overcome them and what the UK's leading agencies need to do now to help people rebuild their lives. 
1. Reaching remote areas 
High altitude mountainous areas were some of the worst affected, while frequent aftershocks and landslides, as well as monsoon rains, made reaching small clusters of homes in remote areas difficult and slow. Getting big trucks of relief supplies and construction materials up to destroyed homes only accessible by small steep tracks is near impossible but these remote villages are some of the poorest parts of the country and therefore the least able to cope with disaster.  
The response review found that cash transfers have provided "the backbone to the response", with distribution methods including envelopes, bank transfers and mobile
phones. Cash is of course easier to deliver to hard-to-reach communities, as long as the supplies people need are locally available. 
Some agencies are using porters to relay key messages when arriving in remote locations with aid, while the British Red Cross worked with a theatre group to write radio plays about important issues such as hygiene or discrimination. Plan is combining mobile health and education teams to travel to mountainous areas. 
Since April the majority of DEC agencies tried to reach as many as possible with emergency shelter to provide temporary protection from monsoon rains and the impending winter. They reached more than 368,000 people with tarps or corrugated iron sheeting, used for roofing, or shelter kits. 
However as CARE International's shelter expert points out, as people start to rebuild their own homes after the monsoon rains subside, there are new local techniques, which can help build safer homes. The right design, as well as helping people build quality homes with locally available materials such as stone, will reduce the amount of concrete that has to be transported. 
The review recommends getting ready for the next disaster so all communities are more resilient to future shocks. In the meantime more cash will help recovery. 
2. Combining expertise 
International aid agencies are all working through Nepalese organisations to deliver the £85 million generously donated by the UK public. This helps strengthen national skills to respond to future disasters and makes the most of local knowledge, however most local agencies are not used to responding to such large-scale catastrophes and some lack technical expertise.  
It was difficult to find enough shelter experts to be in every village helping people rebuild their homes so one DEC member and its partner designed four temporary show houses made of reused materials. 
Technical staff trained local construction workers in core concepts such as safe site selection, proper drainage, raised floors and roof fixing. 
But new homes must be designed with local people who have been affected. 
As the response review points out, "supporting traditional building approaches and use of traditional materials in seismically safe ways presents an opportunity for INGOs and their partners to invest in long term recovery."
Going forward, this means consulting with and listening to communities and working with other agencies to take their views to national planning discussions.
The report also recommends DEC agencies train female and male carpenters, plumbers and masons to provide employment opportunities and increase the number of skilled construction workers. 
DEC member Christian Aid has already trained close to 272 carpenters and masons on safe and resilient construction techniques. The agency is also providing training on earthquake-resilient shelter designs, which use locally-sourced materials.
3. No one left behind  

The most marginalised people are sometimes missed out on distributions because without official government documentation, they may not be on authorities' lists. 

For example CARE International found that many women didn't have valid identification documents for receiving cash transfers so the agency is providing women with temporary ID cards. The British Red Cross has successfully advocated for landless households to be included on distribution lists. 
 
Oxfam is helping women who have lost their citizenship cards to register for earthquake ID cards through women's centres in six earthquake affected districts. The centres also offer counselling and referral services. 
An agency which is providing cash for work to women reports that women have told them they feel empowered having cheques in their name and for many, it was their first time going in to a bank.
The independent review found that agencies must go further to find people who have been missed out in the initial phase of the response. For example as the humanitarian response has prioritised the worst-affected mountain districts, some urban renters remain in need of support. 
As winter looms and new challenges emerge, DEC members have shown they can find innovative solutions to difficult problems, while also reaching hundreds of thousands with emergency relief. For example Water, sanitation and hygiene work before and immediately after the earthquake, helped avert major outbreaks of disease. This review helps provide the ideas needed to take the learning to the next phase.