Who's been getting you through lockdown?
Who's been getting you through lockdown?
Archie Douglas was diagnosed with a terminal brain tumour seven years ago, but has since raised nearly £10,000 for the DEC. Now he's launching a new fundraising drive - #whogetsyouthrough
22/07/20
One of the DEC's most inspiring fundraisers is Edinburgh-based Archie Douglas who was diagnosed with a terminal brain tumour seven years ago. Archie has now raised nearly £10,000 to support the work of the Disasters Emergency Committee (DEC) to provide life-saving relief for crisis-affected communities.
He's had a tough time during lockdown and now wants to share who's been getting him through it all as part of our new #whogetsyouthrough campaign to raise funds for our Coronavirus Appeal.
First you need to know more about his incredible story.
Archie had just left the army after 20 years of service when a tumour, the size of a small fist was discovered in his brain. An expert gave him "at best three years preceded by a rapid decline towards becoming a cognitive and motor function vegetable".
Despite the bleak outlook, he has since made a remarkable recovery with the help of pioneering surgery, aggressive radio- and chemotherapy along with a strict healthy eating and exercise regime which he researched and now follows religiously.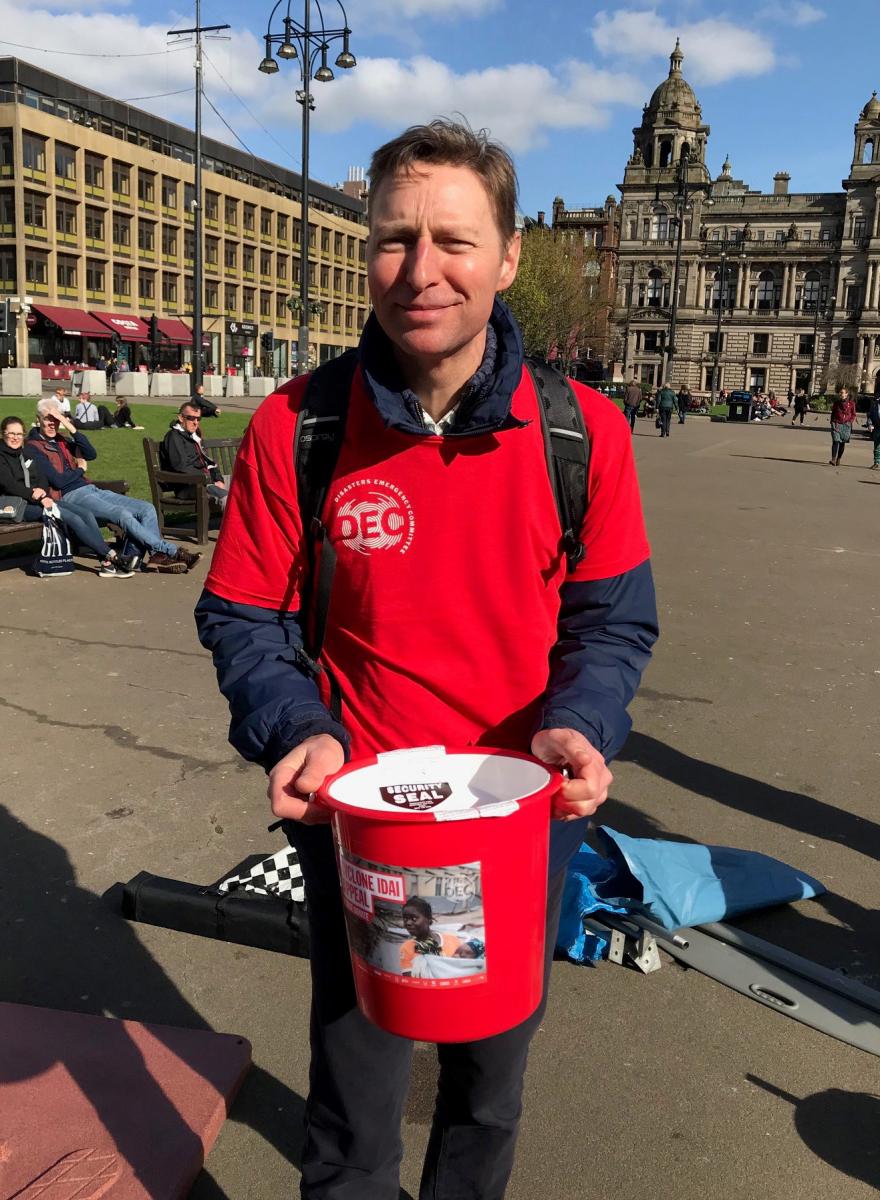 Sadly, the intrusive surgery and other treatment has not come without a cost and he still regularly suffers from stroke like migraine attacks and seizures. On seeking a job, he was advised to "aspire to nothing more than volunteering in a charity shop for an hour a week". In looking for something positive to do to help him recover he started to learn a number of new skills and raise money at the same time for the DEC.
Archie has continued to suffer from these problems during the coronavirus lockdown in the past few months. Initially his condition was not considered to make him more vulnerable but he since has had to stop all activity and has had to rely on his wife, Allie, to help him through three emergency appointments and six other regular check-ups during this period.
To thank Allie and celebrate her amazing support for him, Archie is leading a new digital fundraising effort in aid of the DEC Coronavirus Appeal, called Who Gets You Through.
"To celebrate Allie's wonderful support for me, I'm going to kick start a new DEC fundraising push by donating £10 more for this new appeal.  If I can do it, so can you!  Please celebrate the person who's been getting you through this difficult time here in the UK by donating your own £10 and then nominating someone else to pass on the goodwill. It can quickly help the DEC get to many more people in the world's most fragile populations and help them get through the pandemic too."
As well as following Archie's lead for the Coronavirus Appeal you can also support his own Beat the Beast Challenge where Archie deploys his new skills as an actor and other activities to raise even more money for the DEC.
Archie has kindly supported our previous appeals for Cyclone Idai in March 2019 and the Indonesia Tsunami in October 2018.