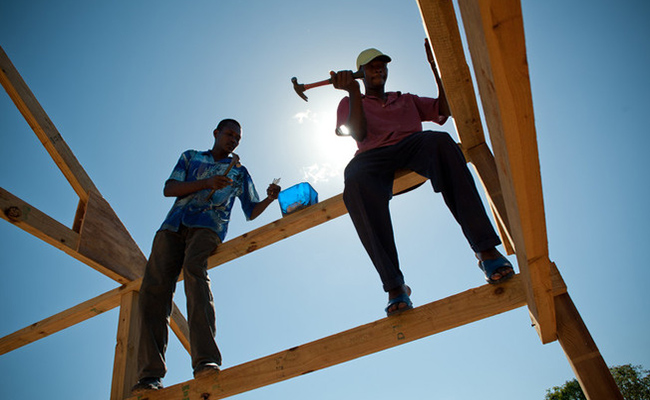 Three years ago this Saturday (12.01.13), the Haiti earthquake devastated the country's capital Port au Prince and several surrounding towns. The DEC announced its Haiti Earthquake Appeal with 24 hours and began accepting donations. 
At magnitude 7.0, the quake was large rather than huge but it was shallow and centred very near the capital. There had not been a major earthquake in Haiti since 1842 and the country was poorly placed to cope with such a shock. The government already had limited capacity and lost key buildings and staff as a result of the quake. High levels of poverty meant many people were crowded together in poorly built concrete buildings which collapsed during the quake. The result was over 200,000 dead and more than two million people living in the streets.
 
Most DEC member agencies were already present in Haiti and once they had dug themselves out of the rubble and buried their dead, their staff and partners set to work helping others. The UK public donated an extraordinary £107m - the second highest total for any DEC appeal after only the 2004 tsunami appeal.  In the first six months after the earthquake our member agencies used DEC funds to reach 1.8m people with emergency aid.  
 
The DEC decided from the outset that appeal funds would be used over three years, rather than the usual two, because it was clear Haiti faced a slow, hard road to recovery. The large scale reconstruction that was desperately needed required leadership from the severely weakened Haitian government and backing from the international community.  In the absence of an effective programme of this kind, DEC member agencies undertook a wide range of activities to support recovery at a community level. In the two years to July 2012 they have helped more than 800,000 people including:
 
Improving the water supply of 340,000 people
Supplying drugs to five cholera treatment facilities serving 18,000 people 
Providing free medical care to 39,000 people
Giving tools and seeds to help 23,000 people in farming households support themselves
Providing improved shelter for 34,000 people
Giving information to 116,000 people about preparing for future disasters
Running literary classes for 60,000 vulnerable women to help them support themselves and their families
Training camp committee members to defend 25,000 camp residents from forced eviction.
The last year in particular has seen a significant shift away from emergency aid and towards more sustainable projects. Water and sanitation work remain a high priority but increasingly this work focused on providing permanent solutions. Livelihoods became the largest area of work as agencies sought to ensure the survivors they work with had the skills, materials and money they needed to provide for themselves and their families. Shelter also remained a large area of work, although the lack of available land on which permanent homes could be built meant the emphasis was predominantly on better temporary shelters. There are however over 1,300 people in Haiti now living in permanent homes constructed with DEC funds.
 
Of the £107m raised, £72m were given to the DEC secretariat and £35m was given direct to the member agencies. As of the end of December 2012, member agencies had requested and received £70m of the funds raised directly by the DEC Secretariat and were on track to spend all remaining DEC-raised funds by end of January 2013 - as promised when the DEC appealed to the UK public for funds. Most member agencies will continue to work in Haiti using other funds.
 
Given Haiti's history and the high levels of poverty prior to the earthquake, the road to recovery was always going to be long and hard. The generosity of the UK public in response to the DEC appeal has meant that funds were available both to help immediately after the disaster but also to ensure that many people continued to receive support after funding from other sources had dried up
 
For more information about the challenges facing survivors of the Haiti earthquake and the DEC member agencies trying to support them, see the blog by then DEC Chief Executive Brendan Gormley written two years after the quake: Haiti, has aid helped?