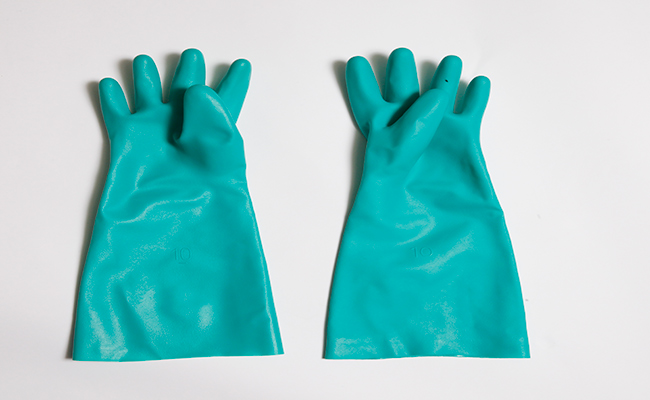 Protective clothes used by staff from DEC member Save the Children
The Disasters Emergency Committee warns today that thousands of people in Ebola – affected communities in West Africa are being forced to break quarantine in order to get food to eat. 
 
In Sierra Leone, the Government has a system in place to make sure that those placed under quarantine receive food but this is not working effectively and people are going hungry.
 
"This is a huge concern," says Jeanne Kamara, country director for Christian Aid in Sierra Leone. "People infected with Ebola are desperately searching for food and are in turn exposing others to the disease. They are jostling with people in the market and infecting others through bodily contact. We urgently have to provide food to those who need it to prevent the risk of further spread."
 
Christian Aid, a member of the Disasters Emergency Committee, is working against the clock to feed 2,100 people in quarantine in Kailahun and western areas of Freetown: areas most affected by the disease. 
 
The quarantine of Kenema, the third largest town in Sierra Leone, is having a devastating impact on trade – travel is restricted so trucks carrying food cannot freely drive around. Food is becoming scarce, which has lead to prices increasing beyond the reach of ordinary people. 
 
DEC member CAFOD is providing food to quarantined families and vulnerable people in Kenema who are unable to earn a living or who have lost the main breadwinner in the family to Ebola. 
 
Augustine Tamba Fallah, an aid worker with CAFOD partner Caritas Freetown said: "The town is closed, there are military checkpoints on the road, but I can pass because I am an aid worker delivering food."
 
He adds: "It's a risky job but people are dying. The first thing we have in mind is our feeling for each other – a humanitarian spirit – our second feeling is to be very careful".  
 
Placing people into quarantine is obviously a vital element of preventing the spread of the disease but measures need to be taken to deal with the consequences. Another key concern is the lack of education for children in affected countries. 
 
"At the moment all schools in Liberia are closed and the education of children is in danger of completely coming to a halt," says Mike Noyes, ActionAid's Head of Humanitarian Response.  "Parents are very concerned about their children falling behind.  Many families cannot afford to hire private tutors and others are afraid to hire them because of the potential risk of contact and infection."
 
Action Aid is delivering school packs to children living in quarantine, as well as providing psycho-social support. 
 
"Children living under quarantine in Liberia and Sierra Leone are understandably frightened and unsettled," adds Mike Noyes. 
 
Member agencies are looking to expand their work providing food and education to people living in quarantine when more funds become available.