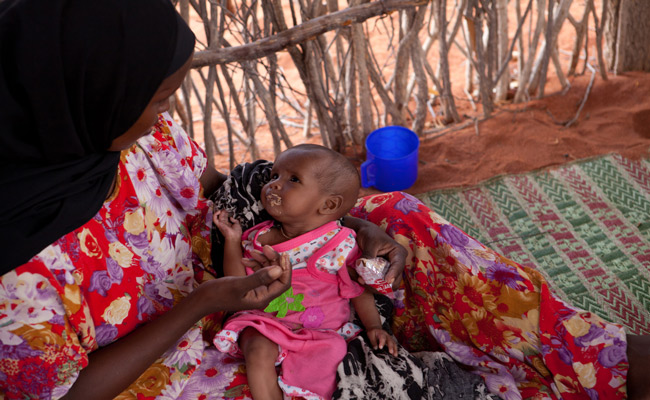 Six months on from the launch of the DEC East Africa Crisis Appeal member agencies have been using the £75 million raised by the British public to help 1.3 million people.
DEC funded aid has so far included helping to provide drinking water, healthcare treatment for severe malnutrition in Somalia, Kenya and Ethiopia. 
Fundraising for the DEC East Africa Crisis Appeal draws to a close on January 31st 2012 although our member agencies will continue to use the funds raised until July 2013 to help the people in the parts of East Africa that have been affected by one of the worst droughts for nearly 60 years which as exacerbated the ongoing problems of poverty and instability.
 
ActionAid has ensured that 19,707 children have received daily school meals in Kenya.
Age UK has reached 2932 older people in the Somali region of Ethiopia giving them access to health, nutrition and shelter.
British Red Cross has funded the purchase of Plumpy Nut for therapeutic feeding treatment to reach 31,128 children in Somalia.
CAFOD have targeted ten villages in Ethiopia reaching 18,000 people ensuring they have access to sufficient supply of water to meet their daily needs.
CARE International have improved access to safe water, sanitation coverage and hygiene practice for 3620 people in Kenya.
Christian Aid via their local partner has reached 16,848 newly arrived refugees giving them information on services available in the Dadaab camps and on how to give feedback.
Concern Worldwide treated 6892 cases of Moderate Acute Malnutrition (MAM) in both adults and children in North West and Central Ethiopia.
Islamic Relief have prevent further deterioration of acute malnutrition in 7,363 children under five and 11,729  pregnant and breastfeeding women in targeted emergency in the in Afar and Somali regions of Ethiopia.
Merlin improved knowledge of hygiene practices holding 239 health education sessions in health facilities and outreach sites in Kenya, reaching 37,551 people with information on hygiene, sanitation as well as nutrition.
Oxfam has used water trucking to provide water in 30 sites inn Kenya for 82,277 people, distribution was coordinated with other agencies implementing water trucking to maximise delivery to those most in need.
Plan UK has treated 1215 under five year old children suffering from Severe Acute Malnutrition with supplementary feeding programmes in the Wag Hamera Zone of Northern Ethiopia.
Save the Children ran a supplementary feeding programme for toddlers and babies treating 1400 with Plumpy Nut in Mandera and Wajir, North East Kenya.
Tearfund has distributed animal feed to ensure the survival of livestock to1000 household and worked with local partner to reach 583 households, including their livestock, with at least 10 litres of water from rehabilitated water sources and water trucking in Kenya.
World Vision has provided water trucking for 4500 people and distributed 72,000 water purification tabs to 3900 people in North East Kenya.