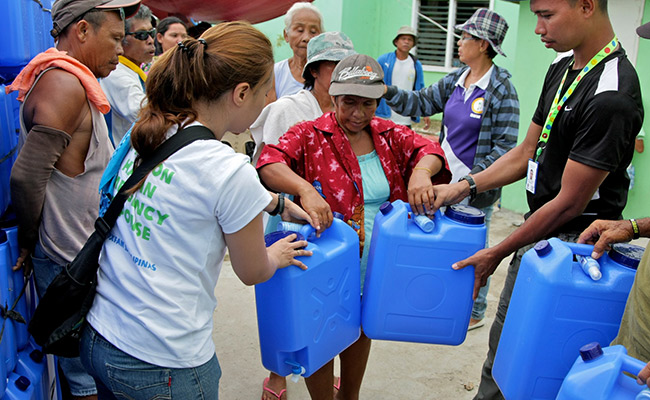 DEC member agencies and their partners have provided aid to more than 1.6million people affected by Typhoon Haiyan in the Philippines.  They are still working to expand the aid effort and to begin helping survivors to rebuild their lives.
 
They are reaching people in some of the worst-affected areas and working to access many more in more remote areas. They have delivered aid both with funds raised by the DEC and using support from many other sources and priorities are providing food, water and emergency shelter.
 
Some examples of the aid that has been delivered by our member agencies and their partners include:
 ActionAid has reached 28,000 people on Bantayan Island off north Cebu, and on Leyte and in East Samar. This has included food, shelter and hygiene kits.
Age International has helped 39,500 people on Leyte Island. They've delivered food packages, psychosocial support and shelter materials.
British Red Cross working across 15 provinces via partners has given help to 725,696. Aid has included food packages, hot meals in evacuation centres and counselling.
CAFOD working through partners have reached 361,790 in 13 regions, including delivering shelter kits and food.
Care International is working in Ormoc, Albuera, Tolosa and Tacloban and has reached over 43,750 people. Items delivered include kitchen kits, food and shelter kits.
Christian Aid through partners has given assistance to over 61,500 in areas including in Ormoc on Leyte, in East Samar. Items distributed include water, food, sleeping mats, and hygiene materials.
Concern reached 3,538 in Malangabang and Baliguian. Items distributed include shelter materials and kitchen sets.
Islamic Relief has helped 115,000 to date in Bantayan, Leyte and the Camotes Islands. Priorities have included providing food, water and shelter.
Oxfam working on Cebu, Leyte and Samar has reached 218,375 people with much needed aid. This has included hygiene kits, sanitation projects, water and farming assistance for those who have lost crops.
Plan working with partners has helped 24,000 in East Samar. This work has included delivering shelter kits, water, and hygiene kits. Child friendly spaces have also been created for children affected by Typhoon Haiyan.
Save the Children (including Merlin) have provided assistance to 20,433 in Leyte, Visayas and Panay. This has been a mix of medial support with mobile clinics and distributing emergency shelter materials, household items and hygiene kits.
Tearfund has helped 28,377 people in Basey, Malabu and Dulag. Items distributed include household items, water and sanitation items.
World Vision has reached 106,260 people in across a number of areas including Capiz, Aklan and Cebu. Food, hygiene kits, shelter kits have all been distributed. Child friendly spaces have been set up for children affected by the storm.