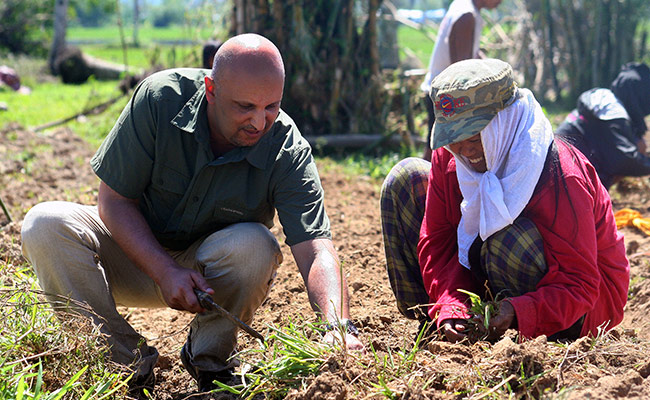 Saleh Saeed, DEC CEO, visiting the Philippines to see donations at work.
 
Three months after Typhoon Haiyan ripped a path over a hundred miles wide through the centre of the Philippines DEC member agencies and their partners have helped more than four million people whose lives were devastated by the storm.
 
A great deal of this work was possible thanks to the extraordinary generosity of people in the UK who have donated a staggering £90 million to the DEC Philippines Typhoon Appeal. This is already the third highest total for an appeal in the DEC's 50 year history and fundraising will continue until May 2014.
 
The emergency aid that has been delivered so far includes clean water, food, health care, tents, heavy plastic sheeting, latrines, blankets and cooking sets.  The overwhelming majority of the 14 million people affected by the storm have received this kind of emergency aid from one source or another though many will need more help of this kind for months to come. 
 
DEC agencies have also moved quickly to support people as they begin to try to put their lives back together and become self-sufficient again. This early recovery work includes DEC agencies not simply providing tents or plastic sheeting for emergency shelter but construction kits that can include items such as nails, timber, corrugated iron sheets, plywood, hammers and other tools.
 
DEC member charities are also providing training and support to help ensure that when people repair or rebuild a simple home it will be more earthquake and typhoon resistant. We are however extremely concerned that, despite the generosity of the UK public, funding from other sources has not been available quickly enough to support this work. If survivors are not supported with materials, tools, advice and training the houses they build or repair are unlikely to stand up for long to the 20 tropical storms that lash the Philippines every year. 
 
Another huge area of early recovery activity has been to support farmers with seeds, fertiliser and tools so they could take advantage of the rice planting season which has just ended.  
 
In many cases cash grants have been made to some of the worst affected and most vulnerable families who have lost their source of income. There remains a huge amount of work to do to help survivors recover from the disaster and there are significant concerns that the main UN appeal for the disaster remains seriously underfunded.
 
The DEC always requires members to spend a significant proportion of the funds we raise very quickly to meet emergency needs but it allows members to spend the remaining funds over two years to support survivors as they struggle to put their lives and livelihoods back together.  
 
Given the vast scale of the destruction in the Philippines, DEC members will spend funds over a three year period if required.
 
Some examples of the aid delivered so far by DEC member agencies and their partners using DEC funds and money from other sources have included:
 
ActionAid and its partners have provided shelter repair kits including iron sheets, lumber, nails, plywood and hammers to support 5,000 of the worst affected people in the village of Tabgas, south of Ormoc City on the island of Leyte.
Age International and its partners have provided food to 8,000 older people and their households across five municipalities on the island of Leyte.
British Red Cross have worked through the Red Cross movement to distribute cash grants to 50,000 families in Panay, Tacloban, Ormoc and northern Cebu to help farmers restart their livelihoods and rebuild their homes.
CAFOD and its Caritas partners have installed 14 giant water bladders and trucked clean water to supply over 16,000 people in and around Tacloban.
CARE International and its partners have provided 5,000 households on Panay and Leyte with shelter repair kits made up of iron sheets, fittings and tools, as well as training on safer building practices. Local carpenters have also been trained to give construction advice.
Christian Aid and its partners have provided food including rice, canned meat and cooking oil to 9,400 people  in Lawaan on Samar island.
Concern has provided 48,831 people with tarpaulins, tools, blankets, kitchen utensils, jerry cans, soap and solar lamps in Concepcion and Carles on Panay island.
Islamic Relief has provided 1,629 family tents to survivors in northern Cebu and its outlying islands.
Oxfam has helped deliver clean water to 200,000 people in Tacloban by supporting the government to repair and fix broken pipes, and to provide water at evacuation centres.
Plan International has provided 152,100 people on the islands of Samar and Leyte with clean water and hygiene kits.
Save the Children and Merlin have provided health services to 7,800 people using  mobile clinics on  the islands of Leyte and Panay - screening children for malnutrition and vaccinating them against diseases such as measles.
Tearfund and its partners have provided food, household items, seeds and tools to help 20,000 people in Basey and Marabut on Samar island.
World Vision has provided more than 2,700 families in Bogo, Northern Cebu with shelter kits.