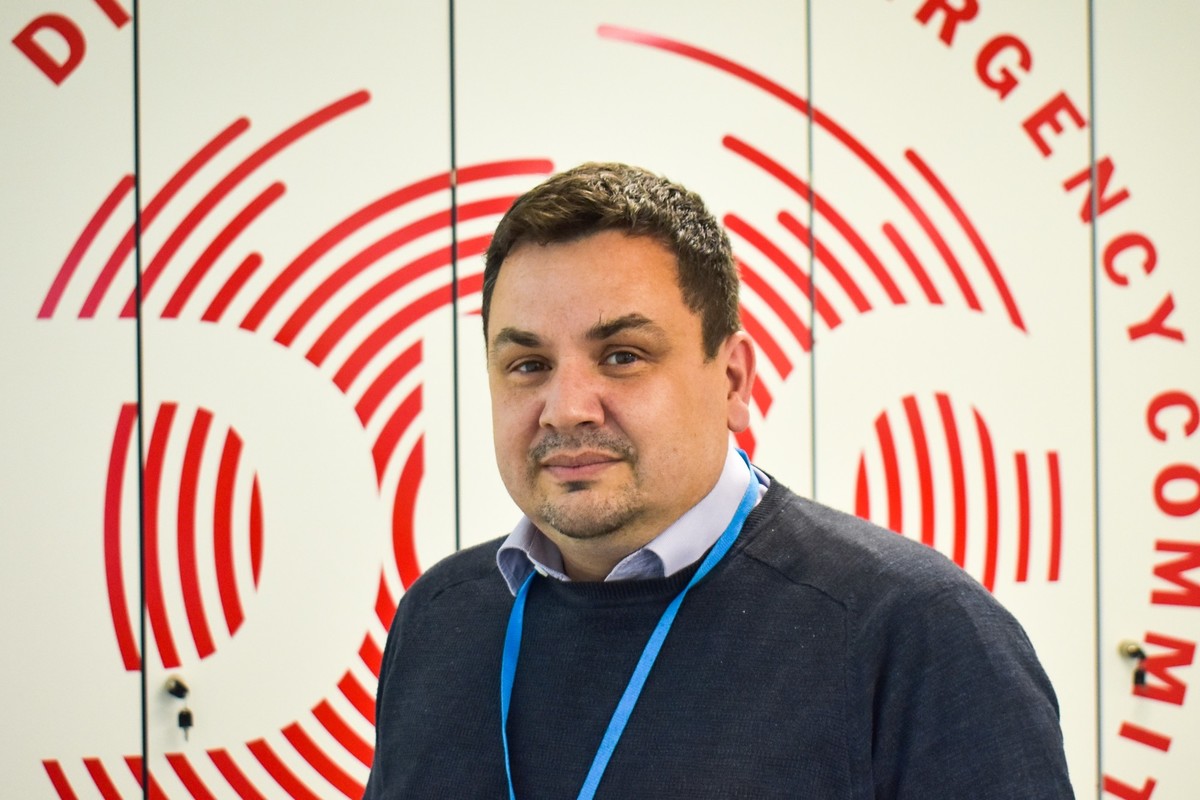 DEC Director of Finance and Resources Nick Waring at the DEC offices in London.
The Disasters Emergency Committee has appointed Nick Waring as its new Director of Finance and Resources. In this role, Nick will provide leadership on financial management, including oversight of financial and risk aspects of DEC-funded programmes. He will oversee compliance with legal and regulatory requirements, aiding the DEC in continuing to uphold best practice in these areas. He willalso be supporting the DEC with delivery of its strategy and the smooth running of the secretariat, as well as managing HR and resources. 
Nick is a Chartered Accountant with 20 years of experience in strategic and operational finance in non-profit organisations, both in the UK and in Africa. His previous role was as Director of Financeand Resources at Women for Women International (UK), where he led UK participation in improving global financial strategies for the INGO. Prior to that, Nick held senior financial roles at a number ofnon-profit organisations, including the Prince's Trust International, the Lumos Foundation, the Refugee Council and Christian Aid. Earlier in his career, Nick spent four years in Kenya working as a finance director in a rural hospital. He is also a trustee of two charities – Africa Inland Mission and 2nd Witham Boys' Brigade. 
Saleh Saeed, CEO of the DEC said: "I am very pleased to welcome Nick to the DEC team. Nick brings strong knowledge and expertise in charity finance, as well as wide experience of the charity sector from his previous roles, including a DEC member charity. Nick's enthusiasm and drive will be a valuable asset and I very much look forward to working with him." 
Nick Waring said: "I am very excited to be joining the DEC as Director of Finance and Resources. I worked closely with the DEC during my time at Christian Aid, a period which included the 2004 Tsunami appeal. I have always admired the way the DEC works to focus fundraising during emergencies, ensuring that funds raised are used to maximum benefit to support those affected by disasters. I am looking forward to working together with the member charities to support the vital emergency relief efforts funded through the DEC." 
ENDS 
 
Media enquiries: Call Sarah Sansom ssansom@dec.org.uk on 020 7255 4283 or 07930 999 014. 
The DEC brings together 14 leading UK aid charities to raise money in times of humanitarian crisis in poorer countries: Action Against Hunger UK, ActionAid, Age International, British Red Cross, CAFOD, CARE International UK, Christian Aid, Concern Worldwide UK, Islamic Relief Worldwide, Oxfam GB, Plan International UK, Save the Children UK, Tearfund and World Vision UK. By working together, they raise more money to save lives and rebuild shattered communities. 
Nick Waring started in his role at the DEC on Monday 2nd September.