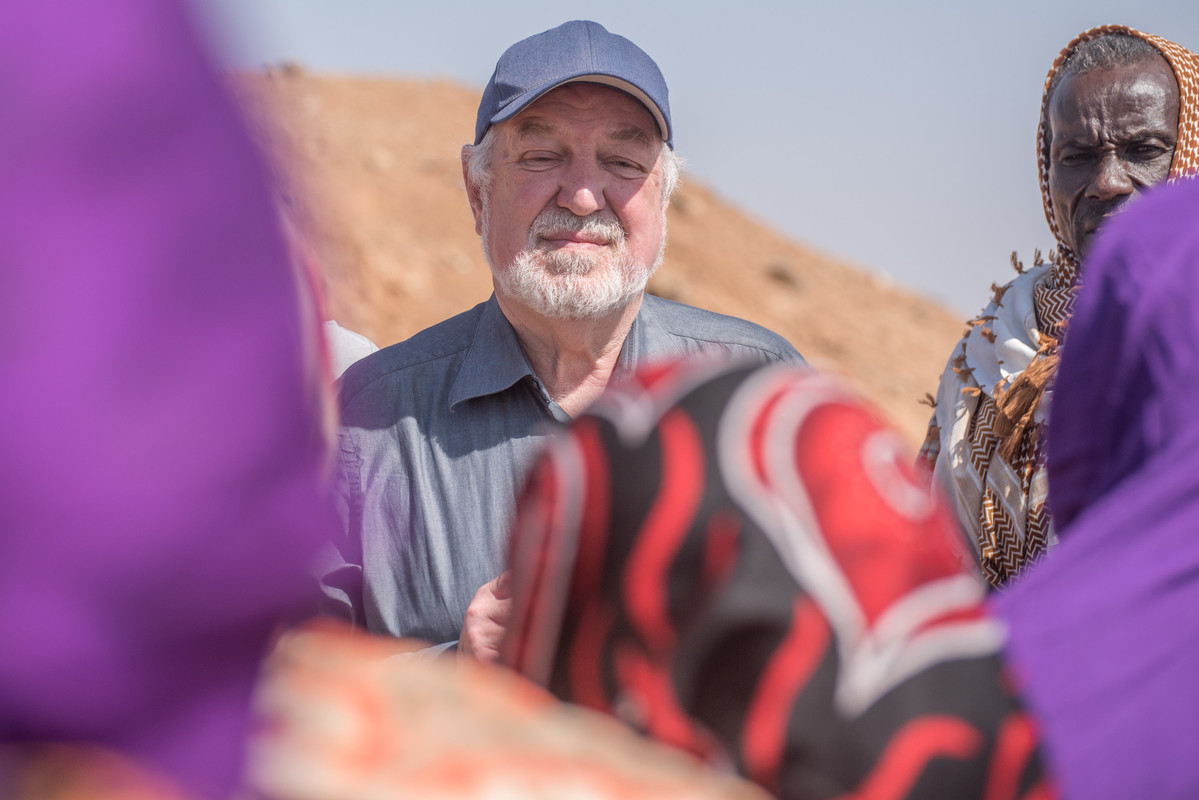 Former DEC Chair Clive Jones listens to members of Balesa Village, Kenya, during a visit to the community on 26th January 2018. The community rehabilitated a water pan through funds from the DEC's 2017 East Africa Crisis Appeal. Image: David Mutua.
Clive Jones CBE, former Chair of the Board of Trustees for the Disasters Emergency Committee (DEC), has been recognised in the Queen's Birthday honours 2019. Jones has been made a Knight Commander of the Most Distinguished Order of St Michael and St George (KCMG) to mark his exceptional leadership of the DEC.
During his time as Chair of the DEC (2011- 2018), Jones oversaw 10 emergency fundraising appeals for humanitarian crises around the world, which raised £500 million and helped more than 14 million people in urgent need of assistance.
The appeals were for emergencies including Typhoon Haiyan which struck the Philippines in 2013, the Ebola outbreak in West Africa in 2014, the Nepal earthquake of 2015, the crisis in Yemen (2016), two East African droughts (2011 and 2017) and an appeal for Rohingya refugees fleeing Myanmar in 2017.
Saleh Saeed CEO of the DEC said: "We're delighted that former DEC Chair Clive Jones has received this great honour in recognition of his tireless voluntary work for the DEC. Clive's achievements and impact during his time leading the DEC have been numerous and deeply felt, both within the organisation, amongst our member charities and in the broader fundraising, humanitarian and charity sectors. His legacy of thoughtful and dynamic leadership will underpin the DEC for years to come."  
The DEC brings together 14 leading UK aid charities to galvanise public support and raise funds for the international aid effort at times of humanitarian crisis. It does this through a unique partnership with the main UK broadcasters as well companies, trusts and other organisations.
Jones was formerly MD of Central Television, CEO of Carlton Television Group and CEO of ITV News and Regions and was awarded a CBE in 2007 for services to broadcasting. He currently chairs a number of organisations including the ITV Pension Scheme, Procam Television, the Runnymede Trust and National Theatre Wales. He is also a Trustee of the Thomson Foundation and Sightsavers, the international disability charity.